Florence street sign art by Clet
Special street signs at every corner
I finally discovered the author of these marvelous artistic street signs that I have been seeing around Florence: they are by Clet Abraham. A black silhouette sneakily carrying away the no-entry bar is what first caught my eye; later I also saw the crucified Christ on the dead-end sign. Clever, I thought, and made a mental note to photograph them and post them on this blog.
The joys of facebook: someone in my vast network "liked" the fan page of the artist Clet which has as its logo the no-entry sign. At the same time, the lucky artist is seeing exposure in traditional media with an article in yesterday's Repubblica di Firenze. But for my English-speaking readers, I thought you'd enjoy finding out more about Clet's art so I wrote to him and asked him a few questions, which he very kindly answered right away. For the record, "Clet" in art is 43 year old Clet Abraham, a French artist who has been living in Italy for over 20 years. This "guerrilla" act of art is just one manifestation of his often surreal and colourful approach to the world.
The silhouette man street signs have been popping up around the city for a few months now. They are easily removable adhesives that Clet and a few friends apply at night, sometimes in plain view of security cameras. Clet took home a 400 euro ticket for his work the other night; the police say he doesn't have permission to add to the street signs, an act that is against the "codice della strada" (laws of the road). Others see these works as a contribution to the urban decay rampant in Florence; others still feel offended by the religious content of the Pietà signs. Personally, I see work that is not un-necessarily provocatory but rather a light invitation to reflect upon the visual around us. The artist explains:
My street sign work stem from a reflection upon our "common visual space". The omnipresence of street signs, other than being a sign of the [Italian] culture of "anti-responsibility", can verge on the absurd. The message is very poor (sometimes I feel like I'm being treated like an idiot by them) and yet they have a highly invasive aesthetic. As a professional in the world of visual space, I feel called to intervene, both to notify the public of the absurdity of the situation, and to propose a constructive and respectful alternative. My adhesives are developed to add a further level of reading [to street signs] constructed on the base of their original signification in order to maintain its utility but give it some intellectual, spiritual, or simply amusing interest. The final objective? That traffic keeps flowing without us feeling spoken down to!"
We are, in this city, constantly accosted by other "additive" symbols, from guerrilla stickering to tagging and graffiti. So I asked Clet: "What is the difference between your work and graffiti?"
I'm not sure exactly what the fundamental difference is between a graffiti artist and my work. I can say for sure that my stickers are easily removable. It's essential to me to create works that are in thematically in keeping with the support upon which I am working, to adapt myself thus to any situation with complete respect for the work of others; I try to offer a service with my talent and knowledge. It's possible that some graffiti artists have a similar work ethic. We do have in common a taste for the mysteries of the night and of surprise; a healthy attitude [or preference] for liberty of expression and breaking of rules – but these are the bases of being an artist!
See you soon again, Clet!
You might also be interested in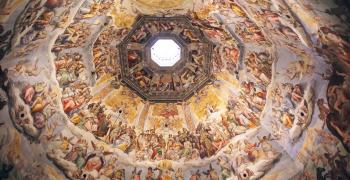 Learn more
Art and Culture
Tuscany is the cradle of the Renaissance and known all over the world for its immense artistic and cultural heritage.
continue...