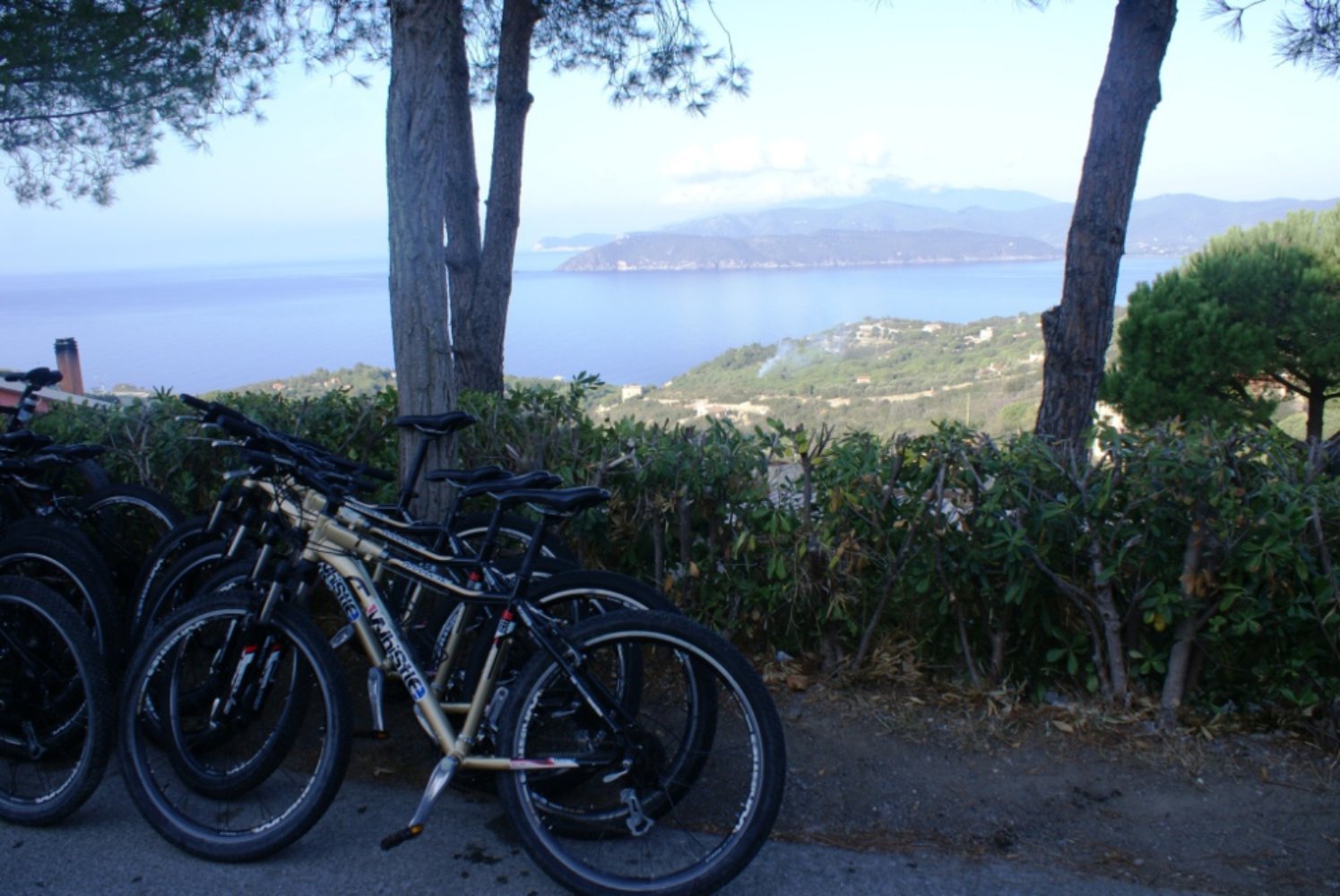 Capoliveri bike park
An extraordinarily scenic bike ride
Point of departure and arrival: Capoliveri
Distance: 20 km
Total climb: approx. 350 metres
Altitude: min. 15 - max. 210
Road surface: dirt road (80%) - asphalt (20%)
Difficulty: medium/easy

The itinerary starts from Piazza del Cavatore and follows the old road used daily by miners. After a short while, the asphalt gives way to a dirt road, which follows the contour line and does not present any elevation difficulties. Basically, you ride along a hillside track on the south-western spurs of Monte Calamita. The view is immediately breathtaking, encompassing the silhouetted mountains and the western coast of Elba overlooked by Monte Capanne. The stretch of sea that appears below the road is Golfo Stella, with the Morcone, Pareti and Cala dell'Innamorata inlets.
On the right, about 6 km from the start, is the detour for the
Calamita mine
. The detour is highly recommended, as is a guided tour of the mining complex.
The road continues around Monte Calamita, gradually gaining height up the slopes of
Poggio Polveraio
, without becoming too strenuous. The view over the sea of
Remaiolo bay
and the unmistakable silhouette of
Montecristo Island
on the horizon becomes even more spectacular. When it reaches the Fosso di Remaiolo, the road begins to climb again towards Piano del Gorgo and the Ripalte Estate and its vineyards. 10 km from the start, the itinerary reaches its highest point at 216 MASL. A ride through the Ripalte vineyards is recommended. As well as the chance to tour the winery, the road down to the Ginevro mine archaeo-mineral area also starts here. Tours of the mine can be booked in advance.
Following the signs for the "Calamita" red trail from here, you leave the vineyards at your back and begin to descend the eastern slopes of Monte Calamita. The dirt road runs through Mediterranean scrub, offering constant views of the sea and the mainland coast. After about 1.5 km, you can make a detour towards the coast, going down towards
Stagnone bay
, or continue northwards towards the Sassi Neri mining area, where a small green lake can be seen between the road and the coast. Riding not far above sea level, you soon come to another possible detour for a swim at
Punta Buzzancone
. From this point, you follow the coast, skirting beaches, inlets, coves and small peninsulas. After Punta Buzzancone, you pass
Istia bay
and
Liscoli bay, Calanova, Malpasso beach, Punta di Cala Nuova and Ferrato beach
. From Straccoligno beach, the road turns inland again, running uphill all the way on asphalt to
Capoliveri.
You might also be interested in