8 terraces with a view in Florence
Enjoy dinner and a drink with a panorama of the Tuscan capital
It's no secret that Florence's beauty has the power to stun even the most jaded tourists. An evening stroll through its winding streets and you'll instantly fall in love with the cobblestone-treaded paths once walked by Renaissance geniuses and Medici rulers.
And the city is just as beautiful when gazed at from above – a climb up Brunelleschi's dome can confirm! Florence is full of places offering spectacular views, commonly enjoyed with a bite to eat or a drink in hand.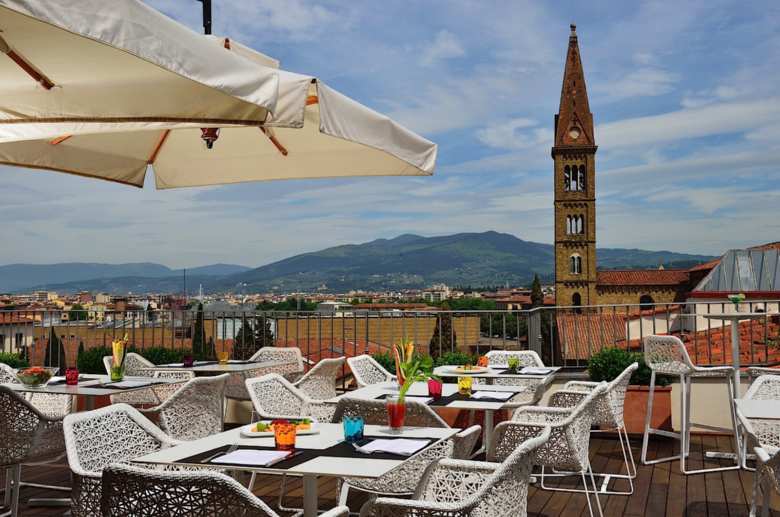 If your fresh off the train or heading back to the station for an evening departure, consider dinner or an aperitivo on the rooftop terrace at the Grand Hotel Minerva, right in piazza Santa Maria Novella. Open from May to September, there's no better way to end your day then with a prosecco or carrot cake with cinnamon ice cream.
For an evening in the Oltrarno, pop up to the lounge bar and restaurant. It's only open from May to September, but summer visitors are sure to enjoy the view of the River Arno as they sip a glass of Chianti or dine on lamb risotto. For a year-round option, check out the hotel's two terraces, one of which faces the Boboli Gardens and Palazzo Pitti and another that boasts 360-degree views of Florence.
The Westin Excelsior – Se.sto on Arno
Classic meets contemporary at this 6th-floor bar located in Piazza Ognissanti. Switch out your traditional spritz for a version made with port wine or choose one of the locale's signature cocktails as you watch the sun set on all corners of Florence from the hotel's 360-degree terrace. You can also stop by for a restorative lunch or an energizing mid-afternoon caffè.
Hotel Pitti Palace al Ponte Vecchio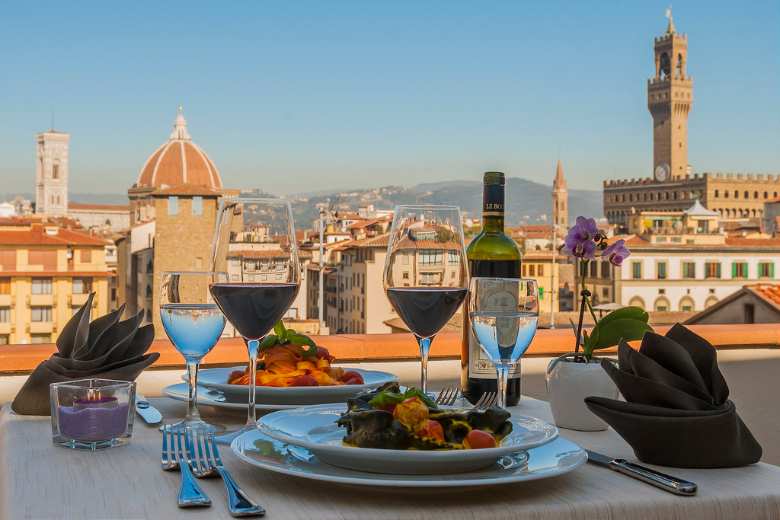 Open for both lunch and dinner, Alla Torre De' Rossi Restaurant and Wine Bar is nestled just off the Ponte Vecchio, with a spectacular view of Florence's most famous bridge. Relish the silence of the River Arno from above as you taste a classic primo at midday or explore your wine expertise while watching the sunset paint the city with its golden colours.
Hotel Continentale - La Terrazza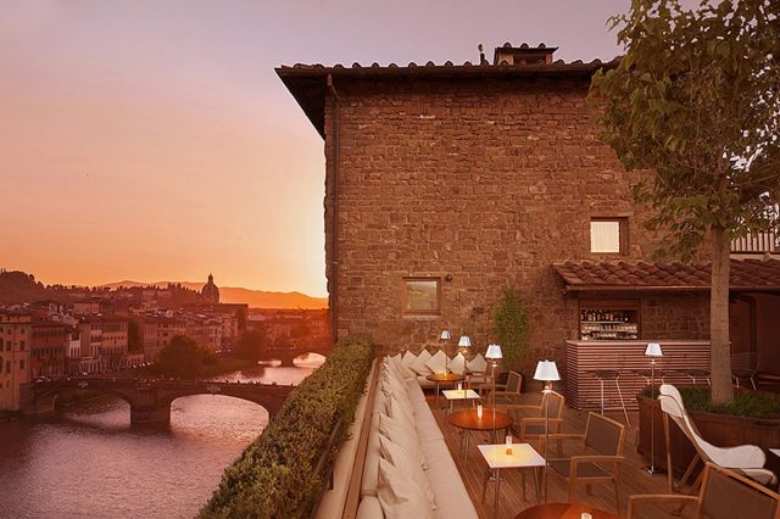 The name says it all. Located on the top floor of a medieval tower house, La Terrazza is the perfect place for a luxurious cocktail or a glass of wine. Drinks are on the pricier side, but the view of the River Arno and the Oltrarno makes it worth every penny.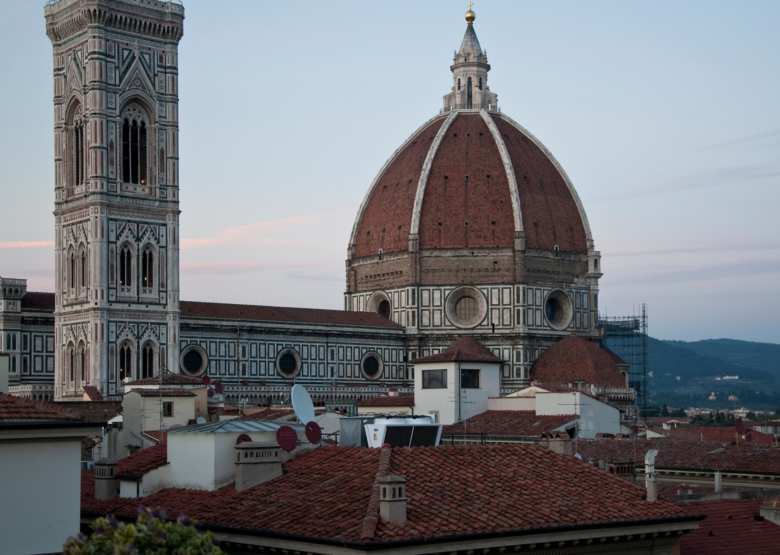 The popular restaurant set at the upper level of the department store in piazza della Repubblica boasts a tiny but mighty terrace. Grab a coffee, sip a glass of wine, or enjoy a Tuscan specialty as you enjoy a close-up of Brunelleschi's dome on one side and the green hills surrounding Florence on the other.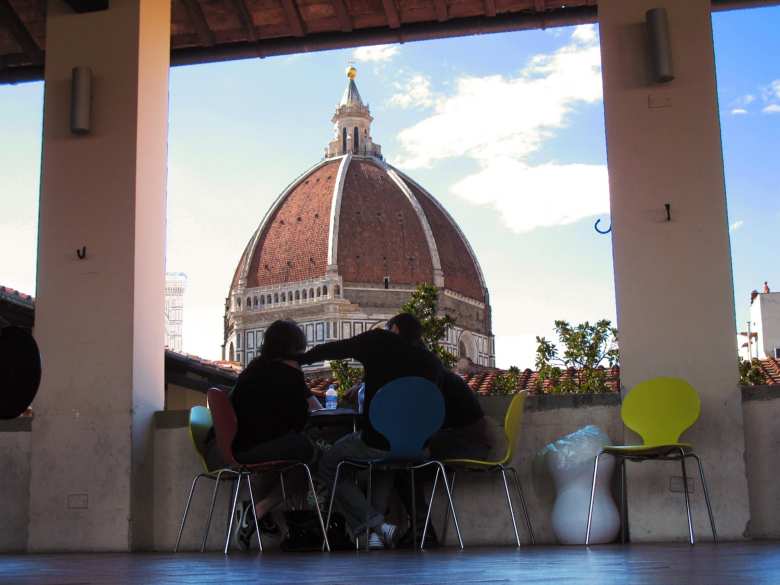 For a budget option, head to the city library. The top floor offers indoor and outdoor seating, all of which boast an impressive view of Brunelleschi's dome. You'll commonly find Italian and foreign university students here, mingling as they take a break from their studies.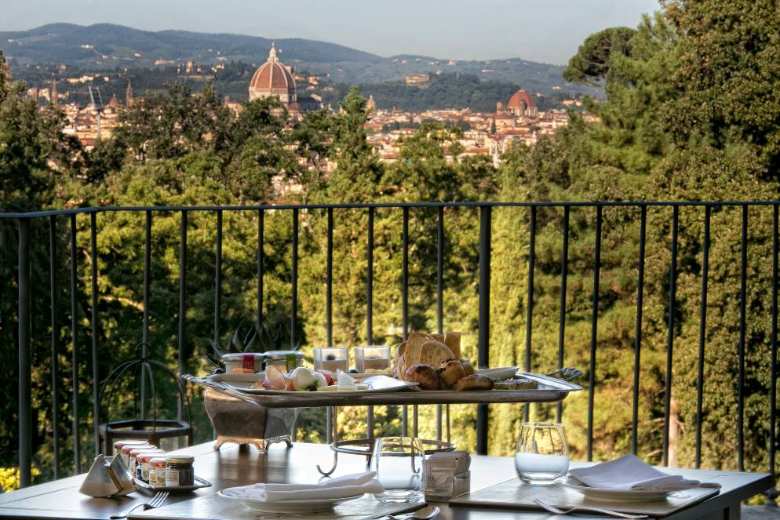 The ultimate view may very well be just outside Florence. The terrace at Hotel Il Salviatino, set on the hillside of Fiesole, boats an elegant restaurant, where you can indulge in unique dishes, like artichoke risotto and sautéed ricotta.
Our list of terraces with a view in Florence could go on and on, so let us give you one last bit of advice. If you're into haute cuisine and you love the simplicity of the Tuscan specialties, you might want to check out the restaurant B-Roof. It is located on the fifth floor of the Grand Hotel Baglioni, a few metres away from the Santa Maria Novella train station. The view from up there is spectacular, as you can see from the cover photo of this article, you will feel like you can almost touch Brunelleschi's Cupola!
You might also be interested in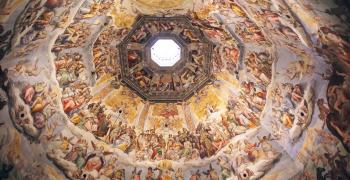 Learn more
Art and Culture
Tuscany is the cradle of the Renaissance and known all over the world for its immense artistic and cultural heritage.
continue...