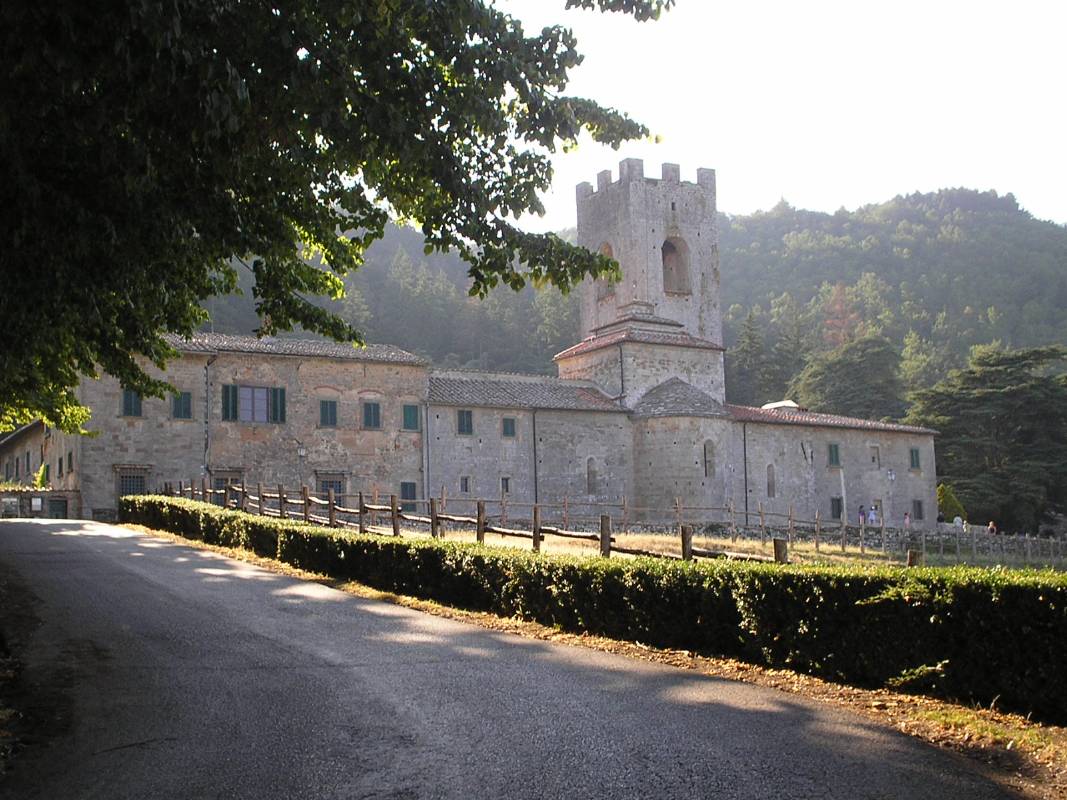 Gaiole in Chianti
Amidst wine, food and castles
Founded between the 13th and 14th centuries, Gaiole was established as a merchant town serving the many castles dotting the surroundings. For this reason, the heart of Gaiole (today one the main production centres for Cinta senese) has been a "road-piazza" of sorts for centuries: via Ricasoli, along which the town's trade and social life unfolded and still unfolds today. In present day, Gaiole offers several opportunities for food and wine shopping against the beautiful backdrop of historic houses, a river boardwalk and street furniture that alludes to the town's medieval commercial activities.
The area around the Massellone creek was already known and inhabited in the Etruscan and Roman periods, which is highlighted by the place names deriving from ancient languages, as well as the ruins of the necropolis in Cacchiano (1st-3rd century CE) and the columns on the Parish Church of San Marcellino, dating to Antiquity and most likely taken from an earlier Roman building. During the Middle Ages, Romanesque country churches began to pop up throughout the territory, many of which can still be seen today, including the Parish Churches of San Giusto in Salcio, San Polo in Rosso, Spaltenna and San Vincenti. The huge presence of castles is owed to the rule of the Firidolfi family and later the Florentine Republic, all between the 11th to 14th centuries.
In the 1400s, Gaiole became the "capital of the terziere" within the Lega del Chianti, a political-militaristic organization controlled by Florence. Previously a successful commercial centre and now also a defense stronghold on the border between Florence and Siena, the town was oppressed during continuous raids until 1555. That year, Siena officially surrendered and the town was annexed to the Grand Duchy of Tuscany. The Lega was suppressed in 1776 when the Lorraine reforms transformed the terzieri into autonomous municipalities.
The area around Gaiole is crossed by a Castle Road, along which visitors can admire many important testaments to the process of fortification in the Chianti region during the Middle Ages. Visitors can enjoy Cacchiano Castle, built in the 13th century by the Ricasoli family, destroyed by the Aragonese in 1478 and rebuilt in 1530; Brolio Castle was built by the same family, a building with Lombard origins which became a neo-Gothic villa in the 1800s; and a few kilometres from the town, Monteluco Castle stands atop a hill, close to the historically courtly fortress of Montegrossi.
Gaiole in Chianti
In the best of places
Chianti and L'Eroica in the "most livable place in the world"
Read the story
&
TOP ATTRACTIONS IN Gaiole in Chianti
Social & Web
Find out what they say about us, and tell us about your Tuscany!