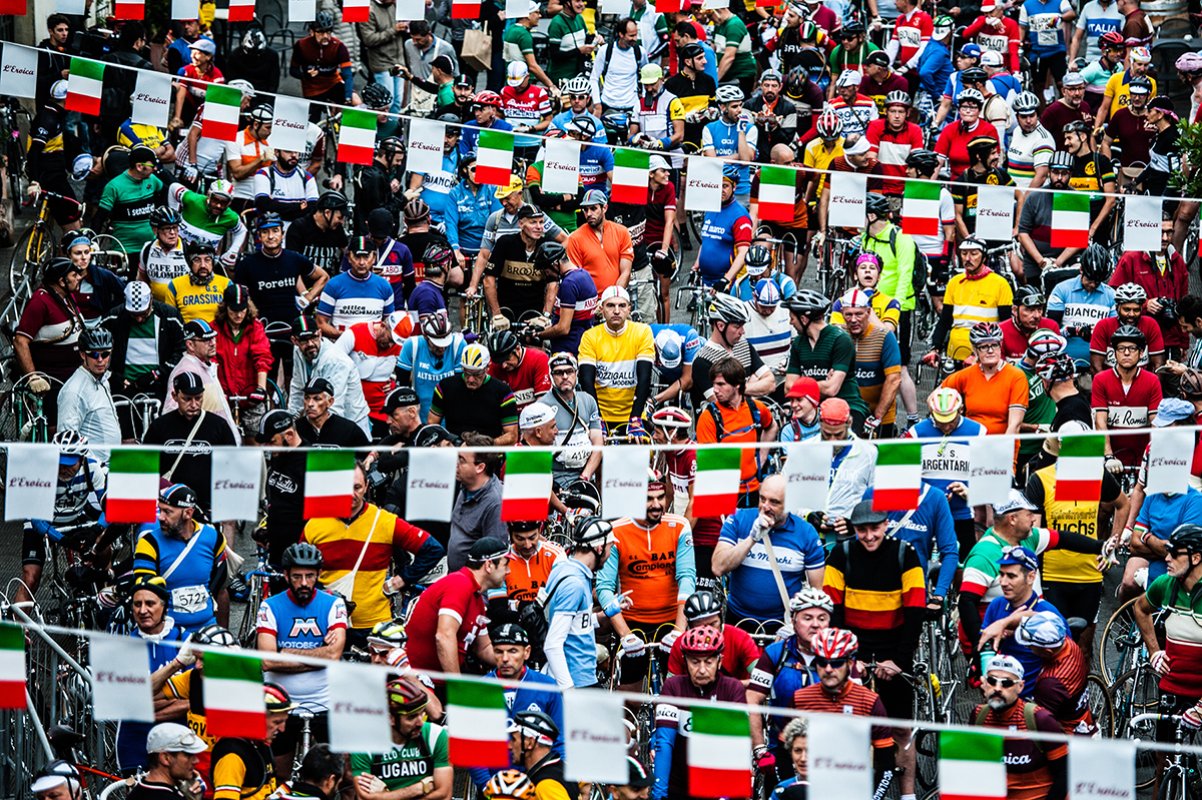 Photo ©Paolo Martelli - Eroica
Held in Gaiole in Chianti, in Tuscany, on the first Sunday in October, L'Eroica bike race is a steadfast tradition with a unique charm all its own. Imagine yourself cycling down gravel roads (known in these parts as white roads) on a vintage bike, wearing a suit borrowed from your grandfather's closet, crossing the wonderful landscapes of the Sienese Chianti, Crete Senesi and Val d'Orcia... Sound like pure fantasy? Because it's not!
L'Eroica was founded as a celebration of road cycling and the history and values of this sport. It was first held in 1997 thanks to Giancarlo Brocci, and the idea was to save Tuscany's gravel roads from being replaced with asphalt. Thus, the race was established for a rather romantic purpose, strictly tied to the territory, and is today an example of respect for the environment, sustainable living and "clean" cycling. Its name literally means "heroic", and that's precisely how you feel taking part in it. The bike race is strictly regulated, with only a limited number of participants (about 5.000 cyclists) allowed to join the Eroica (for the official guidelines, see here). The competition includes five different paths: 209 km, 135 km, 115 km, 75 km and 46 km.
For those who don't have the chance to participate in the official event in October, fear not! You can ride along the permanent route every day of the year! The path is open to everyone and can be completed in one or more days by all those wanting to test their skills or simply explore the area by bike. You can also get a special road book that you can use to collect stamps along the route and be awarded a certificate.
The Eroica experience has become popular in other parts of the world, each modelled after the famous Tuscan version. Some Eroica-related events:
L'Eroica South Africa in Montagu, Cape Winelands
L'Eroica California in Paso Robles, USA
L'Eroica Nova in Buonconvento, Tuscany, which is the only Eroica race open to modern bikes
L'Eroica Montalcino, also in Tuscany
L'Eroica Eiyu in Mount Fuji, Japan
L'Eroica Hispania in La Rioja region,Spain
L'Eroica Britannia in Bakewell, Great Britain
L'Eroica Limburg in the Netherlands
L'Eroica Germany in the Rheingau region
L'Eroica Dolomites in San Candido
Social & Web
Find out what they say about us, and tell us about your Tuscany!
Social & Web
Find out what they say about us, and tell us about your Tuscany!
Gaiole in Chianti
Amidst wine, food and castles
Founded between the 13th and 14th centuries, Gaiole was established as a merchant town serving the many castles dotting the surroundings. The area was already known and inhabited in the Etruscan and Roman periods, which is highlighted by the place names deriving from ancient languages, as well as the ruins of the necropolis in Cacchiano (1st-3rd century CE) and the columns on the Parish ...
Morekeyboard_backspace