Wine, olive oil and honey
Vin Santo del Chianti DOC
A symbol of hospitality in Tuscany: every family has their own recipe and protectively guards the secret
Category
Wine, olive oil and honey
Origin
Provinces of Arezzo, Florence, Pisa, Pistoia, Prato and Siena
Consortium
Chianti Wine Consortium
Vin Santo del Chianti (or Vinsanto) is a DOC passito wine whose production occurs in the provinces of Arezzo, Florence, Pisa, Pistoia, Prato and Siena. The Tuscan Vin Santo is a symbol of hospitality: every family offers it to guests, using their own secret, safely-guarded recipe. The DOC Vin Santo from the Chianti was established in 1997, recognised as a wine that has always been produced in Chianti region.
The Chianti Wine Consortium protects the DOC with dedicated guidelines, according to which the product cannot be consumed before November 1, three years after the production of the grapes. Vin Santo from the Chianti, however, cannot be consumed until November 1 of the fourth year after the grapes were produced.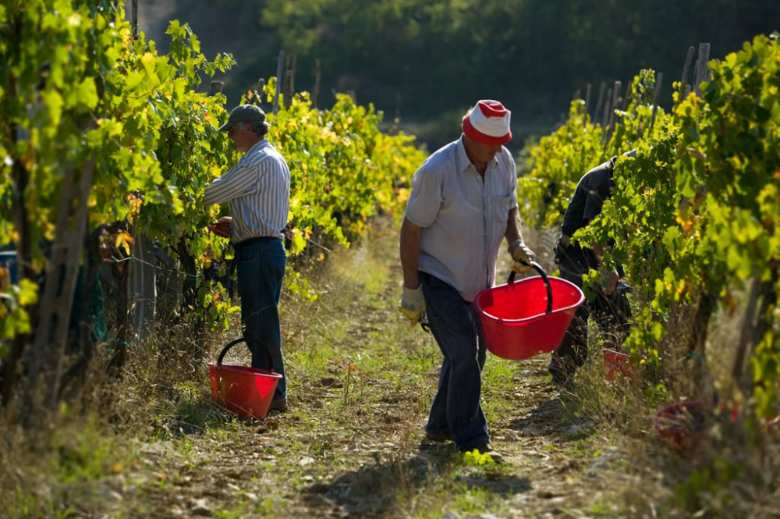 Historically, Vin Santo has been produced since the end of the Middle Ages. A legend from Siena mentions a friar who, in 1348, distributed a wine already used by his brothers to celebrate mass; the wine was known to heal the sick, hence the belief that it was a miraculous wine ("santo" meaning "holy"). That is not to negate the fact that the name "santo" derives from the fact that it has always been used in mass.
Traditionally, Vin Santo was produced by harvesting the best bunches (harvest "by choice"), which were then dried on mats or hung on hooks (traditionally the grapes were left when the moon was waning, with the belief that it would avoid rotting). Once dried, the grapes would be crushed (with or without the pulp depending on the tradition) and they would be transferred to wooden barrels of various sizes (generally between 15 to 50 litres), from which the previous year's Vin Santo had recently been removed.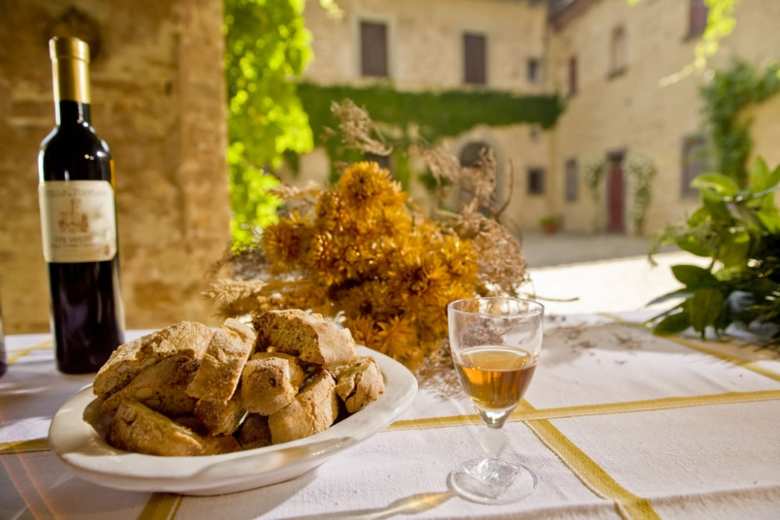 Tradition states that Vin Santo should be consumed as a dessert wine, with a dried baked good, particularly sweets from Siena. The perfect combination is with Tuscan cantucci.
Vin Santo can also be consumed as a table wine: when it is slightly on the sweet side, it pairs well with fresh Marzolino cheese, and when it is drier, it goes well with raveggiolo. If it is very dry, it can also accompany liver pâté.
You might also be interested in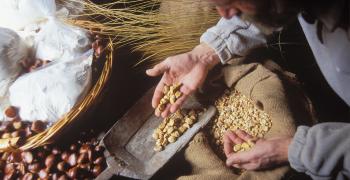 Learn more
Food and Wine
Olive oil, wine, truffle and other culinary delights make up the excellence of Tuscan gastronomy.
continue...