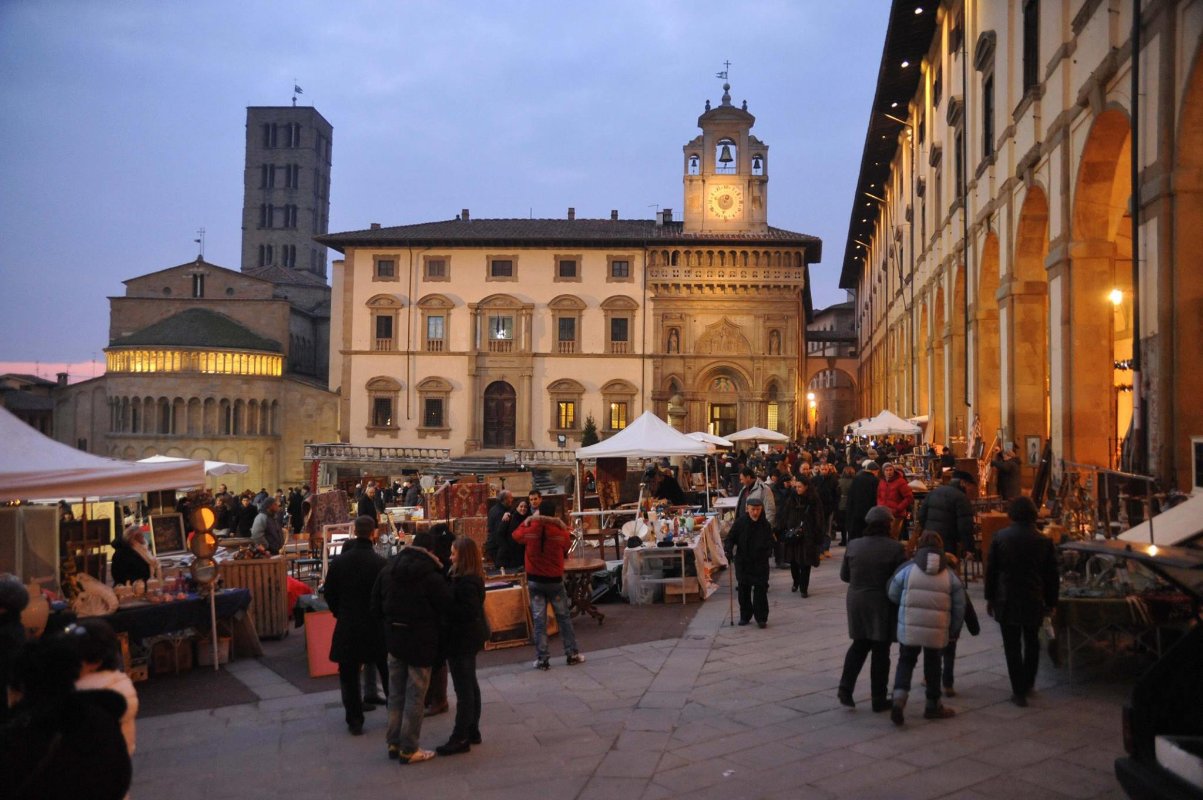 The Province of Arezzo is vast and varied: the terrain ranges from flatlands to hillsides to mountains. It is where four valleys meet: Valtiberina, Valdichiana, Valdarno and Casentino.
Of these, the Casentino valley boasts a National Park of Casentino Forests - Monte Falterona - Campigna, one of the twenty Italian protected areas covering 34,600 hectares between the regions of Tuscany and Emilia. Here one is free to wander and to walk the spiritual streets of the Verna Sanctuary or of the Camaldoli Monastery.

CASTIGLION FIORENTINO
Located on the top of a 345m hill, Castiglion Fiorentino offers magnificent views of the Chio Valley and the Preappennino. Its strategic position between Arezzo and Chiusi made it a center inhabited during the time of the Etruscans (6th- 5th BC); it was an important in medieval times too. The historic center, dominated by the Cassero tower and surrounded by walls. Its position as border town between Tuscany and Umbria makes it an easy place to get to from many of Italy's cities. Visitors can find traditional cooking and local organic produce.

SANSEPOLCRO
The town of Sansepolcro is close to the border with the Umbria region, in the Tiber plain, at the feet of the central Apennines. Sansepolcro was established between the 10th and the 11th centuries, a fact that becomes evident when walking down the charming medieval lanes and when admiring the Roman-gothic Duomo. In the area one should try the excellent Chianina breed beef, one of the most ancient cattle breeds in the world. The area is also famous for the Marchigiana and Romagnola breeds of veal which carries the well known Pgi trademark.

CORTONA
Umbrian people founded Cortona, but the Etruscans soon conquered it and made it one of the Etruscan towns. The remains of the town-walls were built by the Etruscans in the 5th century B.C. The town also has numerous Etruscan artefacts, like the beautiful 4th century B.C. chandelier, exhibited at the museum of the Etruscan Academy, or the jewels found in one of the typical mound tombs present on the Cortona territory. Here one can taste Cortona DOC wines that in its Vin Santo version is excellent with Tuscany's traditional dry biscuits.
Destinations in Arezzo area