Hamlets, districts and squares
Piazza Grande
Traditions and art in the heart of Arezzo
Piazza Grande is the heart of Arezzo and is one of the most beautiful piazzas in Tuscany, thanks to the buildings coming from different periods in history that overlook the piazza like a stage setting.
Known for its odd form because of it being built on a downhill slope, during the Middle Ages, the piazza was the location for the market, and during the Renaissance it became the center of the city's civic life. It's current appearance dates to the 16th century, when the splendid Palazzo delle Logge was built, dominating the highest part of Piazza Grande. The building was designed by Giorgio Vasari and was finished in 1595: the building stands out for its simplicity of the architectural lines and for the great elegance of its porch.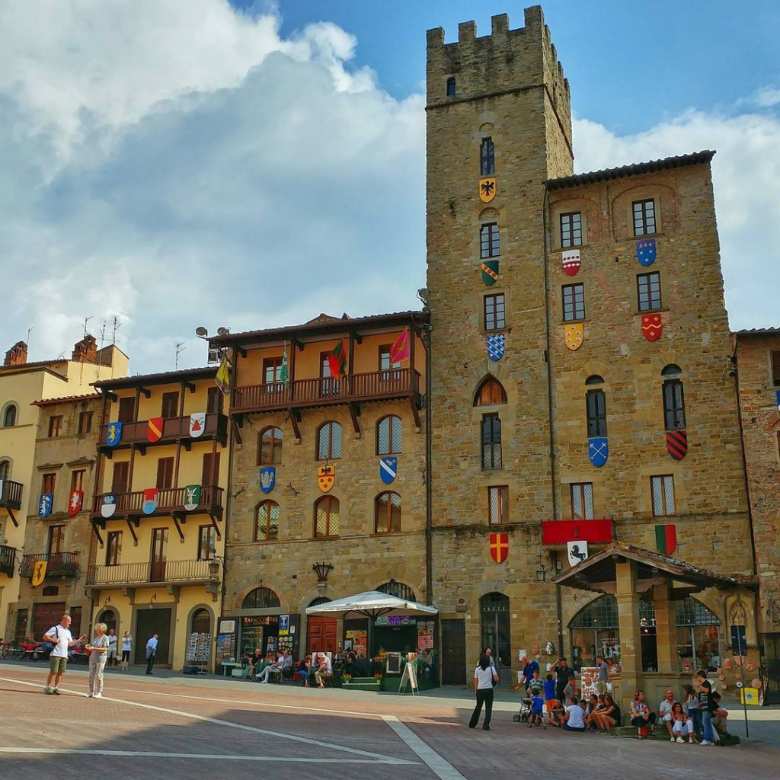 Across from Palazzo delle Logge, in the lower part of the piazza, are a series of medieval stone buildings, including the crenelated Torre Faggiolana from the 13th century, Palazzo Cofani-Brizzolari and the tower house of the Lappoli family.
The palace of the Confraternita dei laici is one of the most beautiful of Arezzo: its lower level was built in the Gothic style and the upper level in the Renaissance style. Today it houses the offices of the Public Prosecutor and the Court.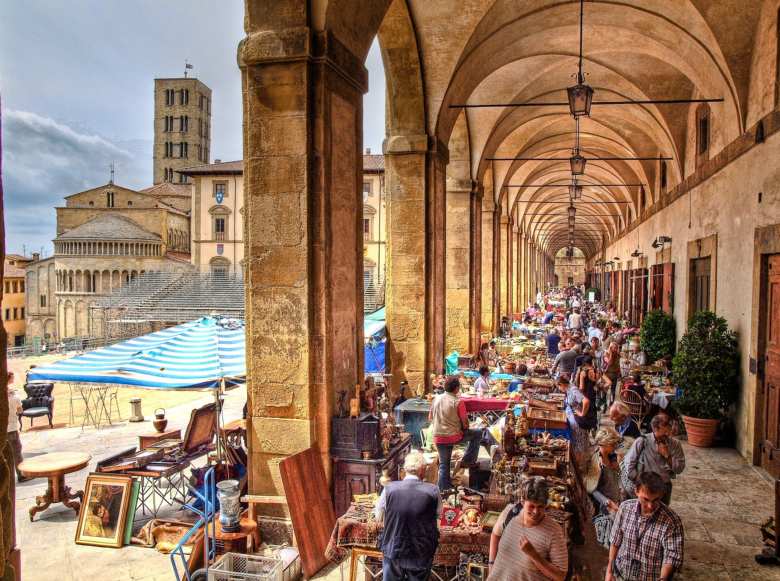 Piazza Grande now hosts the Saracen Joust "Giostra del Saracino" twice a year, the historic event held in June and September which recreates the chivalrous competition that dates to the Middle Ages.
Every first weekend of the month, on Saturday and Sunday, the Piazza also hosts the major Antiques Fair, one of the most important of its kind in Italy, established in 1968.
Arezzo
A historic treasure chest, home to well-known names such as Vasari and Petrarca
The city of Arezzo, situated in the South-West of Tuscany, rises up a hill which takes in 4 valleys: Valtiberina, Casentino, Valdarno and Valdichiana. The city has deeply historic origins, and is – although this is a little-known fact – even older than Alexandria in Egypt! ...
Morekeyboard_backspace