Tuscany in a hot air balloon
Marvel at the magnificence below
Planes, trains, automobiles, perhaps a bike or your own two feet: there's plenty of traditional modes of transport that can get you to or around Tuscany. But if you're searching for something with more of a "wow factor", try a magical ride over the region in a hot air balloon. Popular with couples – particularly for proposals or rekindling-the-romance anniversary outings – hot air balloons have a lovey-dovey lure about them, but don't rule out this unforgettable experience if you're traveling solo or adventuring with friends and family. Whether your company is platonic or passionate, one thing's for sure: a hot air balloon ride will lift you up in every sense.
How to book a hot-air balloon tour
What can you expect to glimpse while you're gazing out over the lush landscape or busy city below? A common thread among many companies offering balloon tours is the Chianti region, probably for its near-rhythmic rows of vineyard vines, layers of olive groves, and architecture that seems to have simply emerged straight from the earth. But while the renowned wine region is a cornerstone of many itineraries – some even offer the chance to for an on-site winery tasting upon landing! – it's far from the only option.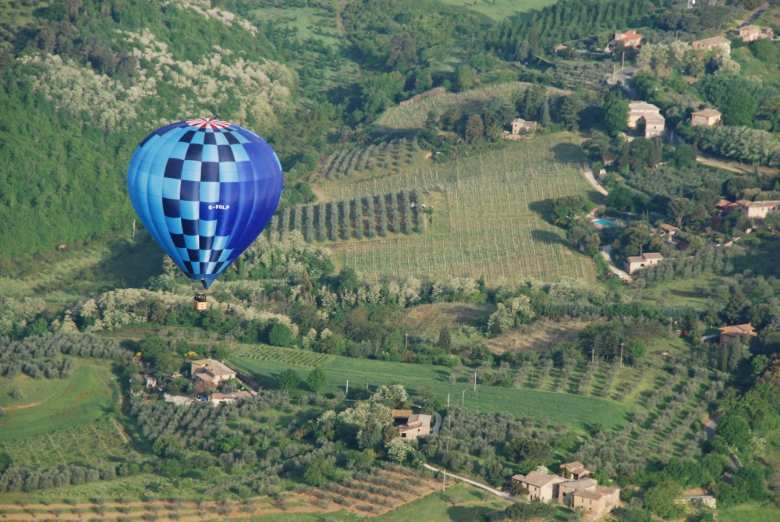 If you're ready to nail down (well, set up…and send up!) a hot air balloon tour, go straight to the experts. Balloon in Tuscany is a company specialized in this type of outing, operating since 1990. They offer a variety of options depending on what you've been daydreaming about seeing: Siena's iconic squares, San Gimignano's signature towers and Florence's elaborate monuments are just a few of them. Tours typically last from 45 to 90 minutes and can be reserved for small groups, couples or a mix of parties.

BalloonTeamSrl has a range of customizable flights available all over northern Italy; their Tuscan headquarters are in San Casciano in Val di Pesa, with the main launch field located only 8 short miles south of Florence. Much like flying "standby" on a major airline, they offer advantages and discounts to solo travelers seeking last-minute spots, so take note if the urge to fly strikes (or swoops?) and you need to act fast.
TuscanyBallooning has the same base town, but its distinguishing feature is its customizable outings over the breathtaking Colle Val d'Elsa, near the medieval centers of Monteriggioni, San Gimignano and Casole d'Elsa in the province of Siena. Lovers might want to book their Lucca option; the company flies over the walled city on only the most special of occasions—perhaps if there's a question to pop, for example. (Don't forget to pop the prosecco to go with it!). If you are dreaming about flying over the Lucca landscape, following the early morning breezes, check out Montepisano in Toscana. Operated by Milano Mongolfiere Balloon Flight it offers a one-hour tour and a final lunch with local food and wine.
A balloon flight for a special occasion or to experience a unique emotion is possible by flying over the green landscape of Castelfiorentino and Valdelsa, to be admired from a privileged point of view. For information and reservations you can contact the Tourist Information Office of Castelfiorentino.
Finally, the tour group Under the Tuscan Sun takes inspiration from Frances Mayes in more than just its name – it embraces the finest things in Tuscany.
The sky is the limit with these tours, which can be booked even just 72 hours in advance and include a hotel pickup (or other meeting point of your choosing) for those staying in Florence. Part of what makes this tour distinct is the chance to enjoy every stage of the process, from the liftoff they've dubbed the "pilot dance" to the on-board storytelling that takes you through Tuscan history.
You might also be interested in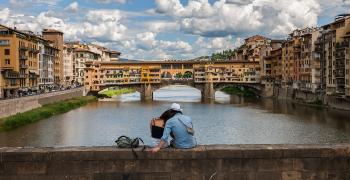 Learn more
Romantic and Wedding
Tuscany is like heaven for food, nature and art town admirers. But it's also the perfect location for couples and wedding celebrations.
continue...