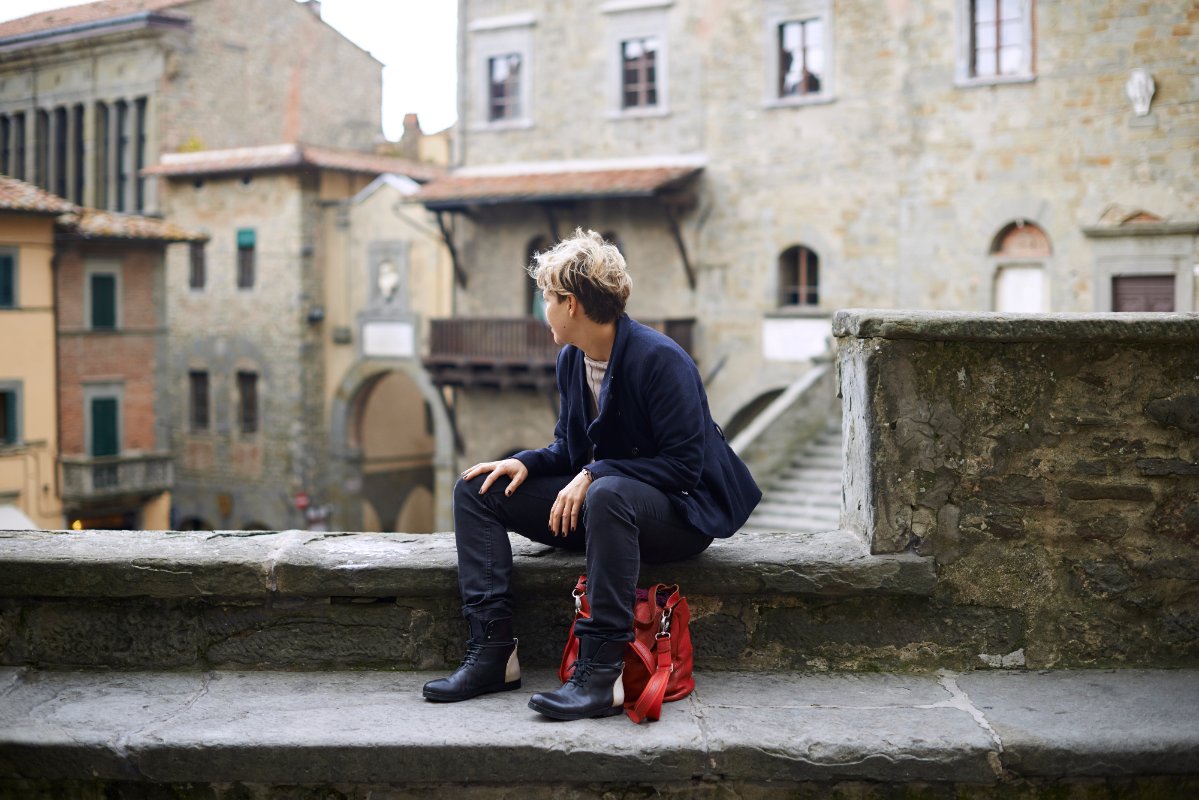 Easy Tuscan menu to make for St. Valentine's day
This menu is all about
simplicity, flavor and heart
(and by heart). I thought it would be nice to impress your loved one with a complete Valentine's dinner menu coming from Tuscany, listen to some music while you're cooking!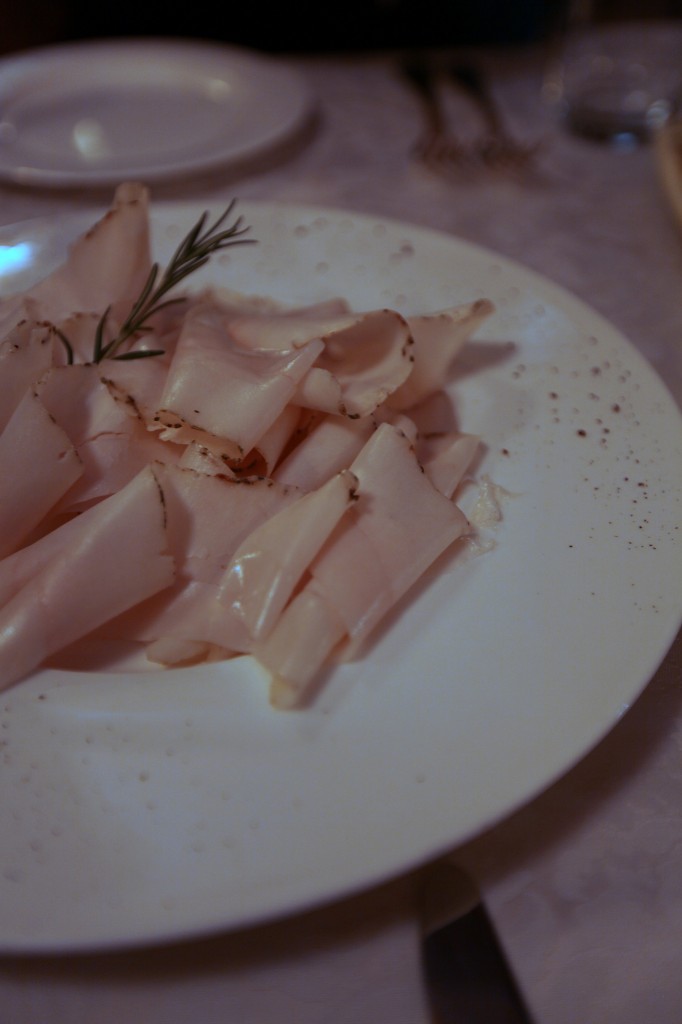 Antipasto dal cuore – starter from the heart
In the area of Carrara where Michelangelo used to extract pure, white marble that was also malleable enough for him to let his imagination meet no limits, in this very area the small village of Colonnata, hosts another treasure that to us foodies is even more important than the Pieta.... the soft and delicious Lardo di Colonnata. It's only lard you'll say, simply fat no it's more than just fat, in fact if it weren't for the marble case where it's stored and where it ages at a cool, perfect temperature and for the herbs that are added and that by merely giving all their aromas away to the meat it slowly give it its flavor it would be a piece of lard.
You can simply prepare Lardo di Colonnata bruschette or combine the lard with sweet prunes-plums: Serves 2 Ingredients
8 dried prunes-plums
8 very thin slices of Lardo di Colonnata
Use the slices of lard to wrap the dried prunes. Place the slice of lard on a cutter and put a prune on the lower side of the slice and simply roll as if to form a spiral. The outer part of the roll will naturally melt as the lard at room temperature will become very soft, place the prunes straight on your serving plate. These amuse bouche will look like little white roses, the lard will become transluscent and you will be able to see the deep color of the prune coming through.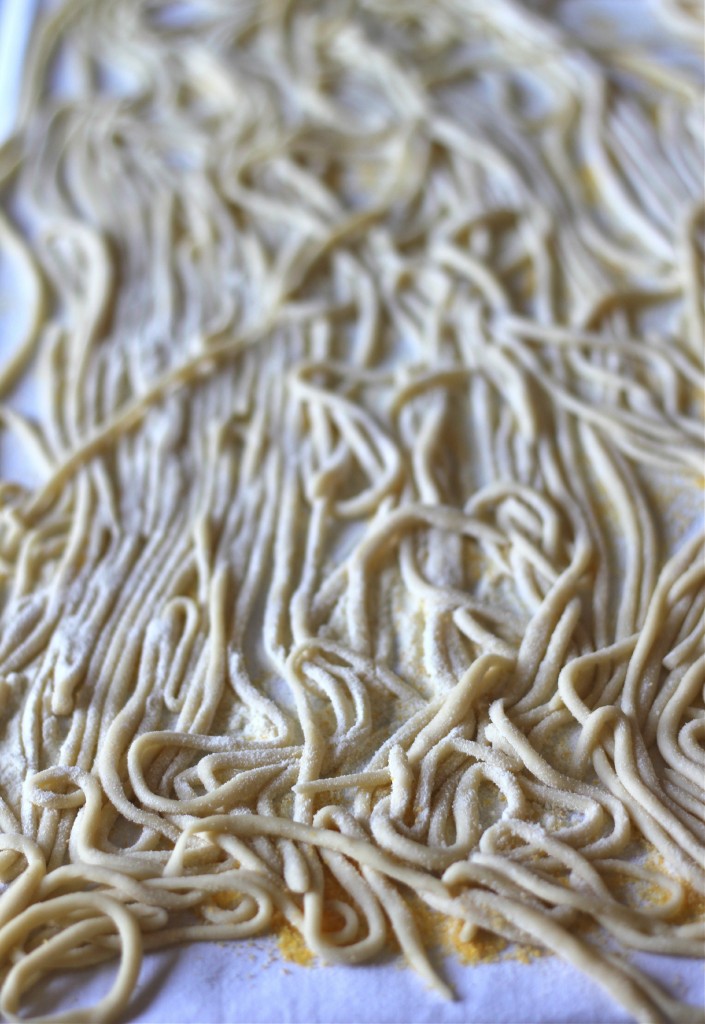 DIY - Pici: Tuscan handmade spaghetti
If you've been to Tuscany, Siena or the Maremma you must have heard of, or eaten Pici handmade spaghetti. "They are 
are like laces of flour and water connecting Val d'Orcia's hamlets
 of Pienza, Montepulciano, Monticchiello, Montalcino, the borders of Umbria along the Val di Chiana and climbing the slopes of the Amiata, where they are shorter and thinner". Check here  
Patrizia Malomo's recipe
. For the sauce, there are several options, including 
ragù
, 
"cacio e pepe" (cheese and pepper), "aglione" (tomato sauce) or a bread crumb sauce. Match your pici according to your taste!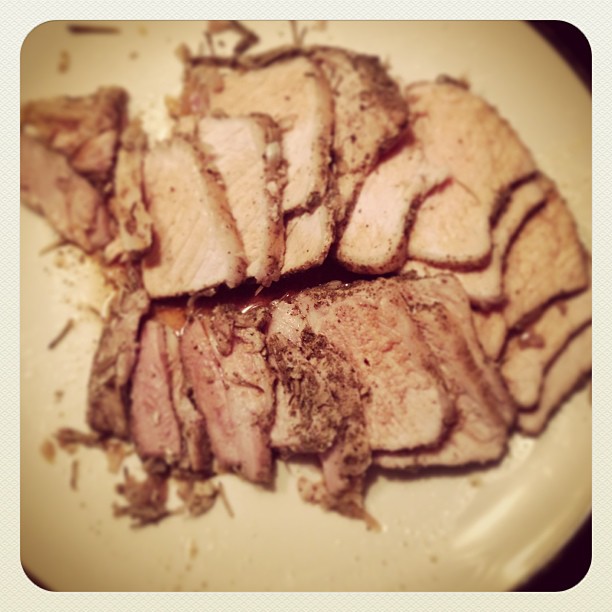 Florentine Arista - Roast Pork Shine
Ingredients
3 pound lean pork loin, with its bones
3 cloves garlic
salt and pepper
1/4 cup of extra-virgin olive oil
-Preheat the oven to 350 degrees F. -Bone the pork (or ask your butcher to do this for you, as long as you ask him to keep the bones) .  Peel the garlic cloves, and cut them into halves. Make little incisions in six places in the meat (use a knife) and season well with abundant salt and pepper  and tie up with kitchen string. Put the meat into a baking pan with some olive oil also if you like add some rosemary and sage, this will give extra flavor to the sauce that will form around the roast. Place in the oven and cook for about 1 1/2 hours.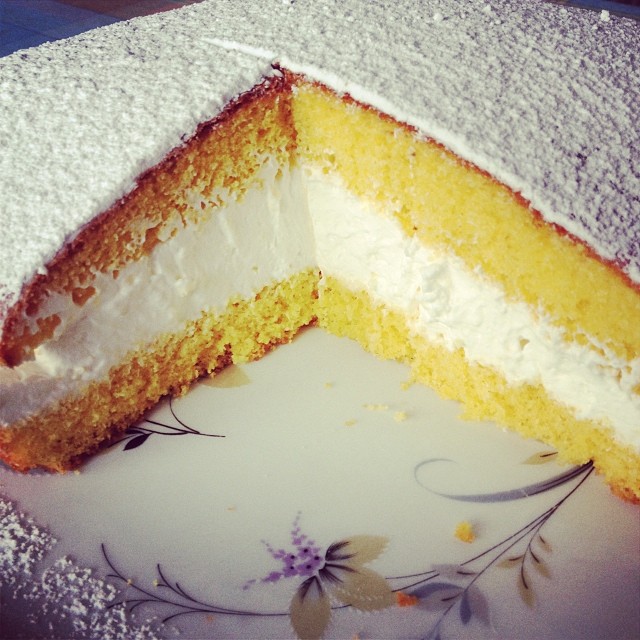 Schiacciata alla Fiorentina
Schiacciata alla Fiorentina is another delicious traditional carnival treat from Florence. The word "schiacciata" means squished, or flattened, and most of the year if you ask for it in a bakery, you get a flat, salty bread with oil on top, great for eating just like that, or for opening up and making a sandwich. In the fall, there's "schiacciata all'uva" which is a not-too-sweet cake made with the red grapes that are in season then, pits and all. And during carnevale, the term refers to a sweet sponge cake with a hint of orange flavour. You'd think they'd stop naming everything "squashed" and come up with a variety of titles, but so be it. Schiacciata alla Fiorentina is topped with
icing sugar with a cut-out shape of the giglio, the lily of Florence
. It's lovely plain, but is often served cut open and filled with whipped cream for a true "caloric bomb". I like it with fig jam. Here's the recipe I got from my mother in law when I first moved to Italy. In a large bowl:
250g flour
150g sugar
2 eggs
1 expresso-cup full of olive oil*
2 expresso-cups full of milk
1 blood orange, juiced and zested**
Add after mixing: 1 baggie "lievito vanigliato" – about 2 tsp baking powder with vanilla flavouring
*the expresso cup is equivalent to about 1/3d of a cup. Don't worry, it's a very forgiving recipe, measures are approximate. **If you don't have fresh oranges on hand you can use orange juice. -Mix all ingredients except for the
baking powder
together in a bowl with a mixmaster on high for 3-5 minutes. Then add baking powder, mix in. Pour into rectangular silicon baking pan. -Bake for 30 minutes at 200 degrees celcius. -Cool on rack. Transfer to plate. Place lily cutout on top and sprinkle icing sugar. -This cake is really easy to make. Like, if you have never successfully baked anything in your life, you can make this. In fact, although technically "illegal" in culinary terms, I make it year round if I need to make a quick cake – from invite to out the door, this cake can be ready in an hour.
You might also be interested in