Churches of Monterchi
Architectural gems in Valtiberina
Tuscany is dotted with so many towns and villas worth exploring that seeing them all is virtually impossible. Not everyone is familiar with Monterchi, in Valtiberina, province of Arezzo. The town is famous for its Madonna del Parto, the famous fresco created by Piero della Francesca between 1455 and 1465: originally intended for the Chapel of Santa Maria di Momentana, it can today be found in the Museum of Piero della Francesca's Madonna del Parto.
For religious architecture enthusiasts, the history and churches of Monterchi are worth discovering. Here are a few of them:
The origins of this church are certainly very old, dating back to the early Middle Ages. In 1830, given its precarious condition, it was completely demolished and rebuilt by archpriest Valbonesi. It was later seriously damaged by an earthquake on April 26, 1917, and after that was completely rebuilt once more. Inside, you will find three sandstone bas-reliefs dating to the fifteenth century, a fifteenth-century wooden crucifix, a beautiful ciborium in polychrome terracotta, also from the fifteenth century; a sixteenth-century stone pulpit depicting Hercules slaying the Hydra, and a number of sixteenth- and seventeenth-century paintings.
Church of San Michele Arcangelo a Padonchia
The inside of this church, which was restored between 1989 and 1990, boasts some extremely venerable architectural elements, such as the four figured corbels which sustain the vault of the presbytery, and two elegant Gothic arches on the right-hand side. A Madonna and Child from the first half of 1400s lives here, as does a noteworthy painting of a warlike Archangel Michael in battle with the devil; a Saint Sebastian with his arrow wounds, a holy Benedictine monk, a pietà dating to the early 1500s, a Saint Christopher leading a child, a Saint Martin dividing a cloak, Saint Roch and Saint Sebastian and a beautiful painting depicting the patron saint Archangel Michael.
Church of St. Apollinare la Villa del Poggio
This church, which stands at 393 metres above sea level, probably dates back to the seventh or eighth century and exhibits a Romanesque style. It is divided into three distinct sections: the nave, made of regular, medium-sized stone blocks, and the older, lower, semi-circular apse, which uses blocks of a different size. Finally there is the bell tower, home to seventeenth-century decorative motifs and a fifteenth-century bell with a Gothic inscription.
Church of St. Michele Arcangelo a Pianezze
This church is located halfway up Mount Caianello at an altitude of 410m. Many features of its Romanesque style remain intact, including the ceiling with its wooden rafters and terracotta floors. The bell gable has undergone recent reconstruction. This church is notable for its fresco depicting the Madonna della Misericordia, painted in the sixteenth century and restored in 1998. There is also a noteworthy Pietà of the Virgin cradling the dead body of Jesus, in polychromatic, expertly-made terracotta.
Church of Santa Maria in Scandolaia 
The church of Scandolaia lies near the ruins of the Montagutello castle, on the slopes of Monte Felcino. It dates to at least the twelfth century, although the only thing that remains from the original building is the semi-circular apse. It was once home to an ancient wooden icon of the Madonna and Child. In 1998, it was restored and placed in the church of Le Ville.
You might also be interested in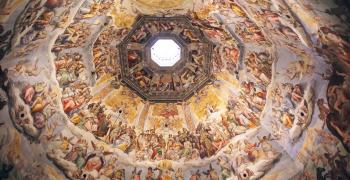 Learn more
Art and Culture
Tuscany is the cradle of the Renaissance and known all over the world for its immense artistic and cultural heritage.
continue...