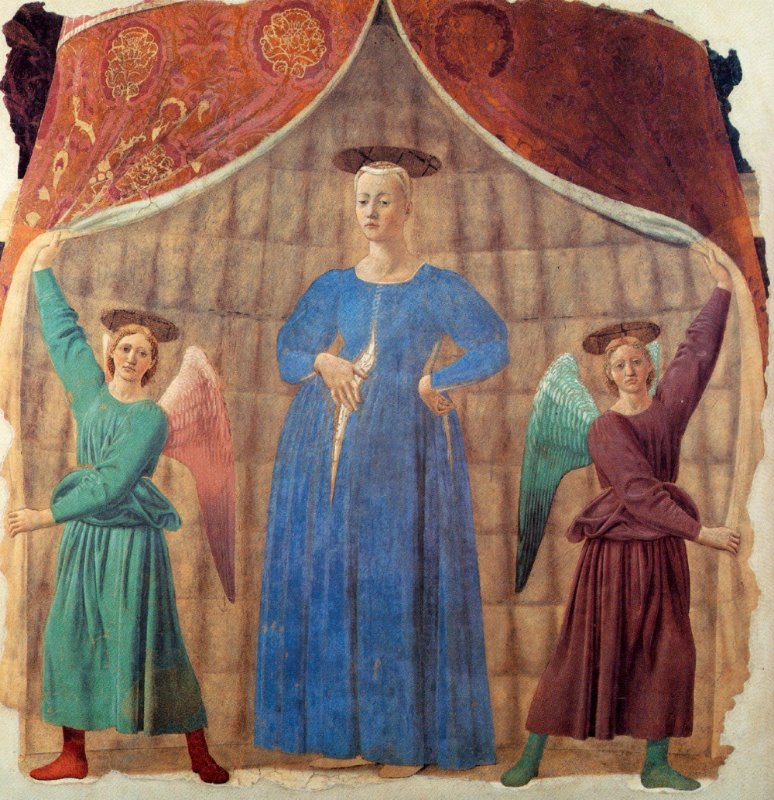 Arezzo Province, Piero della Francesca
Discovering masterworks in the area
Piero della Francesca has many links to Arezzo and the surrounding area.

SANSEPOLCRO
Piero della Francesca was born in Sansepolcro around 1412. The Museo Civico houses four works by the artist. The Polyptych of the Misericordia, was commissioned from Piero by the Sansepolcro Compagnia in 1445. The central panel of the painting shows the Madonna of Mercy, protecting and sheltering the faithful beneath her mantle.

The Resurrection is a large fresco painted by Piero della Francesca on the central wall of the Council Chamber. This work, which is considered to be among the most representative of the artist, reflects the human and spiritual rebirth of Christ. Strong and solemn, the figure of the Saviour dominates the scene. In the background the artist has chosen to represent the dawn, the beginning of a new day, to represent the dawn of life.

The fresco portraying St. Julian was discovered in 1954 in the old church of Sant'Agostino, later dedicated to Santa Chiara. The saint, portrayed with a youthful appearance, is wrapped in an elegant red cloak which stands out against the background of antique green imitation marble.

The detached fresco showing St. Louis, originating from the Palazzo Pretorio, shows the saint dressed in a Franciscan habit with a richly decorated bishop's cope; in the background is a fake niche of precious red and green marble.

MONTERCHI
Piero della Francesca's mother Monna Romana was born in Monterchi. It was here Piero della Francesca painted the extraordinary fresco of the Madonna del Prato for the ancient church of Santa Maria a Momentana. Since 1991 the fresco has been housed in a small museum. The iconography of the expectant Virgin gives the image an impressive sacred monumentality. The painting is an expression of both the human and the divine. At her sides are two angels, their hands holding back the curtains of the tent to reveal the Virgin, dressed in a simple blue dress and white smock with her hand resting on her swollen womb.

AREZZO
The Bacci chapel in the Basilica of San Francesco houses the fresco cycle of the Legend of the True Cross, the masterpiece which the artist painted for the Franciscan church between around 1452 and 1466. The subject of the cycle is taken from the Legenda Aurea written by Jacopo da Varazze in the thirteenth century.

In the Cathedral of Arezzo, at the top of the north aisle, is the fresco showing St. Mary Magdalene. The light enhances the colours, the white and red of the mantle, the green of the dress and the rosy cheeks. Mary Magdalene, one of the artist's most beautiful figures, is striking for her facial expressiveness and the penetration of her lowered gaze.
You might also be interested in