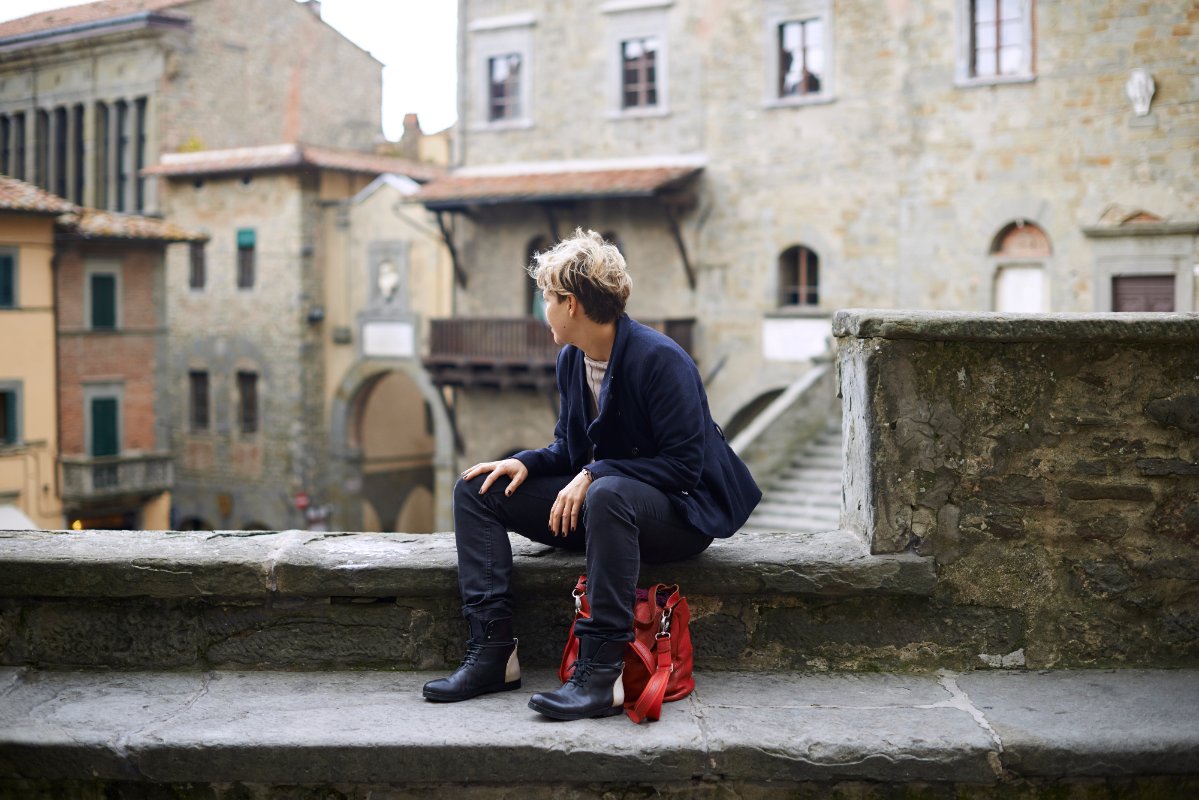 "Bronzino artist and poet" exhibit in Florence at Palazzo Strozzi
The exhibition "
Bronzino. Artist and Poet at the Court of the Medici
" opened at Palazzo Strozzi in Florence on September 24th and is on until January 23, 2011. Here's my written and video review! This is the first exhibit dedicated entirely to the artist's paintings; it's been developed in conjunction with the show in New York on the "Drawings of Bronzino" that closed last April (see this
review
) and I have to specify that it is not at all the same show! Bronzino was court artist to the Medici family (starting with the patronage of Cosimo I) from 1519-74 and is considered a Mannerist artist capable of capturing particular beauty and grace, especially in his lifelike portraits of these important Florentines. Unlike many blockbuster shows that use a famous artist's name in the title, this exhibit has a full
63 works attributed to Bronzino
, as well as others from his workshop and by his master, Pontormo. Many are housed at the Uffizi but there are loans from museums in Budapest, New York and Paris, as well as three recently discovered paintings that contribute to the scholarly material on Bronzino.
Video Review
[youtube]http://www.youtube.com/watch?v=L8VpKDtbLWI[/youtube] With thanks to
intoscana
for the video footage - If you can understand Italian, see their
interview with curator Carlo Falciani
.
Bronzino's Career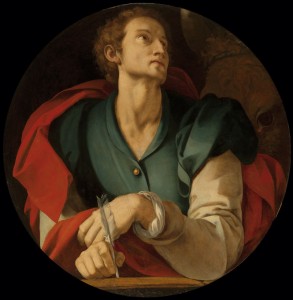 We are taken on a path that explores
Bronzino's career both thematically and chronologically
. In the first two rooms, we see how his style, which was so close to Pontormo's as to generate problems of attribution, developed when he went on his own to Pesaro and to the Della Rovere court from 1530-33. There he came under the influence, amongst others, of the Ferrarese painter Dosso Dossi, and he saw portraits by Titian at the court of Urbino. A room dedicated to Medici patronage in Florence displays the
marvellous portraits of Medici children
in between huge gold- and silver- threaded tapestries designed by Bronzino, Pontormo, and Salviati for the Sala del Dugento in Palazzo Vecchio (restoration on these finished last year and they haven't been on display since the early 1980s so this is a treat!). Many of these little portraits are regularly displayed in the Tribune of the Uffizi, now closed for restoration, and it's wonderful to see them in the excellent lighting of Palazzo Strozzi. The same can be said of the Portrait of Eleonora and her son Giovanni (of 1545) in which we can easily see the gold-shot silk of the child's doublet that I've never noticed in the dim light of the Uffizi. This lighting and the ample space in the gallery gives you the time to admire Bronzino's realistic technique that makes pearls look almost as if they are in relief (but if you look at the painting from the side, you can see that the surface is perfectly flat!).
We next encounter works by Bronzino for the
Panciatichi
family. Bartolomeo Panciatichi was born in Lyons and later became a member at the French court, but returned to Italy and settled in Florence upon marrying Lucrezia Pucci. They were accused in 1551 of harbouring Lutheran tendancies – Reformist thought was rather rampant at the Medici court of the 1540s. This fact helps us understand the particularly austere Crucified Christ on the Cross that must have been used for devotional practise that emphasized direct meditation on the image of the Crucifix rather than thinking about the narrative of the Passion. For the portrait of Bartolomeo Panciatichi, the childrens' wall text, written in verse, points out a dark dog in the corner. These
amusing poems in Italian and English
are in line with the Burlesque poetry that Bronzino himself wrote, examples of which are on display in the next room. In the open books we see an
ode to raveggiolo
(a soft cheese) and to the onion; the latter has inspired a new musical work (commissioned by the Fondazione Palazzo Strozzi) called "Of Art and Onions" by American composer Bruce Adolphe that will be premiered on October 8th at Teatro Goldoni in Florence. A funny two-sided portrait of the court dwarf Morgante is part of the
paragone
between painting and sculpture and it is shown in conjunction with sculptures by artists with whom Bronzino exchanged poems.
Information for your visit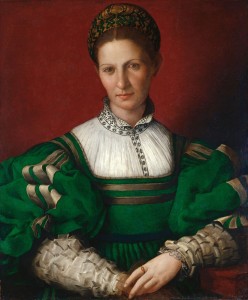 On the whole, the beautifully laid out exhibit that has been in the making for over four years is a well-researched contribution to scholarly work on Bronzino. The wall text is clear and not dumbed down; there are even frequent references to attribution debates! The exhibit is welcoming to the general public and to their children thanks to kid-specific wall text, the intelligent audioguide, and three catalogues (full, basic, and childrens').
Children
and their families can borrow, for free, an "artist's handbag" kit to visit the exhibit while doing fun activities! A guide specifically for children is also available in the bookshop. At the end, children and adults can draw their own portraits inspired by the artist. Other family activities and events are being held, look for more info at
www.palazzostrozzi.org
.
Accessibility note
: I attended this show with someone who is visually impaired and he found the audioguide to be a big help because he's unable to read wall text. Palazzo Strozzi is served by an elevator and has wheelchair ramps. There is seating on which to rest in most of the galleries.
Open daily
(including Monday) from 9am to 8pm. Free Thursday nights (9-11pm). Tickets cost 10 euros for adults, various discounts available (including upon presentation of a Trenitalia card or ticket).
Curated by
: Carlo Falciani and Antonio Natali
All photos reproduced with permission.
You might also be interested in