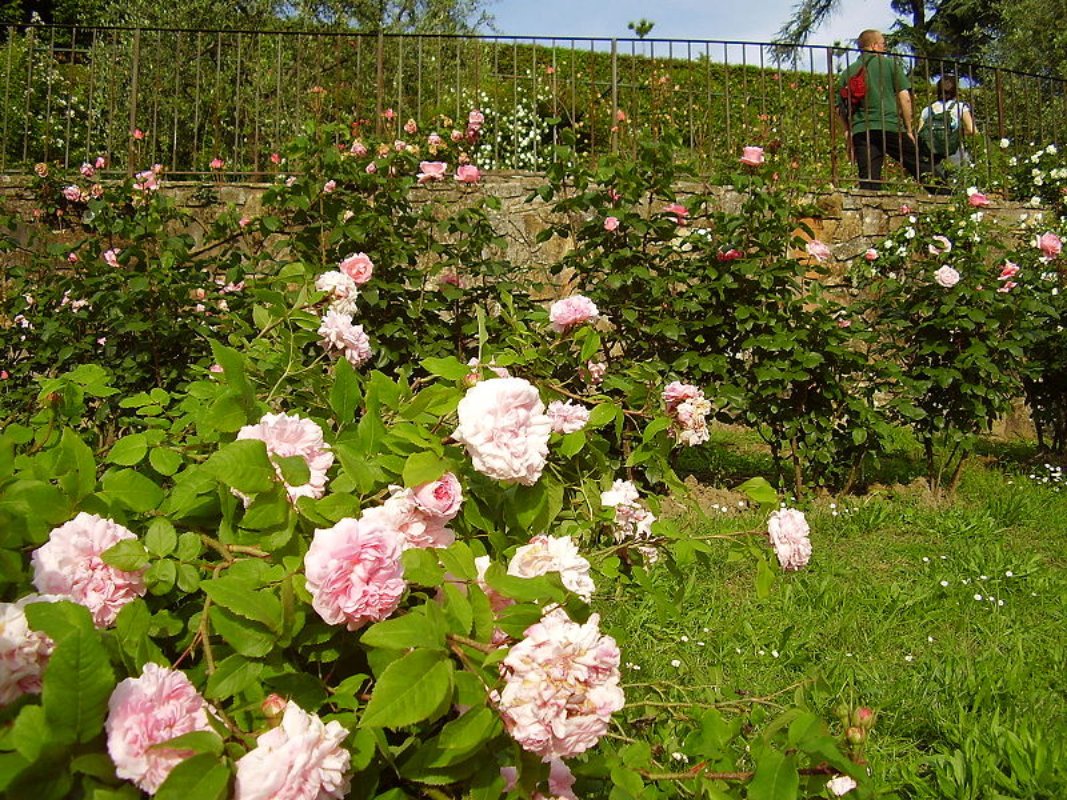 A floral trip to Lucca
The city's botanical gardens and parks
Lucca's Botanical garden founded in 1820 by Maria Luisa di Barbone is surrounded by walls built in Medieval times and the 16th century. According to catalogues created in 1845 by Benedetto Puccinelli, the garden hosted more than 2,000 species. Originally an example of a monastic 'hortus conclusus', this botanical paradise was used for growing medicinal herbs and food. Throughout the course of the XIX century it was modified to include a vast woodsy area in addition to a small lake and calcareous hill-like formation typical of the mountains surrounding Lucca and Monte Pisano.

Several interesting species find their home here such as the Livingstone palm, Lebanese cedar, the Magnolia and the Lawson Cedar, all planted in the 1800s. At the edge of the lake, which hosts myriad water lilies, you'll find many Tuscan swampland species such as hibiscus, iris and fern. Along the walls of the park, nature lovers will delight in splendid examples of camellias, rhododendron and azaleas. In the town's Hortus sanitatis you'll find hundreds of examples of the world's most common plants used for food. There are many species typical of the area surrounding Lucca as well as varieties of plants that are usually grown in warmer climates, such as the banana, citrus plants and palms.

The Bicchi Museum is connected to the botanical garden; this venue hosts many vintage illustrations and a collection of gesso fruit, as well as fossils from the Monte Pisano area. It's open from 9am to 1pm on weekdays from October to April and 9am to 1pm/4pm to 7pm for May to September. Closed Mondays. For more information call: Renaissance wall still encircles the city center in-tact. The area surrounding the wall was transformed into a 5-km tree-lined path at the beginning of the nineteenth century. There you'll find horse-chestnuts white poplars, cedars and many more species.

On the northern-most side, you'll be able to spot a glimpse of the Pfanner Garden, while on the south, you can see a splendid view of the Botanical gardens. In the center of Lucca, you'll find the hanging garden at the top of Torre Giunigi in Via S. Andrea (open for a fee from 9am to 7pm on weekdays and 9am to 2pm on Sundays and holidays). Palazzo Pfanner's garden in Via degli Asili is also worth a visit (open daily from March to November for a fee; for information call 0583.991667). There, you'll find lovely fields of tiny daisies and red clay kilned pots from 1842 with citrus plants, in addition to statue-lined avenues and woodsy areas featuring bamboo forests and laurel.
APT - Lucca Tourist Information Office
Piazza Guidiccioni, 2
55100 Lucca
You might also be interested in
Lucchesia
Centuries-old towns to explore, spas perfect for a dose of rejuvenation, 18th-century villas set in magnificent gardens: this is the Lucchesia, a lively landscape modeled on the meanderings of the Serchio river and dotted with medieval hubs. ...
Scopri Lucchesiakeyboard_backspace