Pedaling your way to discover the Etruscan cultural and gastronomic heritage
A bike ride and a lunch by the lake: discovering Chiusi and its surroundings
I have been to Tuscany many times already, yet I never fail to be amazed at every new facet I discover of that beautiful region every time I go back.
Chiusi and its surroundings were no exceptions to that rule. Located south-east of Tuscany, at the border with Umbria, Chiusi is a beautiful little town perched on a hill, with a rich Etruscan heritage. Indeed, the city reportedly was one of the first and most important Etruscan cities back in the 6th century BC. Extensive excavation works in and around the city have brought to light a large collection of vases, terracotta potteries, sarcophagus but also large and well-preserved tombs part of a big necropolis found in Poggio Renzo, just outside Chiusi.
first leg
Discovering Etruscan tombs on a bike
It is early in the morning when we arrive at our meeting point in front of one of the many cultural highlights of Chiusi: the National Etruscan Museum. The sun is shining, and the bikes are waiting for us. We hop on our two-wheels and after a few turns we are out of the city, entering the beautiful Tuscan countryside of the Chiana valley.
The landscapes surrounding us are everything you can expect from Tuscany. With one exception: their beauty is even more breathtaking once you experience them first hand. Green and golden hills, endless cypresses alleys, and stone villages perched on hills. We pedal our way down, then back up – thank God our bikes are electric! – to finally stop at two of the biggest Etruscan tombs of Poggio Renzo: the "Tomba della Pellegrina" (the Pilgrim tomb) and the "Tomba della Scimmia" (the Monkey tomb).

The latter really strikes me: even though it dates back from the 5th century BC, it has remarkably stood the test of time. The paintings on the wall, in particular, are of a very subtle beauty. They also give a clear glimpse into Etruscan customs. In the main room of this large tomb that was used for generations and generations, you can see a rich woman – most probably the deceased and owner of the tomb – seated under the sunshade, as she watches over a series of funeral games including sports, dance, partying and live music. The place is solemn, and one cannot help feeling overwhelmed by so much beauty and history.
It is time however to hop on our bikes again for a second stop: the lake of Chuisi.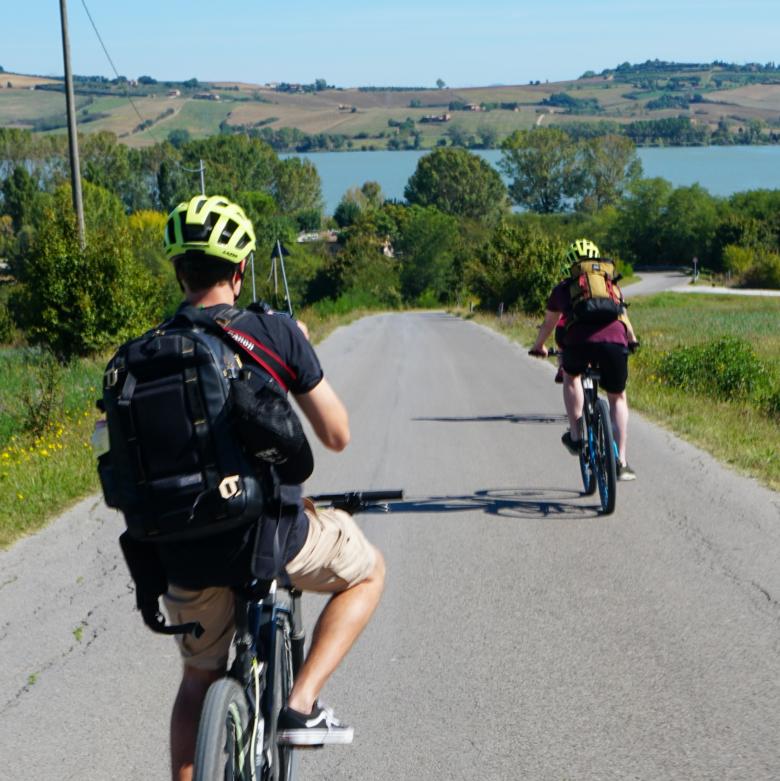 Second leg
Eating "brustico" by the lake
It is an easy ride downhill from Poggio Renzo to the lake of Chiusi. About ten minutes by bike, enough time to enjoy the beautiful Tuscan landscapes once again.
Less known from tourists, the Chiusi lake is nonetheless worth a visit. This natural, almost untouched lake sits in between hills and offers visitors tranquility. For nature lovers, the lake is the perfect spot for bird watching. For those who, like me, prefer tasting local cuisine, the Chiusi lake is perfect for a picnic. Or even better, eating a typical Etruscan lunch at the lake's restaurant, the Ristorante Pesce D'Oro.
If you go there, you must try "brustico", a dish that was reportedly already cooked by Etruscans. Brustico is made from black bass fished in the Chiusi lake. The fishes are quite small – between 200 to 300 grams each. They are placed on a grill and then literally carbonised on each side with fire from wet lake reed.
When the fish is cooked, it is cleaned from all its scales, and cut into small pieces. It is traditionally served in small plates with local olive oil, lemon and a side of "fagiolina di lago", small white beans grown near the lake. Surprisingly, it is perfectly cooked, with a delicate smoky flavour. Pesce d'Oro is also serving brustico with home-made tagliatelle, cherry tomatoes and parsley – another dish that is a real bite from heaven.
Brustico is only made around the Chiusi and Montepulciano lakes in Tuscany. It does not get more local or authentic than that. And, trust me, the experience is definitely worth the journey.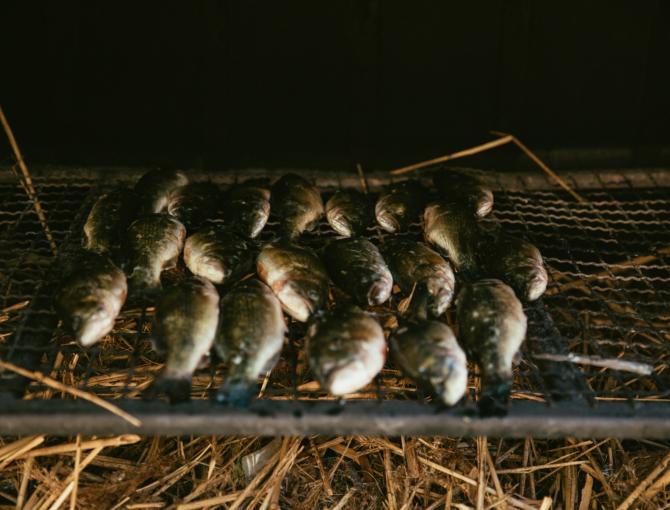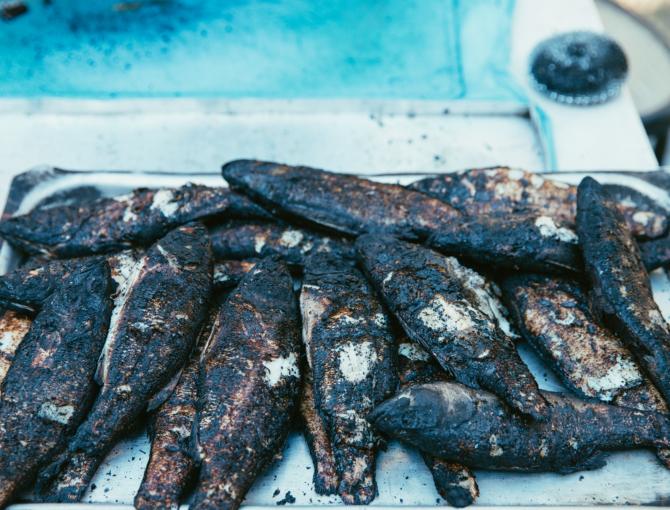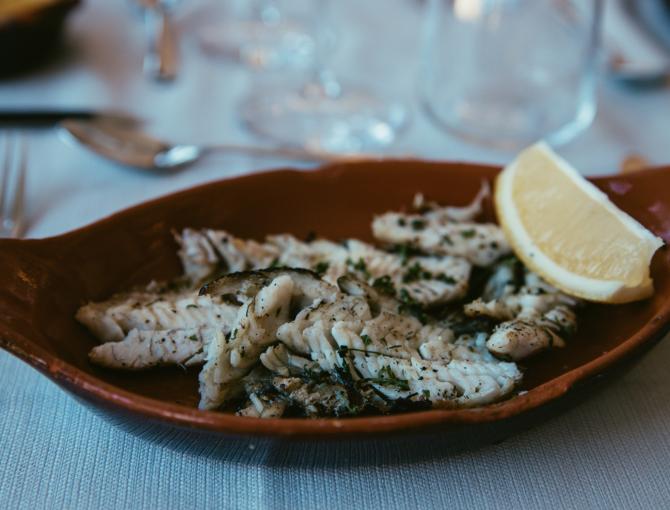 You might also be interested in