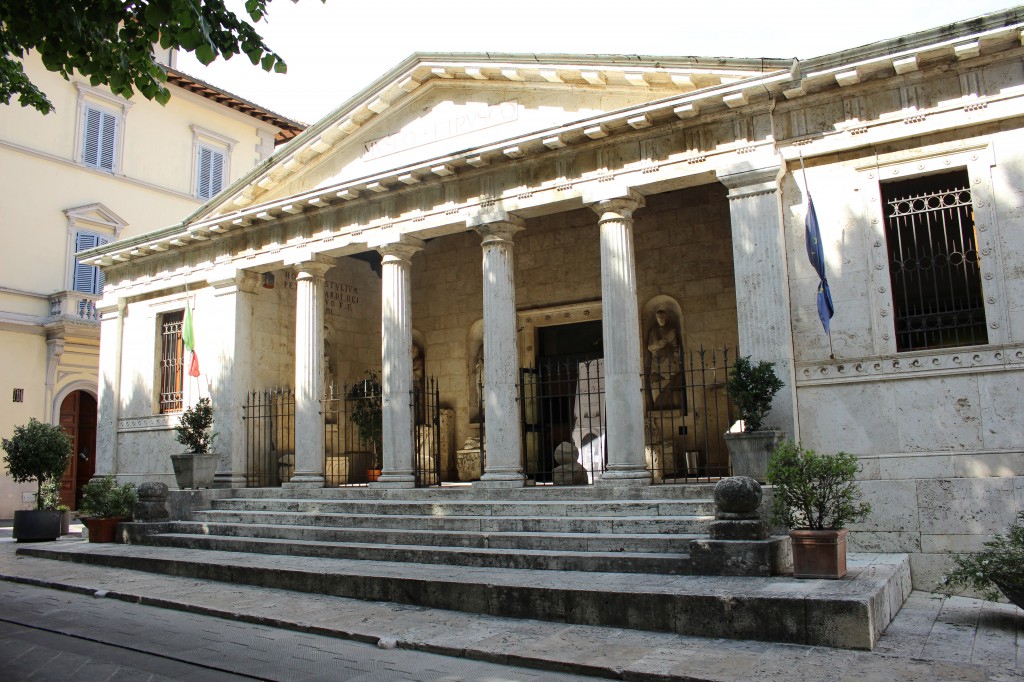 account_balanceMuseums
National Museum of Archeology in Chiusi
Etruscan treasures from the territory are on display
The National Museum of Archeology in Chiusi conserves Etruscan, Roman and Lombard artefacts coming from the territory. Throughout the rooms, visitors can admire the Etruscan tombs of Scimmia, Colle, Leone and Pellegrina. An important restoration lab is also located on the grounds, specialized in archeological materials.
The exhibits are arranged chronologically and thematically and bring visitors on a journey from Prehistory to the Middle Ages, displaying ceramics, sculptures, gold and silver decorations, the famous Chiusi canopic jars, painted urns decorated with low-reliefs and a reconstruction of the main tombs in the area.
Among the most important are the anthropomorphic canopic jars, including the Dolciano canopic jar on a decorated bronze throne, the stone sculptures of sphinxes and the black and red-figure attic ceramics with scenes of Greek mythology depicting Achilles and Ajax or Telemachus from Odessey.
Also worth mentioning are pieces of Etruscan jewellery, a chest from the Pania Tomb and splendid marble and alabaster urns with a portrait of the deceased on the lid and mythological scenes on the container, where visitors can even see winged demons from the Etruscans' underworld.
Info: archeotoscana.wordpress.com
Chiusi
A glorious Etruscan history surrounded by a quiet Tuscan countryside
Bordering Umbria, in the Valdichiana countryside, sits the historic city of Chiusi, the proud receiver of the Touring Club's Orange Flag. According to Roman sources, it's considered to be one of the very first and most important Etruscan cities. ...
Morekeyboard_backspace