Top Tuscan Wines
Exploring DOCG wine denominations in Tuscany
Tuscany is a major producer of quality wines due to the region's excellent soil and climate, as well as long tradition of winemaking. In this article we'll look at the most important wines produced in Tuscany that have received the DOCG recognition, the highest level that exists in Italy.
Italian wine vocabulary: the basics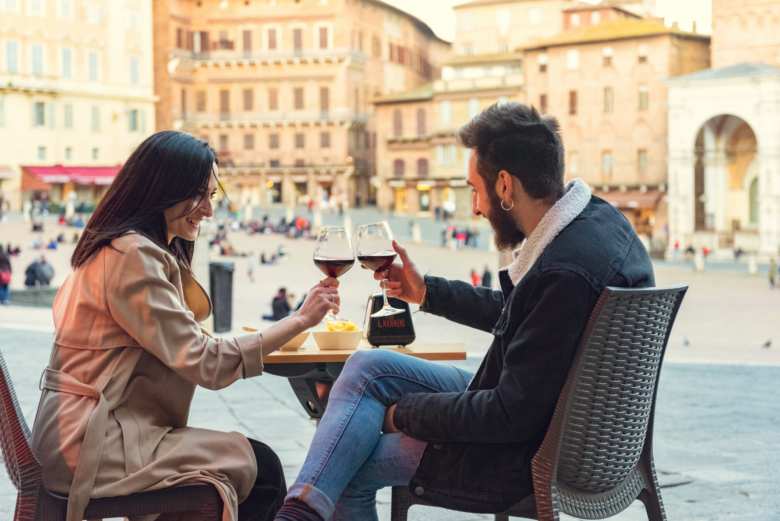 Before we dive into Tuscan wines, we need to go over a few vocabulary items that will help you understand Italian wine so much better. Wine in Italy is divided into classifications that easily allow the consumer to recognize what's in the bottle (if you know what they are). Starting from the bottom of the quality pyramid we have table wine (vino da tavola), then IGT (sometimes you'll see this as IGP, the EU standard), followed by DOC (Denominazione di Origine Controllata, or controlled designation of origin) and topped by DOCG (Denominazione di Origine Controllata e Garantita or controlled and guaranteed designation of origin).

DOC and DOCG are two quality classifications, roughly equivalent to the French AC and AOC if you're familiar with that. These regulations, set out by each area's consortium, indicate what is permitted in terms of production area, wine color, grape varieties and max/min proportions, styles of wine, max/min alcohol levels as well as permitted or mandated viticultural, vinification and maturation techniques. The difference between the two is that DOCG is more restrictive than DOC; DOCG labelled wines are analysed and tasted by government–licensed staff before being bottled.

DOCG wines may have two additional classifications that can tell you even more about them:
- Classico: is reserved for wines produced in the region where a particular type of wine has been produced "traditionally". For the Chianti Classico, this "traditional region" is defined by a decree from July 10, 1932 and refers to a small, original part of the larger Chianti region.
- Riserva: applies to wines with a longer ageing period than the base wine of the DOCG in question.

But what about "Super Tuscans"? In the 1970s, Tuscan wine producers began to experiment with foreign grape varietals, such as Cabernet Sauvignon and Syrah. By combining these with the Sangiovese grape, they created Super Tuscan wines, an unofficial category of Tuscan wines that is not recognized within the Italian wine classification system. Some of the most famous labels are: Tignanello, Sassicaia and Ornellaia. These high-quality wines that are marked simply as "IGT" on the quality scale have nonetheless conquered international markets, telling you that being a DOC or DOCG is not the only indication of quality.
What are the 11 DOCG wine denominations in the region of Tuscany?
There are more than 70 DOCG wines in Italy, 11 of which are produced in Tuscany. Almost all of Tuscany's top certified wines have some percentage of Sangiovese, the region's top grape with a distinctive red fruit aroma, high acidity and mouth-puckering tanins. Let's look at these 11 DOCG wine denominations and their characteristics in alphabetical order.
Aleatico passito, native only to Elba, is made with 100% Aleatico grapes. This sweet nectar has been made on the island for centuries, and proof has been found that it was enjoyed by the Greeks and Romans. Napoleon also appreciated it during his exile on the Island on Elba.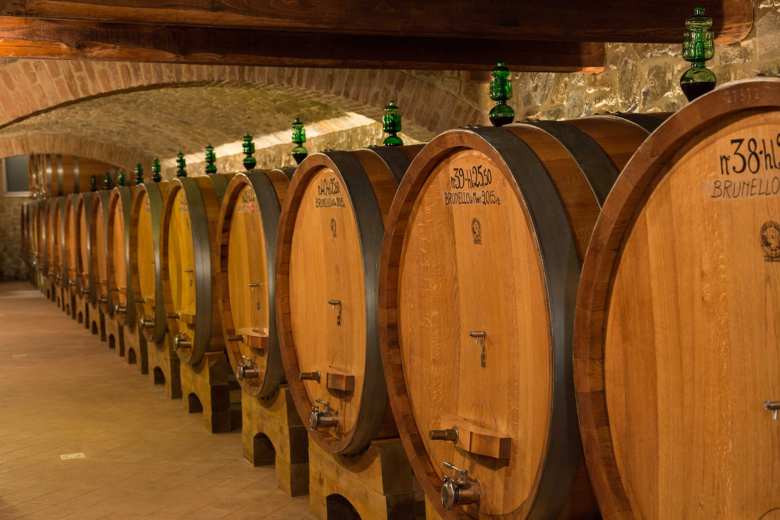 Brunello di Montalcino (base and riserva) is obtained from Sangiovese grosso grapes, a vine traditionally referred to as "Brunello" in Montalcino, and is produced only in the Municipality of Montalcino, in the Val d'Orcia area. "I Vini d'Italia 2013" of the Espresso crowned the Brunello Riserva 2006 Poggio di Sotto, designating it as wine of the year, the only wine and the first Tuscan one in the history of this guide to have obtained the maximum points: 20/20.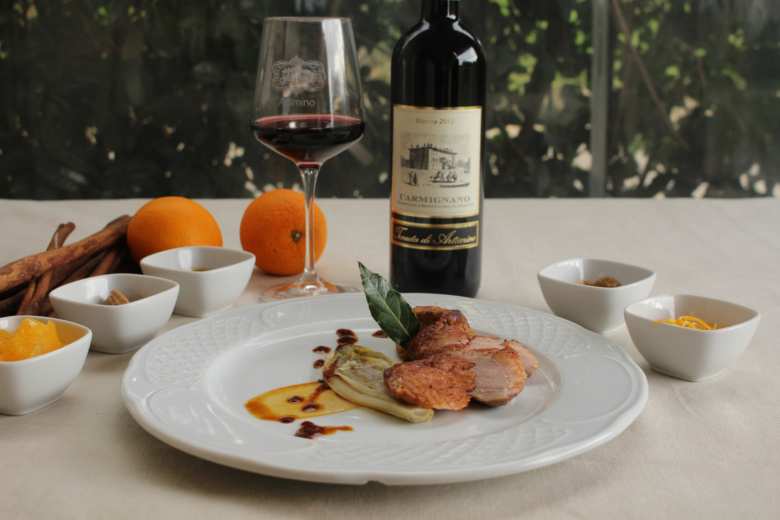 Carmignano (base and riserva) is made from 50-90% Sangiovese grapes, 10-20% Cabernet Sauvignon and/or Cabernet Franc, up to 20% Canaiolo Nero and up to 10%Trebbiano Toscano and/or Malvasia and/or Canaiolo Bianco.Carmignano DOCG wine is produced exclusively in the municipal territories of Carmignano and Poggio a Caiano.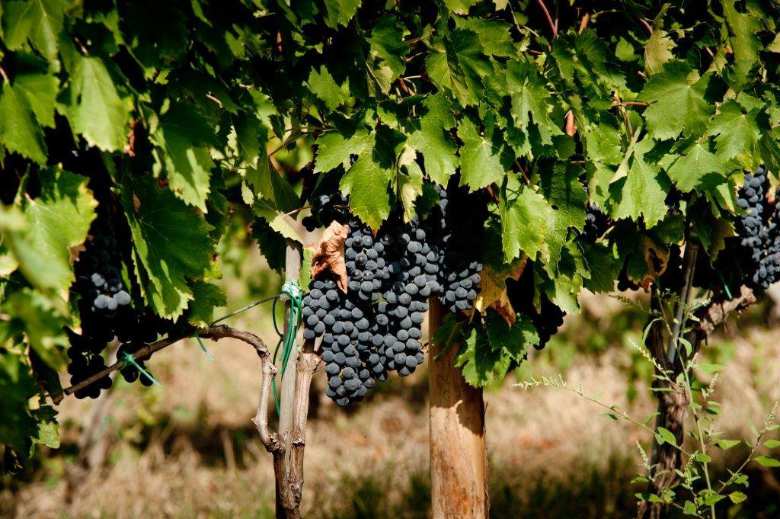 Chianti (base and riserva) is made of 70-100% Sangiovese, up to 10% Canaiolo Nero, and up to 10% Malvasia and/or Trebbiano Toscano. Produced in the provinces of Arezzo, Firenze, Pisa, Pistoia, Prato and Siena; with the option to indicate one of the sub-regions:
Colli Aretini, produced in the province of Arezzo
Colli Senesi, produced in the province of Siena
Colli Fiorentini, produced in the province of Firenze
Colline Pisane, produced in the province of Pisa
Montalbano, produced in the provinces of Firenze, Pistoia and Prato
Montespertoli, produced in the territory of Montespertoli
Rufina, produced in the territories of Dicomano, Londa, Rufina, Pelago and Pontassieve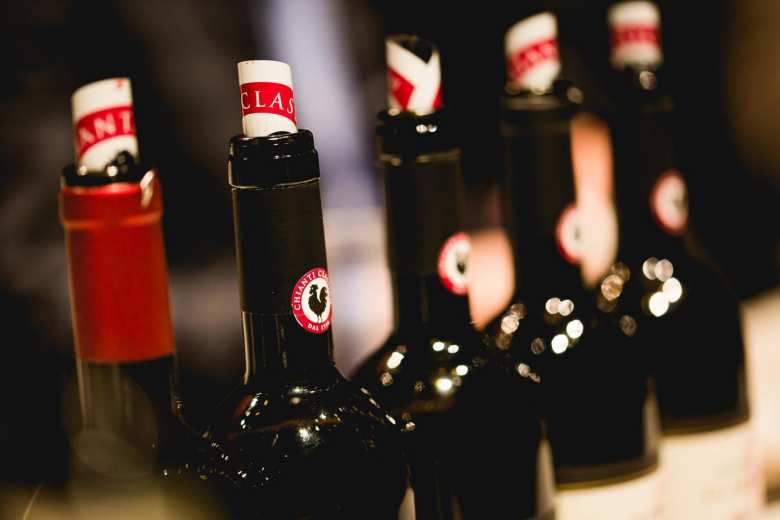 Chianti Classico, produced in the Chianti territory (the entire administrative area comprising the municipalities of Greve in Chianti, Radda in Chianti, Castellina in Chianti and Gaiole in Chianti and part of the administrative area of San Casciano in Val di Pesa, Tavarnelle Val di Pesa e Barberino Val d'Elsa, Poggibonsi and Castelnuovo Berardenga), is characterized from the exclusive and compulsory "Gallo Nero" or black rooster label. Chianti Classico and Riserva is made with 80-100% of Sangiovese grapes, and at most 20% of Canaiolo, Colorino, Cabernet Sauvignon and/or Merlot.
In 2014, the denomination included an additional quality level beyond Riserva: Chianti Classico Gran Selezione requires that grapes must be grown by the winery itself and indicates a minimum aging requirement of 30 months, including 3 months of bottle aging.
Montecucco (base and Riserva) is produced in the territories of Cinigiano, Campagnatico, Castel del Piano, Roccalbegna, Civitella Paganico, Arcidosso and Seggiano. It's made from at least 90% Sangiovese grapes.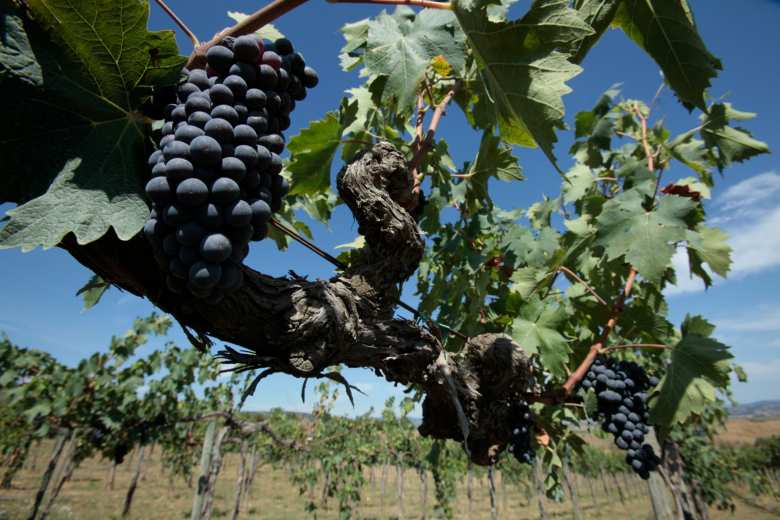 Morellino di Scansano is produced in the hills around Grosseto between the Ombrone and Albegna rivers (in the Maremma area) and contains at least 85% of Sangiovese grapes (which is locally called Morellino, a name which comes from the local Morelli horses).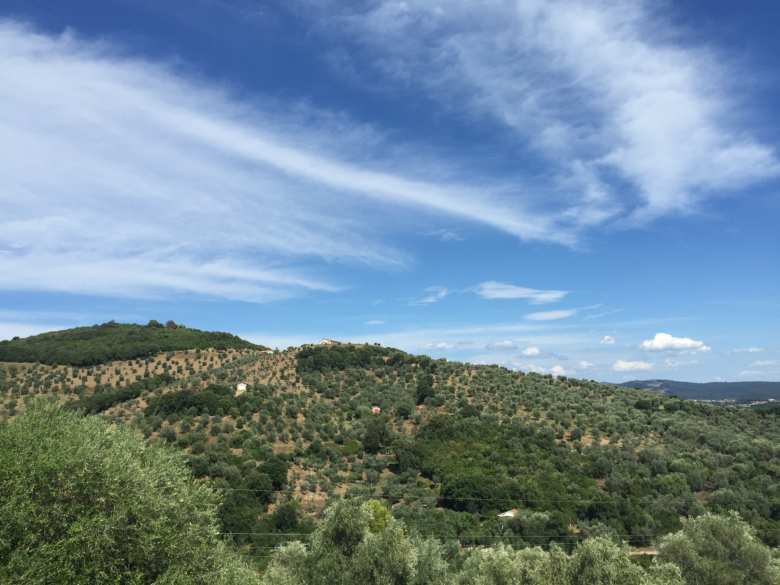 Suvereto (base and riserva) is a blend of Cabernet Sauvignon, Merlot or Sangiovese from 85% to 100%. It's produced in the territory of Suvereto.
Rosso della Val di Cornia
Rosso della Val di Cornia (base and riserva) is produced in the territories of Suvereto and Sassetta part of Piombino, San Vincenzo, Campiglia Marittima and Monteverdi Marittimo. It's made from at least 40% Sangiovese, and a max 60% of Cabernet Sauvignon or/and Merlot.
Vernaccia di San Gimignano
Vernaccia di San Gimignano, base and riserva, is made from 85%-100% of Vernaccia di San Gimignano grapes and traditionally produced in the territory surrounding San Gimignano. This white wine was mentioned by Dante in his 'Divine Comedy'.


Vino Nobile di Montepulciano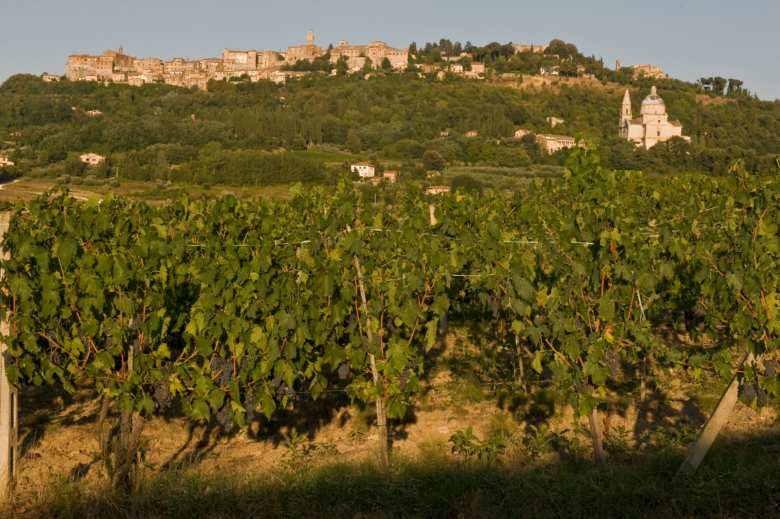 Vino Nobile di Montepulciano (base and riserva) is obtained from Sangiovese grapes, called "Prugnolo Gentile" in Montepulciano, at minimum 70%, and may be blended with up to 30% of other varieties authorized for the Tuscany Region. In 1980 it became the first Italian wine to display the neck-strip of the Denominazione di Origine Controllata e Garantita (D.O.C.G.).
Download here the infographic Top Tuscan Wines.
Tuscan Wine for Beginners
You might also be interested in