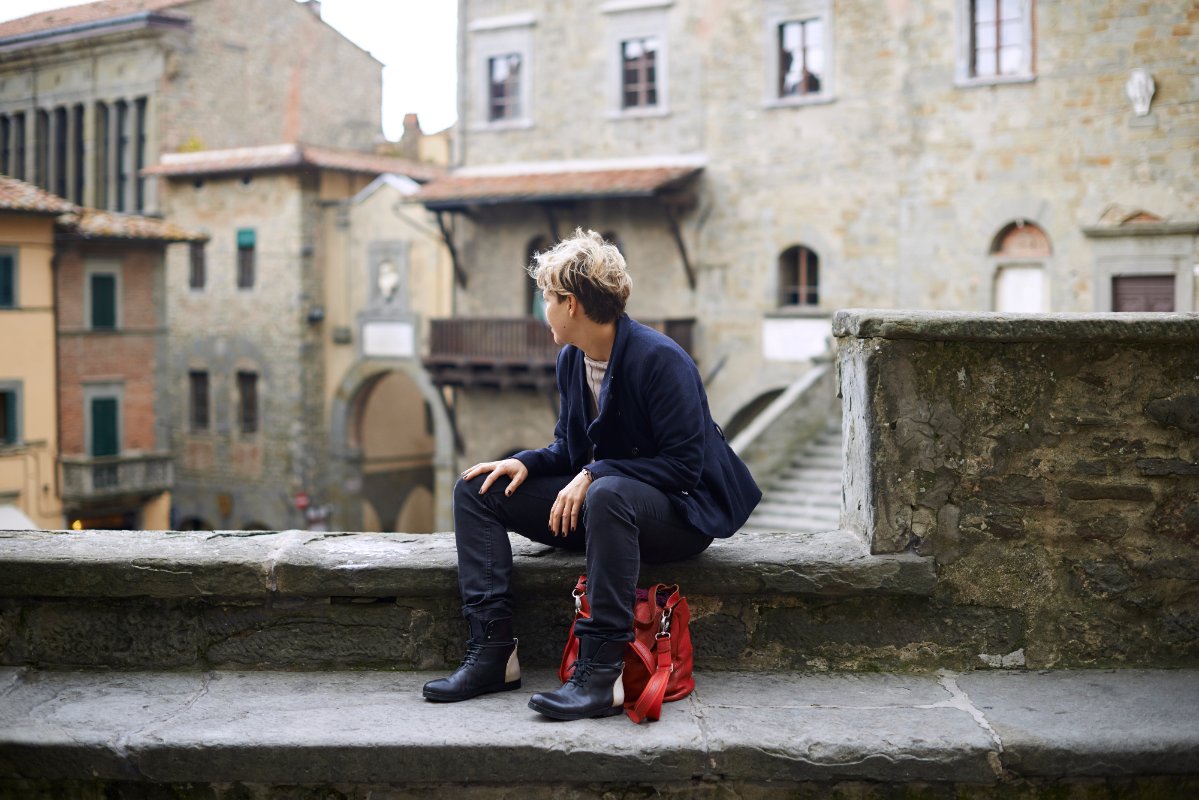 Brunelleschi: life, facts, curiosities and art!
He was an architect, engineer, sculptor, mathematician and designer. He developed
linear perspective
. He is the genius behind
the dome of Florence's Cathedral
. He's
Filippo Brunelleschi
.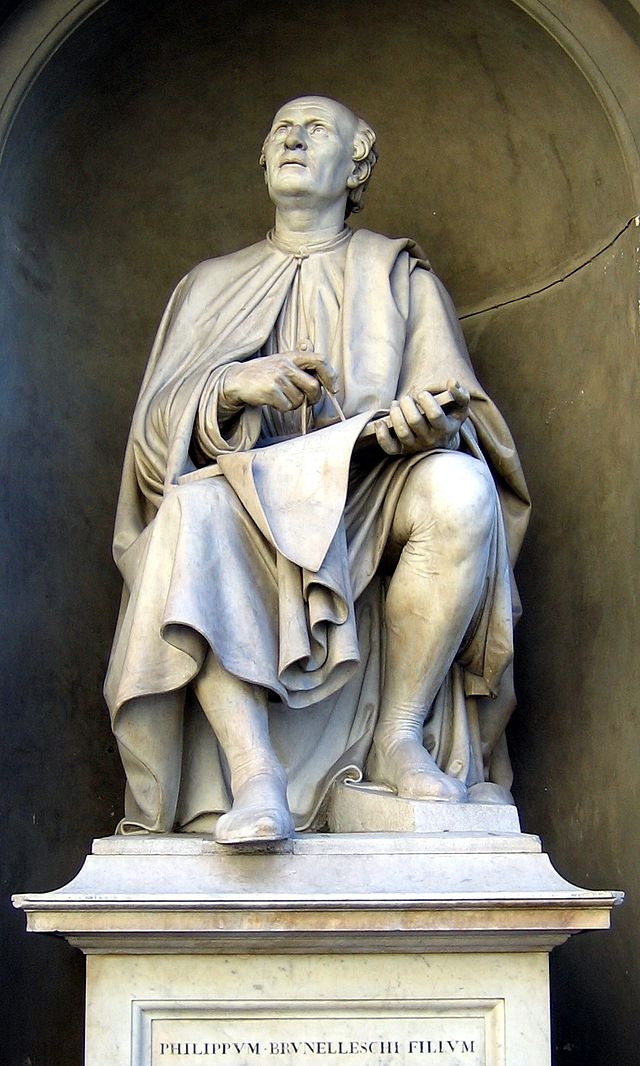 HIS STORY
Filippo Brunelleschi was born in 1377 in Florence.
We don't have a lot of information about his early years: he had a literary and mathematical education, but in early adulthood he joined the artisan class and became a goldsmith. Along with his friend
Donatello
, Brunelleschi is considered one of the
fathers of the Renaissance
. Part of their inspiration came from studying the ancient Roman ruins though an analysis of Brunelleschi's work shows that he may not have known the original sources but have been more inspired by local "Romanesque" architecture. In 1401 Brunelleschi was one of the seven participants in a very important
competition for a new set of bronze doors for Florence's Baptistery
(now located on the building's north side). Seven gilded bronze panels depicting the assigned topic of the
Sacrifice of Isaac
were produced. As we know, the winner was Lorenzo Ghiberti, who after this first set of doors went on to create a second set known as the
Gates of Paradise
. Meanwhile Brunelleschi dedicated himself to architecture more than sculpture.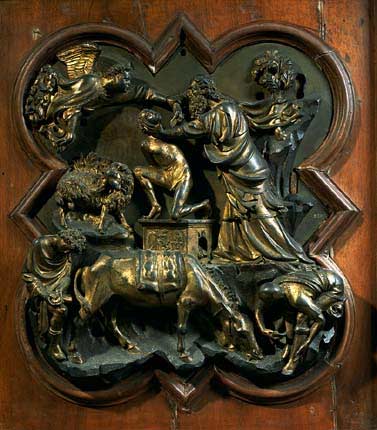 In 1410 there was another episode of competition between him and Donatello: it's
the story of the Crucifix
! The Crucifix that Donatello made for the Church of Santa Croce was nicknamed by Brunelleschi
"the farmer Crucifìx"
; challenged to do better, Brunelleschi carved the same subject for the church of Santa Maria Novella.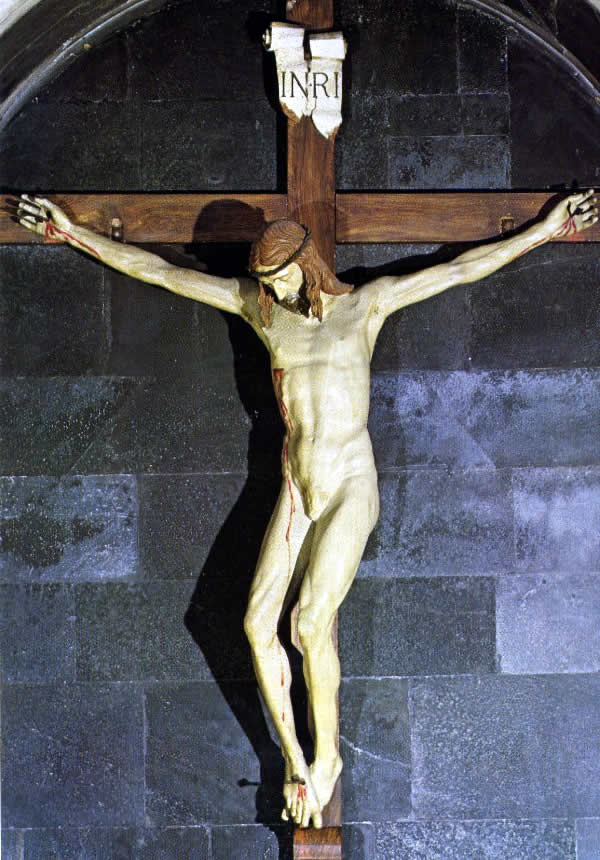 Other works by Brunelleschi include the
loggia of the Ospedale degli Innocenti
in piazza Santissima Annunziata, the
Old Sacristy
at the Church of San Lorenzo, the
Church of San Lorenzo
itself (mostly on his design) and the
Church of Santo Spirito
(less so on his design). The
Pazzi Chapel
in Santa Croce is very late Brunelleschi. But of course, what he's known for is
his masterpiece: the Cupola of the Duomo in Florence
. The city's cathedral had been in construction for over 100 years and they still had not figured out how to build a dome over its very wide apse. They held a
competition
for this in 1418: again, Ghiberti and Brunelleschi were two of the main players, but this time it was Filippo's turn to win! It was
the project of a lifetime
, and it did in fact took most of Brunelleschi's life (1420–1436). Brunelleschi's dome is still
the largest masonry dome in the world
and even today we don't fully know all the techniques he used.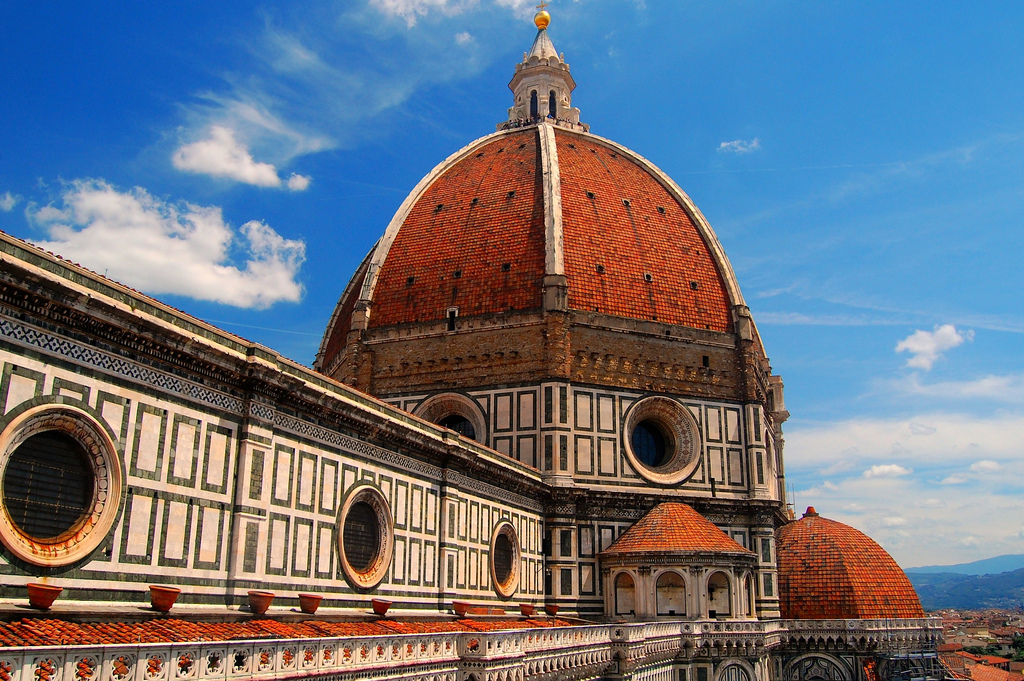 During his lifetime Brunelleschi invented hoisting machines, designed fortifications for Florence and for other towns, created rigs for stage sets, built a huge ship to transport marble to Florence from Pisa up the Arno River (and saw it sinking at on its first trip!). As if all this was not enough, Brunelleschi is also considered
the inventor of one-point linear perspective in drawing and painting
, which revolutionized the way that space is represented and the way we see the world. Brunelleschi died in 1446, on April 15.
His tomb is in the crypt of Florence's Cathedral
, and the epitaph reads:
"How much Filippo was eminent in Daedalus's art is visible in the magnificent dome of this very famous temple, and by the many machines invented by him with divine intellect. And for the excellent qualities of his soul and his singular virtue, his well deserving body was buried in this earth on May 15, 1446, by order of his grateful motherland."
HIS WORKS OF ART, IN FLORENCE (principal buildings and works)
Bargello museum Sacrifice of Isaac, tile bronze
Ospedale degli Innocenti
Old Sacristy of San Lorenzo and San Lorenzo church
Palazzo di Parte Guelfa Meeting Hall
Rotonda of Santa Maria degli Angeli 
(unfinished)
Santo Spirito church
Pazzi Chapel in Santa Croce church
Cathedral the lantern the exedrae ... the Dome!
You might also be interested in