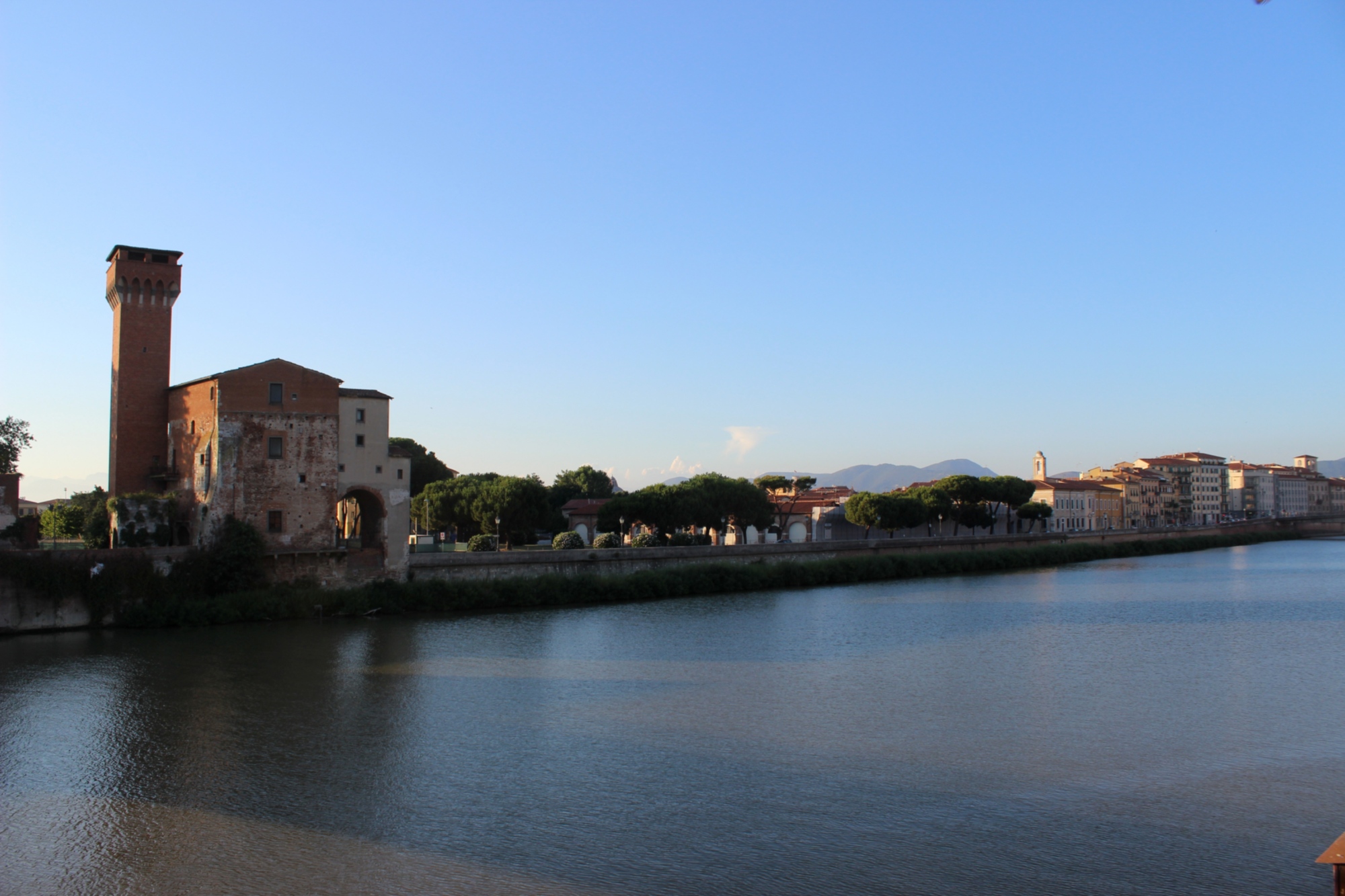 Photo ©Miguel Hermoso Cuesta
location_cityHistorical Buildings
The Guelfa Tower in Cittadella Vecchia, Pisa
From the top of the tower, visitors can revel in the breathtaking views of the surrounding countryside
The tall Guelfa Tower stands in one of the most beautiful areas of Pisa, the Cittadella Vecchia; and its unmistakeable profile has caught the eye of everyone who has walked along the Lungarno over the centuries. This part of the city, full of oft-neglected traces of antiquity, preserves hundreds of years of history.
At the start of the thirteenth century, off the back of its many naval victories across the Mediterranean basin, the Pisan Republic concentrated its intense building efforts onto this area. Known colloquially as Tersana da terzarolo, the smallest of a galley's three lateen sails, it saw imposing construction projects and in 1264 the republic's new dockyard, apart from steps and boathouses, even included a little church dedicated to Saints Barbara and Reparata, which was solemnly blessed by the Archbishop Federico Visconti. As for other thirteenth century structures, today we can see the brick arches inserted into the defensive wall along the Arno.
The dockyard increased in importance in the thirteenth and fourteenth centuries with the completion of the city's last bridge, Ponte a Mare, along with its concomitant gate Porta a Mare, still visible on the left riverbank. In 1394 the new Governor of Pisa Jacopo d'Appiano, fearing that supporters of his rivals the Gambacorti might re-enter the city, began the transformation of the dockyard into a defensive citadel ringed with towers and inhabited by a stable garrison. In 1406, when the city became a dominion of Florence for the first time, the new governors of Pisa permanently transformed the dockyard buildings and made it into what would later become known as the Cittadella Vecchia. The start of the 1400s also saw the construction of the Guelfa Tower, named in opposition to the existing Ghibellina Tower, which was completed in 1290 in the south-west corner of the Tersana and no longer stands today.
In 1944 the whole area was seriously damaged by bombardments, the Guelfa Tower being razed to the ground and then rebuilt in 1956 to the original design. Recent restorations, overseen by municipal bodies, have made the tower accessible to the public, to whom it affords a beautiful view of Pisa, sandwiched between the elegant curve of the mountains and the intense green of the pinewood in the San Rossore Park.
Pisa
Travel to the city of the leaning tower, a UNESCO heritage site
Pisa and its uniquely beautiful Piazza dei Miracoli, a UNESCO World Heritage site since 1987, have always been a fundamental stop on any holiday in Tuscany. Millions of people come here from every corner of the world every year to try, with the help of perspective, to keep the leaning tower standing. ...
Morekeyboard_backspace