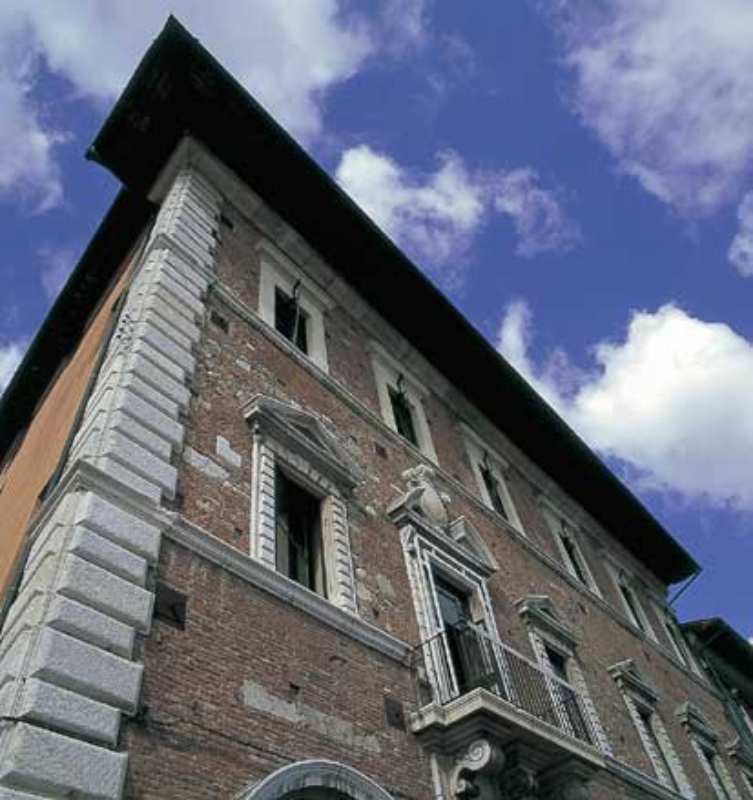 location_cityHistorical Buildings
Palazzo Lanfranchi
On Pisa's Lungarno Galilei, a historic building newly returned to the city
This palazzo, which looks onto the Lungarno Galilei, bears the name of one of Pisa's most illustrious families, lead players in aristocratic circles and in every branch of civic and political life. Dante mentions them: "With lean and mean and expert hounds, Gualandi and Sismondi and Lanfranchi" (Inf. XXXIII, 31-32). It was a member of the latter, canon Alessandro Lanfranchi, who purchased the bankside building in 1539, beginning an important reconstruction project which cohered its various parts into more or less the edifice that we see today. Analyses of the different construction phases, which can be identified thanks to restorations alive to the tiniest detail, have allowed us to distinguish the palazzo's original nuclei from its satellite sections, built between the twelfth and fourteenth centuries.
A first layout was given to the building in the early fourteenth century by the then owner Betto Stefani, a Pisan wool merchant. Dating from the same period are the dark grey paintings that are still visible on some of the palazzo walls: a decoration which, in its fur-like aspect, was meant to attest to the wealth of its owner. After Lanfranchi's sixteenth-century remodelling – an operation which crowned a brilliant ecclesiastical career and testified to the economic power of its prime mover – later owners did not substantially change the palazzo's appearance.
The ninteenth century saw the building of the large well in the centre of the palace. Today the Palazzo Lanfranchi has been returned to the city as a venue for conferences and artistic exhibitions, allowing the public to admire one of the most interesting historical palaces in Pisa. It is open from Tuesday to Sunday (10:30 -19:00), and closed on Monday, Christmas Day, New Year's Day and Ferragosto (15 August). It has disabled access and entrance is free, though there may be a charge for specific exhibitions.
Since 2003 it has housed the Museum of Graphics and Drawing, and will benefit from the setup of the university's Prints and Drawings Collection, which includes the Timpanaro Collection. It can be reached from the railway station, with bus no. 3 or no. 5.
Pisa
Travel to the city of the leaning tower, a UNESCO heritage site
Pisa and its uniquely beautiful Piazza dei Miracoli, a UNESCO World Heritage site since 1987, have always been a fundamental stop on any holiday in Tuscany. Millions of people come here from every corner of the world every year to try, with the help of perspective, to keep the leaning tower standing. ...
Morekeyboard_backspace