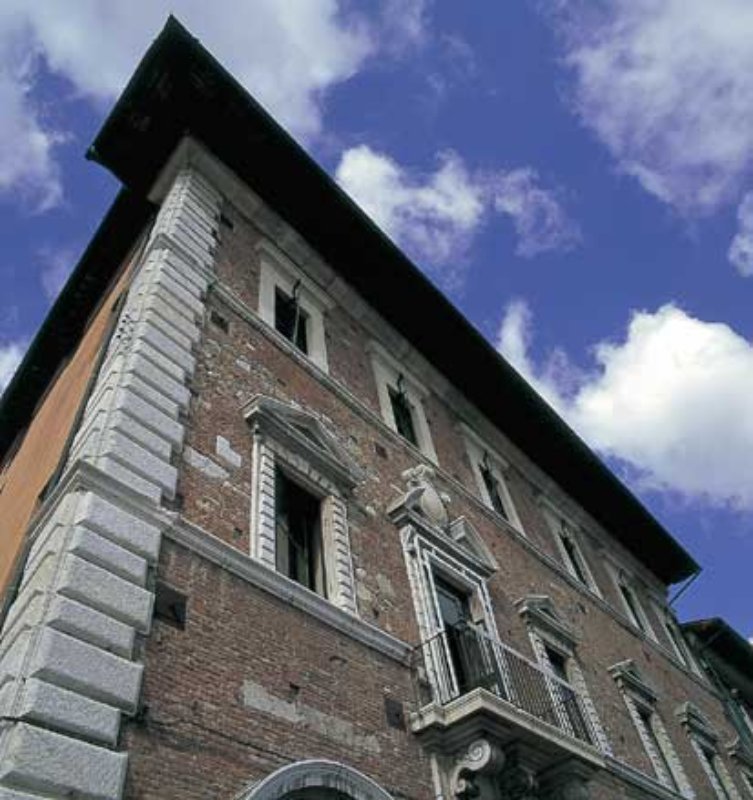 location_cityHistorical Buildings
Palazzo Lanfranchi
An historic building is returned to the city
The palazzo overlooks the Lungarno Galilei and retains in its name a memory of one of the oldest and most illustrious Pisan dynasties. The Lanfranchi belonged to the first consular aristocracy and played a key role on the Pisan political scene, as is attested by Dante in the 33rd Canto of his Inferno. It was a member of the Lanfranchi family, the canon Alessandro, who purchased the complex on the Lungarno in 1539. He then started extensive work aimed at joining and remodelling the different parts, giving the building a structure and an appearance that has remained substantially unaltered to the present day.
The analysis of the different construction phases, carried out on the wall surfaces following careful restoration, has made it possible to locate the original construction nucleus and the additional building sections constructed from the 12th to the 14th century.
A first layout was given to the building in the early 14th century by the then owner Betto Stefani, a Pisan wool merchant. Dating from the same period are the dark grey paintings that are still visible on some of the walls. The preciousness of the fur-like decoration was meant to attest to the wealth of its owner. After Lanfranchi's 16th-century remodelling – an operation which crowned a brilliant ecclesiastical career and testified to the economic power of its promoter – later owners did not substantially change the appearance of the palace. The 19th century saw the building of the large well in the centre of the palace. Today the Palazzo Lanfranchi has been returned to the city as an exhibition venue which offers its visitors the opportunity to admire one of the most interesting historical palaces in Pisa.
The palace is the property of the municipal administration and is a venue for exhibitions and conventions. Opening hours: Tuesday to Sunday from 10.30am to 7.00pm; closed on Mondays, 25 December, 1 January, 15 August. Accessible. Admission is free though some special exhibits have an entrance fee. Since 2003 it has housed the Museum of Graphics and Drawing, and will benefit from the setup of the university collection of the Prints and Drawings Collection, which includes the Timpanario Collection. From the railway station, bus no. 3 or no. 5.
Source: Pisa APT
Pisa
Experience the city of miracles, packed with maritime history and traditions
Pisa and its Piazza dei Miracoli have always been a fundamental stop on any trip to Tuscany. Despite the overwhelming presence of tourists from all over the world, who sometimes seem to have arrived here for the sole purpose of pretending to hold up the Leaning Tower – this sacred place still emits a timeless, evocative and powerful beauty. ...
Morekeyboard_backspace
You might also be interested in