Radda in Chianti as a film set
Explore the backdrop to the film "Marriages and Disaster"
Radda in Chianti;is a typical Tuscan town, boasting a medieval, hilltop city centre, a bell tower that dominates the underlying valley, roads and alleyways and a beautifully cultivated countryside, where Chianti Classico is made. These places have not changed much through the years.

"Marriages and other disasters", starring Margherita Buy, Fabio Volo, Luciana Littizzetto and Francesca Inaudi was filmed in Radda and Florence.
The movie speaks about the life of a 40-something woman, named Nanà, who lives in Florence, where she manages a small book shop with her friend Benedetta. Pressured by a very upper-class family and disappointed by a failed love relationship, Nanà lives alone with her cat.
Nanà who has been single for a long time has the intention of changing her life. We follow her throughout the marriage of her younger sister, Beatrice, manager of her family's wine making business, to a man named Alessandro.
Unexpected changes and revelations help Nanà realise what is lacking in her life and how she can change it.
You might also be interested in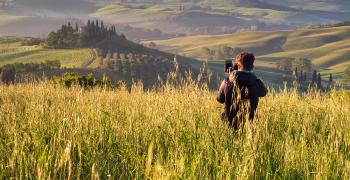 theaters
Learn more
Tuscany as a Movie
Don't be surprised if Tuscany is an ideal movie set: lots of film directors - not only from Italy - keep on choosing this incredible territory as
continue...