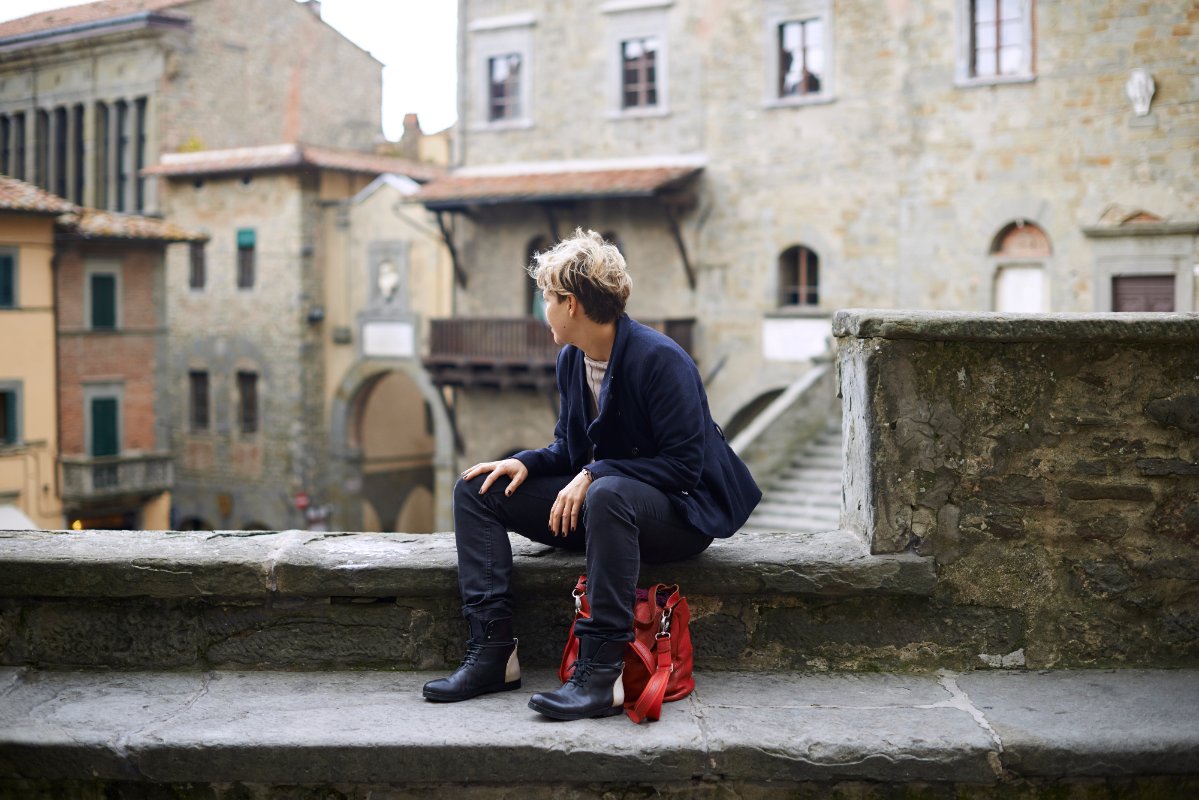 Cortona: Under the Tuscan Sun and more
Cortona is one of my favourite Tuscan towns. Cortona has become very popular in the past decade thanks to the book by Frances Mayes, Under the Tuscan Sun (and the movie with Diane Lane) which is set in Cortona; the protagonist immediately falls in love with the town, its people, and the villa Bramasole that she purchases and fixes up. You can in fact take a pleasant walk around the town (a one hour circuit with a good hill component) which includes walking past Bramasole. Cortona makes a great home base if you're going to spend a week in Tuscany, either in town or outside of town in a villa. We've come up with a week's itinerary in Tuscany based in Cortona that you can read on AroundTuscany blog; here I wanted to tell you a bit more about Cortona itself.
Modern Cortona
Cortona is a small hill town of 22,000 inhabitants south of Arezzo (the nearest major city). The historic center houses only a few thousand people (though this expands with tourists in the high season), and maintains its "authentic" character thanks to its friendly inhabitants and real stores. While other towns risk or have been de-populated, Cortona's population stays because there are good schools (including high schools), transportation, and all the necessary amenities nearby. A public pool is fun for guests and locals alike all summer long, as are pick-up soccer games in the nearby field. Weekends are animated at the Teatro Signorelli which provides a good cultural lineup at low prices. The summer hosts the Tuscan Sun Festival and this year Sting will be giving two shows there. There are also two foreign and one Italian university programs with excellent relations to the town; in fact last year I lived in Cortona for about eight months as I was teaching art history at the University of Georgia study abroad campus. Students in Cortona live a more intensive Italian experience than their cohorts in Florence because they're in a small town, where if they want to have contact with the outside world, they have to interact with the locals. Cortona is known for its excellent restaurants. Almost every place in which you set foot is good, though some are superb. We're not allowed to name names here, but don't just go by what you read on Tripadvisor, try out the smaller places too! If you have a rental apartment in town, there's a small supermarket on the main piazza, as well as two fruit and vegetable stores, Molesini's wine store, and on via Dardano there's an excellent fresh pasta store that is excellent value for your money. (Some local restaurants serve their pasta, so just cook it at home!) As for local specialities: The main bakery (called something like panificio cortonese) makes stone-ground tuscan bread baked in a wood stove (ask for "pane macinata a pietra cotto a legna" to get this), which is more tasty than the usual saltless local variety. At the beginning of via Nazionale there's a gastronomia type place that sells excellent "ciaccia", a fried bread with bacon fat and pieces of prosciutto typical of Umbria (we're on the border here). Around Easter there's a special local treat called "ciaramiglia" that is like a big crumbly cookie, also really good. Many restaurants have a kind of pasta "al fumo" on the menu; this is a yummy tomato cream sauce. I'm feeling nostalgic.
Historical notes
Cortona has a bit of everything in terms of art history. It's an Etruscan city with Etruscan walls still visible. Various tumulus tombs have been discovered in the area, the most important being the Melone at Sodo (near Camucia). If you look out over the valley you'll see a lake - that's Lago Trasimeno - and the site of one of the most diastrous ambushes in history. On a foggy June morning in 217 BCE, Hannibal's troops entirely annhilated those of the consul Gaius Flaminius (read more on wikipedia). This is the trailer for a local documentary that reconstructs the battle (in Italian, but there's not really any words anyway). Saint Francis came to Cortona in 1211 and founded a hermitage nearby called Le Celle (virtual visit here). It is a few kilometres' walk from the city center and a lovely, quiet place to visit except at Easter, when it gets really crowded. From the parking lot at Le Celle there's a marked hiking path that leads down to Il Sodo; the friars used to walk this same road.
The great Renaissance artist Luca Signorelli was born in Cortona, and the local Diocese Museum has a whole room full of his altarpieces, although his most famous work is probably the fresco of the Last Judgement in nearby Orvieto (Umbria). Cortona was fortunate to get a circular church by the architect Francesco di Giorgio Martini, the Chiesa di Santa Maria delle Grazie al Calcinaio, begun in 1484 and one of his experiments on perfect rational spaces. This church can be seen from the town's first piazza, Garibaldi, and often emerges out of the fog in wintertime.
Cortona even had its own modern artist, Gino Severini (1883-1966), best known for his mosaics. There's a large mosaic of San Marco by Severini on the front of the church of the same name. Also Severini did the stations of the cross that you can see if you walk up the hill to the convent of Santa Margherita. Aside from the various churches that you might stumble into during a visit, there are two museums in Cortona that are not too large, but high quality. The Museo Diocesano contains, other than the aforementioned Signorelli paintings, an Annunciation by Fra Angelico and a Crucifix by Pietro Lorenzetti. The MAEC (Museo dell'Accademia Etrusca Cortona) is the Etruscan museum that holds one of this culture's biggest treasures: the tavola cortonese is one of the rare written documents in the Etruscan language. It documents the sale or transfer of land between two families. There are various things found in local tombs that tell of the richness of Etruscan culture.
Religious and pagan festivals
The patron saint of Cortona is Santa Margherita, whose saint's day is February 22nd but she's celebrated on May 9th. Margherita left her family home and bore an illegitimate son to her lover whom she intended to marry. After his death, she attempted to return home but was not accepted, so she entered Cortona (by a door on the via Crucis) and began a religious life. She founded the hospital there and became a Franciscan tertiary. Every February you can participate in the town's celebration, including sung mass at the church of Santa Margherita by the town's choir (a friend of mine's in it!) and eating various specialties out of trucks parked outside. This video, made by my students under the direction of my colleague Spenser, shows the joy and tells the story of this festival.
La Festa di Santa Margherita: Patron Saint of Cortona from Stephen Simrill on Vimeo. The other big festival of the year is Easter, which is marked by one of the most elaborate holy week processions in north-central Italy. (In Puglia, and in Spain, these processions are much more common, while up here, they barely exist.) Various churches in town house the statues that are processed by parish members wearing robes to demonstrate their anonimity in the face of God. Anyone can volunteer to wear a robe and carry a statue, so UGA students usually participate either in this, or in any part of the processions that take place, often in the rain. Here's a video in which students explain, and participate in, the Easter processions.
Cortona Easter from Spenser Simrill, Jr. on Vimeo. Cortona has a historical flag throwing group (sbandieratori) and drum ensemble that practise twice a week at night in a parking lot just below where I used to live. I got to know their "songs" and learned to sleep through it. They're a blast to see when they put on a display in the main piazza; you sit on the steps to the comune (municipal building) and get a great view of their choreographed routine. I was surprised that the flag throwers are mostly young people. It's a really interesting talent and one that keeps these young people strongly linked to the city.
How to get to Cortona
Cortona is at 500 meters above sea level. The nearest train station is Camucia. From the station you can take a local bus up to town for the price of a bus ticket (one euro or so). Camucia has a large coop supermarket with an excellent selection of cheeses and everything else you might need, and prices are lower there than in the small towns. To properly explore the area you're going to want to have a car - especially to follow the itinerary we've made for you. Parking in the town of Cortona is not a problem, except that it gets a bit busy on summer weekends. There is a large parking lot below piazza Garibaldi that has an escalator going up to it, that's the main tourist lot. Parking is FREE! [geo_mashup_map]
You might also be interested in