Chestnut central: Ortignano Raggiolo
Tasting the charms of the Casentino valley
Ortignano Raggiolo is the dictionary image of "Tuscan countryside": the type of dreamy town travellers picture when they hear those words. Listed as one of I Borghi più belli d'Italia (Italy's most beautiful villages) since 2015, its red-roofed stone cottages and chestnut-centric culture will charm you instantly.
Chestnuts: the signature product
"Chestnuts roasting on an open fire," indeed! With these fruits as the centrepiece of local life and seasonal festivals, Ortignano Raggiolo and its soothing setting evoke that classic Christmas song immediately. Witness their impact year-round at the Ecomuseo della Castagna (the Chestnut Museum) - not a single space, but a network of buildings and signs spread throughout the Teggina Valley—headquartered in Ortignano Raggiolo's Centro di Interpretazione on the via Mulino.
The via Mulino center offers an overview of this "chestnut civilization", homing in on the harvesting process, as well as the chestnut's role in the local diet and cultural customs through the centuries. Tools, explanatory panels and a multimedia section illustrate their importance. Within the main building, you can pick up informational materials to guide you through the rest of the itinerary. Particularly if you're traveling in autumn—prime chestnut season—don't skip the Seccatoio del Cavallari on the edge of town and the Mulino di Morino just beyond it, atop a brook. Both still operative, the former is where chestnuts are dried, and the latter offers a look at every step of the milling process.
All that culinary history should make you hungry. Fortunately, if it's chestnut-based dishes you're after, you'll be spoiled for choice. The aforementioned milling takes place to create flour, of course, used as the base for many a dessert and dish.
Try polenta with a sweet, regional twist—here and in the rest of the Casentino, you'll commonly find it made with chestnut flour. Make like a local and eat it alongside ricotta or sausage to make it richer. The autumnal castagnaccio cake is also popular, a chestnut dessert dense with rosemary, raisins, pine nuts and sometimes a pinch of orange peel.
First courses and mains are typical warm Tuscan comfort food. Opt for one of the bountiful bread-based soups, both born out of peasant tradition: minestra di pane, made with legumes, Tuscan kale, potatoes, unsalted bread and a variety of veggies, or acquacotta, similar but typically a bit more brothy. Ask locals for their opinions on how best to prepare either, and you're sure to get a range of impassioned responses.
For something a little more rib-sticking, sausages are a go-to second.
Fall fun at the Festa della castagnatura
You've probably gathered by now that the best time to visit is autumn. Indeed, if you're here in late October, you can take part in the Festa di Castagnatura, a chestnut extravaganza, which generally runs for about three days around Halloween.
Apart from offering an abundance of chestnut-based treats at lunch and dinner, the town hosts other tastings (Casentino sausage, anyone?) and opportunities to wine and dine, plus demonstrations by local artisans and entertainment for the kids.
Naturally, the museum plays a part as well: a traditional favorite event series is the lively storytelling sessions held in the Seccatoio.
You might also be interested in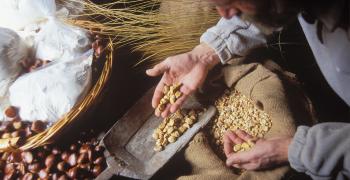 Learn more
Food and Wine
Olive oil, wine, truffle and other culinary delights make up the excellence of Tuscan gastronomy.
continue...