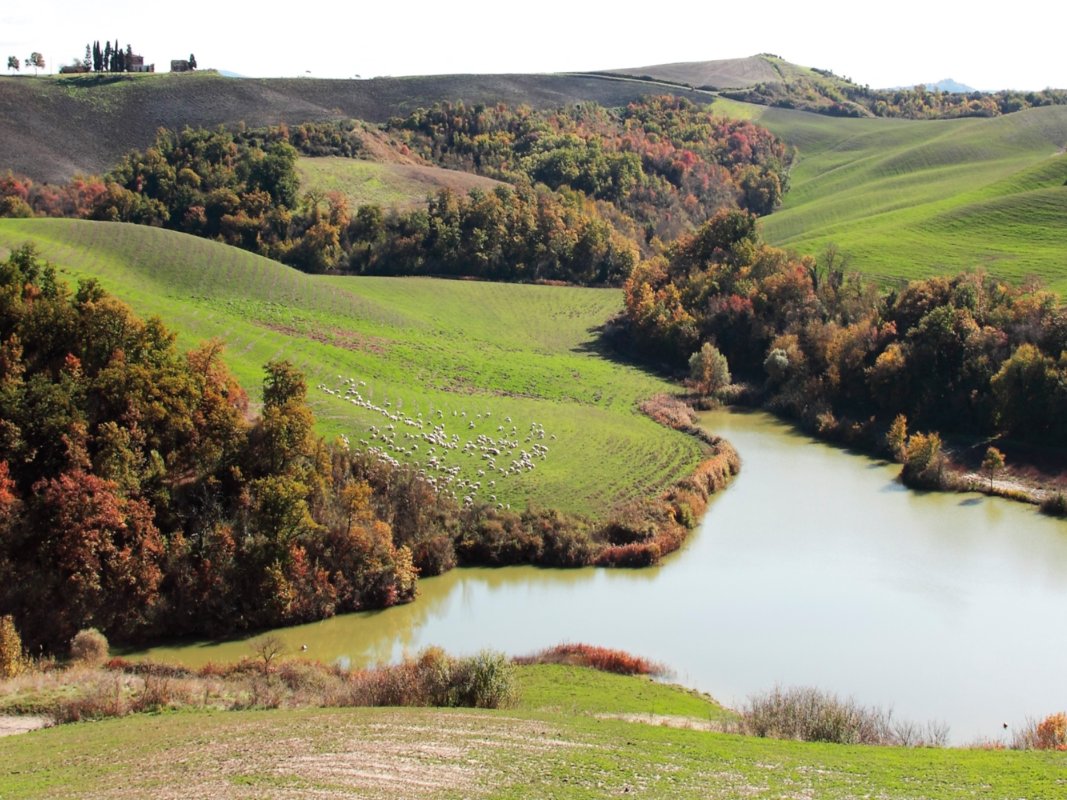 Monteroni d'Arbia
A town rising on the bank of the Arbia river
The local economy is mainly based on the production of wines, cereals and fruit and vegetablesand the breeding of cattle and swine. There are also numerous wood and glass industries. The town's name comes from the Latin "Mons" that means "mount", to which was subsequently added the specific "Arbia" with a clear reference to the position of the town near the river of the same name.

HISTORY
In the XIII century Monteroni d'Arbia was under Siena's powerful influence, nevertheless the actual development and consolidation of the town took place in the following century thanks to the work of the nearby Hospital of Santa Maria della Scala that built a fortified mill, around which the community of Monteroni d'Arbia built up its first inhabited settlements.

The town was fortified between 1322 and 1324 for its strategic position near the so-called "Via Francigena" and over the following years acquired a considerable economic importance, so much so that in 1382 it claimed autonomy. Despite this request, in the same year Monteroni d'Arbia was included in the Vicariate of Lucignano d'Arbia.

In the mid-XVI century the town suffered violent plundering by the Imperial troops allied with the Florence Republic, a plundering that caused the destruction of part of its fortifications. From then on Monteroni d'Arbia became part of the Florentine county under the domination of the de' Medici Grand Dukes. During the Medicean domination the town of Monteroni d'Arbia had a noteworthy economic growth, thanks to the grand-ducal incentives given to agricultural activities.

At the beginning of the 18th century the Lorena Dukes rose to power, staying there until the beginning of the 19th century, when the territory was invaded by Napoleon Bonaparte's French army. During the Napoleonic domination, that lasted until 1814, Monteroni d'Arbia became a free commune.In 1861 Monteroni d'Arbia was annexed to the Kingdom of Italy by King Vittorio Emanuele II di Savoia. Among the most important monuments at Monteroni d'Arbia we would like to mention here the Church of St. Jacopo and St. Christopher, the Parish of Corsano and the Mill.

Among the numerous events that regularly take place in Monteroni d'Arbia of most interest is the traditional "Festival of Ponte a Tressa" which is held every year from the 6th to the 9th of September and which includes an exhibition of typical, gourmet products and local artisan crafts.
&
TOP ATTRACTIONS IN Monteroni d'Arbia