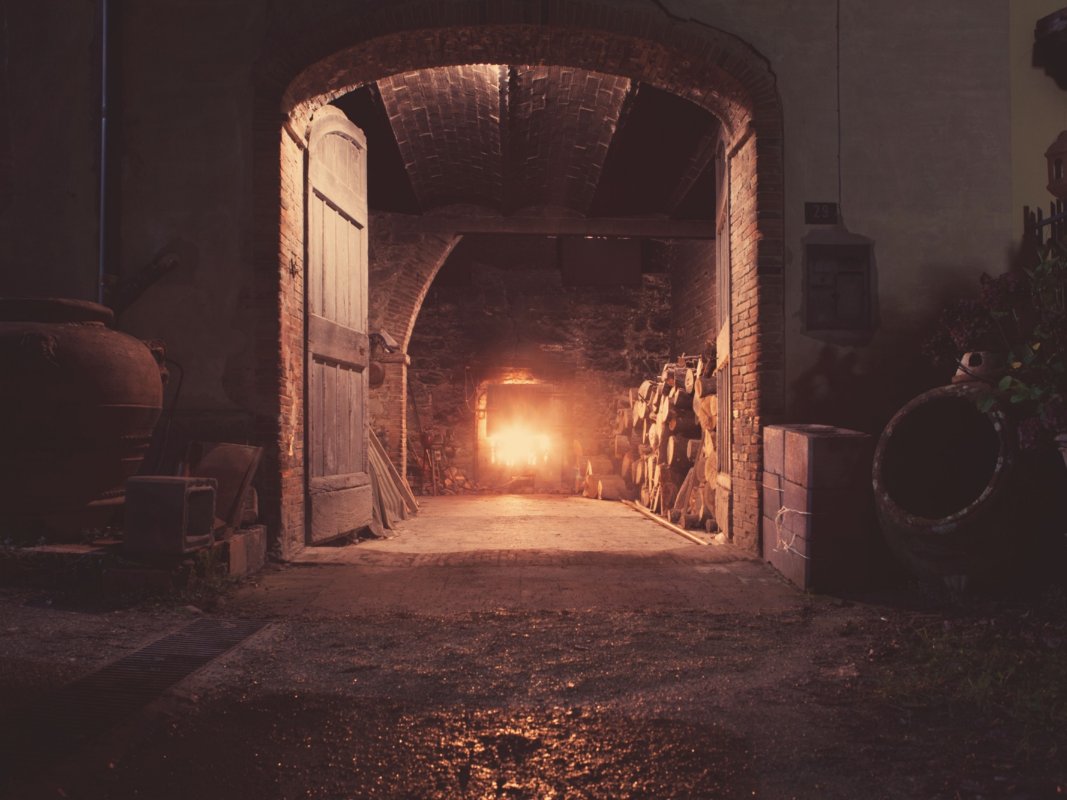 Impruneta
A town famous for making terracotta throughout history
Read the story of Impruneta on

Impruneta
The fire of Impruneta: a short story by Marco Vichi
From the raw earth of Impruneta to the World's Dome: without forgetting to dress it well

Read the story
In the past it was know as "in prunetis" or "in the pine-woods" and in fact you can still visit sparse remains of beautiful pine-woods among the olive trees of the surrounding hills. During the Middle Ages,Impruneta and the surrounding villages belonged to the territories of the Buondelmonti family with its castle in the village of Montebuoni.
The origins of the family date back to the X century when Sichelmo was mentioned for the first time. In 1135 they were thrown out of their castle by the Florentines. They retired to Florence, where they had an important role together with the Fifani family in aggravating the division of the Florentine populace between Guelphs and Ghibellines.

Their responsibility grew considerably after a drunken brawl and further confusion at the daughters' weddings. These events led to the murder by Oddo Arrighi di Fifani, of Buondelmonti di Buondelmonti on his wedding day, that would have taken place on Easter Day, 1216. This event caused a continual blood-bath on both sides.
The church of Impruneta became famous for its wonderful image of the Madonna that was a destination for many pilgrims. Even today a well-known fair takes place on the 18th October, St. Luke's day. Originally an animal fair, it has become a celebration with dinners and horse-races. Near to the church a little town developed that became important for the production of terracotta.

ORIGINS OF TERRACOTTA
The first indications regarding terracotta date back to 1098 and the production of tiles, ceramics and bricks continue even today. The church, its treasure and the kilns with their produce are the main reasons to visit Impruneta.
Mario Mariani's little kiln in Via Cappello 29 is not to be missed. You can watch Mario Mariani make, strictly by hand, his enormous garden vases. With a little luck you will see him turn on the wood kiln, identical to those used in Roman times. He doesn't use thermometers, he estimates the temperature according to the white colour of the hot vases. Mario has applied this traditional technique in order to provide the tiles that are needed in the renovation of some famous Tuscan churches.

Villa Corsini in Impruneta is a superb example of country palazzo. The Villa was once at the centre of a farm that extended through vineyards and olive groves, eight kilometres south of Florence, between Grassina and Impruneta. Villa Corsini enjoys a wonderful position in one of the few uncontaminated valleys around Florence. Its importance lies, other than in the beauty of its gardens, the park and the halls, in the frescoes that adorn it: painted during the XVII century, these are artistic expressions of some of the best masters of the time: Giovanni di San Giovanni, Michele Colonna, Pandolfo Sacchi, Domenico Cresti known as Il Passignano.
&
TOP ATTRACTIONS IN Impruneta