directions_runSport
Ugolino Golf Course
An 18-hole course in the beautiful Chianti hills
The Ugolino Golf Course is located on the via Chiantigiana, between Bagno a Ripoli and Impruneta, and was founded in 1933 as a project of the English architects Blandford and Gannon, who bought it as a course with par 69 (in the 1960s this was upped to par 72 by the engineer Piero Mancinelli). The Ugolino is an essential part of Italian golf history: innumerable competitions and national championships have been staged on its grass, and it is here that many players have cemented national and international reputations.
This magnificent, 18-hole course, perfectly at home in the rolling Chianti hills among vineyards, olive groves and maritime pines, is highly pleasant but also demanding. Indeed it exploits, in the best possible way, the natural characteristics of it environment: cypresses, olive trees, slopes that follow the wonderful landscape, and small, often well-defended greens. These are the obstacles that the golfer must confront on a course that asks difficult question of every kind of player.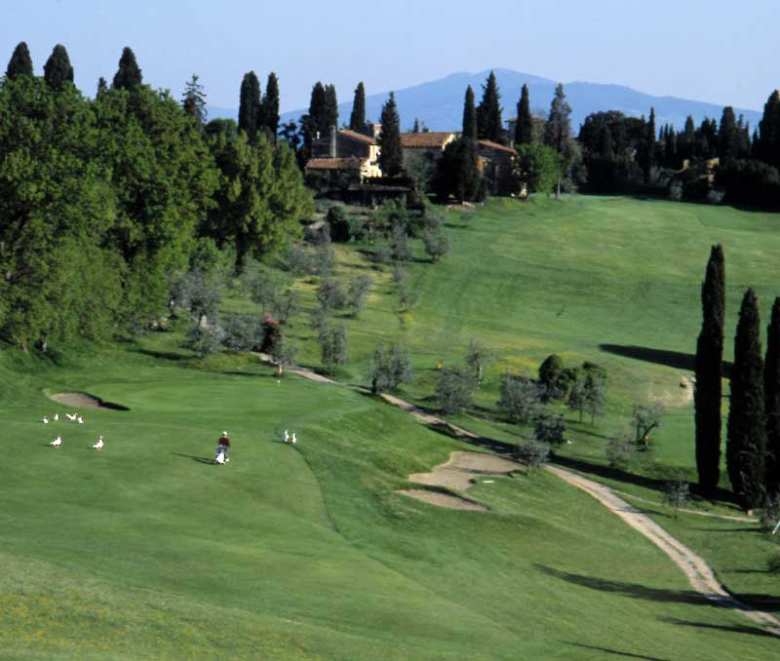 The first three holes are all par 4, but dangers lurk to punish inaccuracy. For holes 4 and 5 you really have to hit the ball to get to the green quickly; hole 6, the first with a par of 5, demands a combination of length and precision in order to avoid the trees on either side. At hole 9, also par 5, the dangers are on both sides of the fairway and a difficult, raised, shallow green lies in wait.
The second nine holes start with a par 3 and a beautiful panoramic view. Holes 11 and 12 are reasonably long with difficult shots on the green and a lot of off-limit areas. On the other side of via Chiantigiana the design of the course changes, becoming more level and with shorter distances between holes. Hole 15 is one of the most treacherous of all, on account of a difficult green with a sharp slope down to the right. The last two holes are highly delicate, but for different reasons: at 17, the oak tree in the middle of the fairway asks you to make a tactical choice as to the best line, while 18 has a dogleg to the right and the second shot played uphill can betray you.
Info: golfugolino.it
Bagno a Ripoli
Between Florence and Chianti's hills, parish churches that hold hidden treasures, vineyards and farmhouses
The area of Bagno a Ripoli, between the city of Florence and Chianti, is surrounded by majestic Medici Villas and beautiful, sheltered churches that conserve 15th-century and Renaissance masterpieces. Here, the landscape is dotted with cypresses, farmhouses, vineyards and olive groves, tabernacles and cellars; the area is brought to life by authentic production that believes in tradition.
Morekeyboard_backspace