Main courses
Peposo alla Fornacina
It contains many variations on the original, the most significant of which is that the meat is cooked whole instead of being diced, browned in chopped herbs and then a series of spices are added.



1.2 kg shin of beef
300 gr. red onions
150 gr. carrots
150 gr. celery
2 sprigs rosemary
peel of 1 lemon
4 large cloves garlic
1 bottle Chianti wine
coarse sea salt
50 gr. black peppercorns
10 gr. green pepper
6 cloves
60 gr. tomato sauce
nutmeg
2 dl extra-virgin olive oil
½ pear


Tie the meat tightly in its original shape.
Chop the carrots, onion, celery and garlic and sauté in a pot with oil.
When it is golden brown add the rosemary chopped with the lemon peel and place the meat on top.
Brown it on all sides, add the wine, black pepper and cloves, then salt and add the tomato sauce.
Simmer covered over a medium flame and keep the meat moist on all sides until it gets tender.
Remove the meat and keep it warm, add the green pepper, nutmeg and the pear in peeled chunks to the gravy until fully softened and absorbed, then blend the gravy.
Allow the meat to cool, cut into slices ½ inch thick and replace into the gravy.
Serve hot.

Source: www.firenzeturismo.it
You might also be interested in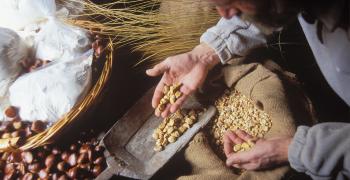 Learn more
Food and Wine
Olive oil, wine, truffle and other culinary delights make up the excellence of Tuscan gastronomy.
continue...