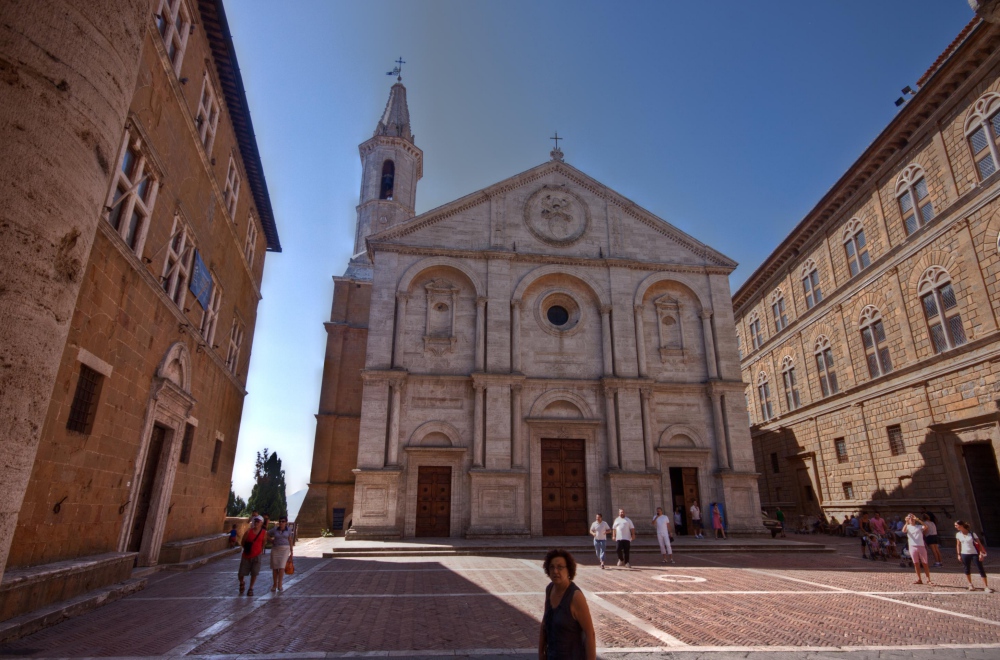 Places of worship
Pienza Cathedral
Santa Maria Assunta Cathedral is a real Renaissance jewel in the "ideal town".
The Cathedral of Santa Maria Assunta, the main church of Pienza, is not only the most magnificent monument of the "ideal town" but also one of the most important Renaissance complex in Italy, symbol of the great power of Pope Pius II. Designed by Rossellino and built in 1459, it is dedicated to the Virgin Mary and was erected on the ruins of the ancient Romanesque church of Santa Maria.
Influenced by L.B. Alberti, the building has a travertine façade divided into three portals and three big arches, each with a small rechess. The sloping roof and the central rose window are features that refer to the French Gothic style. The interior, with three naves, resembles the style of the Austrian churches that the Pope used to visit during his trips to northern Europe. The apse is divided into chapels, the largest one is the magnificent choir.
Among the works of the church, there are altarpiece paintings made by Sienese painters of the fourteenth century like Giovanni di Paolo, Matteo di Giovanni, Lorenzo di Pietro (known as Vecchietta) and Sano di Pietro.
In the crypt there are sculptures from the ancient Romanesque church of Santa Maria and the baptismal font by Rossellino.
Info: terresiena.it
Pienza
An ideal city, founded based on beauty
Pienza is a gem in the Val d'Orcia. It's known as the city of Pope Pius II, Enea Silvio Piccolomini, who was born here in 1405. Once Pius became Pope, he wanted to transform his humble birthplace, Corsignano, into an urban-architectural treasure. Therefore, he entrusted the total renovation of the village to the architect Bernardo Rossellino and to the humanist Leon Battisti Alberti. ...
Morekeyboard_backspace