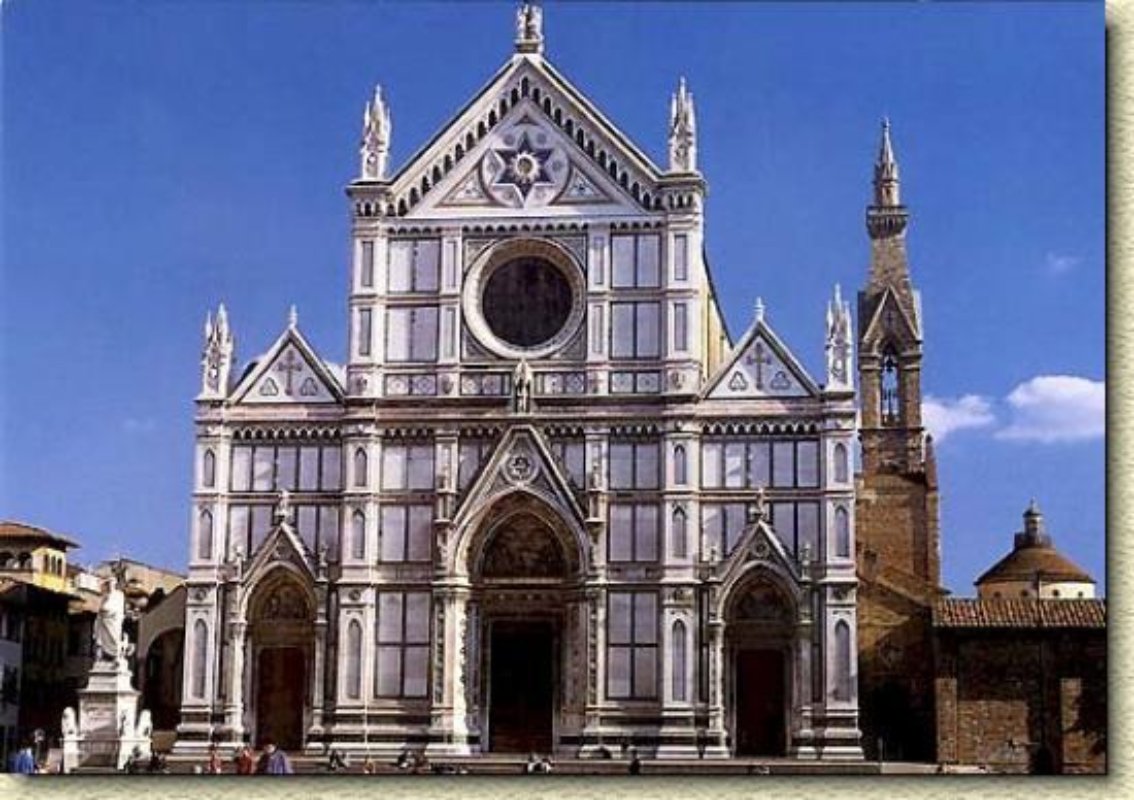 Hamlets, districts and squares
Piazza Santa Croce in Florence
The Basilica preserves frescoes by Giotto and is the burial place of many important personalities such as Galilei, Foscolo, Michelangelo and Machiavelli
The square gets its name from the Basilica dedicated to Santa Croce, in rememberance of Saint Francis' stigmas. The Franciscan brothers laid the first stone thanks to finances donated by the powerful local families living in the area. Today Santa Croce is famous not only because of Giotto's frescoes or Benedetto da Maiano, Desiderio da Settignano and Canova's sculptures, but also because it is the burial place for numerous famous Italian personalities such as Galilei, Foscolo, Michelangelo and Machiavelli, becoming a patriotic symbol before the Italian Unification. On the right of the Basilica with the 13th century cloister in front, is the Pazzi Chapel, a Renaissance architectual jewel built by Brunelleschi. The square is lined by important palaces which on the southern side are characterized by the typical overhanging projections known as "sporti".

Facing the Basilica is the unique Cocchi-Serristori palace, modified many times during the centuries. Lorenzo il Magnifico's favourite architect Giuliano da Sangallo has been considered its designer. It still contains a decorated stuccoed chapel and along the stairway 17th century frescoes. On the southern side of the square Palazzo Antella can be seen, also modified during the centuries merging several buildings into one only. The frescoed facade is divided into many panels with allegorical figures of cupids, flora, fauna and arabesques surrounding Cosimo II dei Medici's bust. Of particular interest in the fourth panel to the left with a copy of Caravaggio's sleeping cupid. Noteworthy is the optical illusion created by the windows which, as one nears the Basilica, seem closer to one another. In front of the Basilica to the left (but originally at the centre of the square) is the monument dedicated to Dante Alighieri by E. Pazzi, erected in 1865 to celebrate the five-hundreth anniversary of Dante.

A fountain by Giuseppe Manetti was placed in front of the Cocchi-Serristori palace in the first half of the 1800's in a rivisited baroque style. On the square many geometrically placed benches can be found, from where one can admire these fascinating Florentine palaces. Santa Croce being a large and regular square, was used even during the Renaissance for popular representations such as the historical football game, which continues to be played today in the same square along with other popular manifestations, concerts and markets.
Florence
An astonishing city of art, fashion and tradition
If you are visiting Tuscany you cannot miss Florence. The Renaissance city is a treasure trove of art with an astonishing contemporary vibe. Beyond the extraordinary artistic heritage, a testimony to its centuries of civilization, the best way to enjoy Florence is to stroll along the riverside avenues at sunset, or to get lost among the city's myriad alleyways of the bohemian Oltrarno or the ...
Morekeyboard_backspace
You might also be interested in