account_balanceMuseums
National Museum of Saint Matthew
Ceramics, paintings and Pisan history
The National Museum of San Matteo in Pisa is in a medieval monastery overlooking the Arno and has a splendid collection of Pisan painting and sculpture from the 12th to the 15th centuries, including a subsection dedicated to painted crosses with the works of Berlinghiero Berlinghieri, Tedice and Maestro di San Martino. Don't miss the Crucifix of San Ranierino by Giunta Pisano, dated 1250, a real masterpiece.
In addition to all this, on display you can see a plethora of medieval and Islamic ceramics, often used as decorative elements on the exterior walls of the Pisan churches. Remarkable is the section dedicated to the miniature codes, where the richly decorated "Calci Bible" (1168) was moved after being preserved for a long time in the Certosa di Calci.
The art of the fourteenth century is represented by the beautiful and great Polyptych of St. Catherine of Alexandria by Simone Martini. It is the largest and more complex work made by the Sienese painter and comes directly from the altar of the Church of Santa Caterina in Pisa. You can also see the Madonna del Latte by Andrea Pisano and a synopia of Buonamico Buffalmacco, author of the cycle of frescoes of the Monumental Camposanto of Pisa.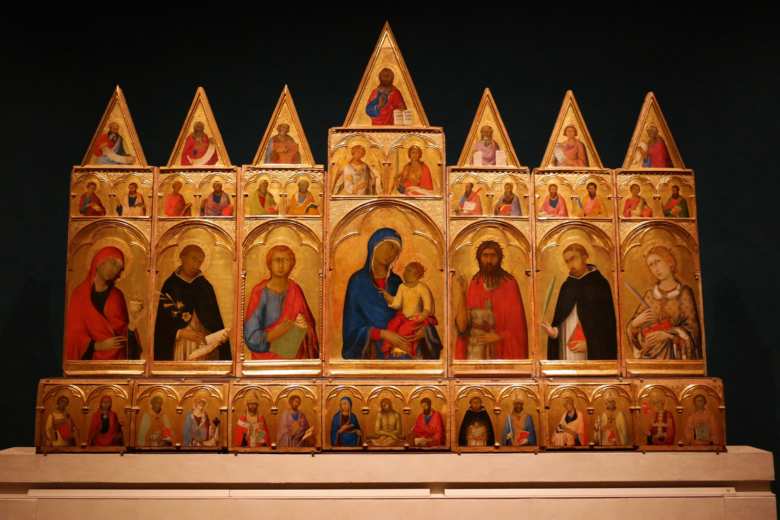 Among the masterpieces kept in the Museum there are also works by Spinello Aretino, Taddeo di Bartolo, Benozzo Gozzoli, Ghirlandaio, some wooden works by Francesco di Valdambrino and Agostino di Giovanni, some terracottas by the Della Robbia students and the beautiful burial-relic of San Rossore in bronze by Donatello.
Info: polomusealetoscana.it
Pisa
Travel to the city of the leaning tower, a UNESCO heritage site
Pisa and its uniquely beautiful Piazza dei Miracoli, a UNESCO World Heritage site since 1987, have always been a fundamental stop on any holiday in Tuscany. Millions of people come here from every corner of the world every year to try, with the help of perspective, to keep the leaning tower standing. ...
Morekeyboard_backspace