crop_originalArtworks
Keith Haring Mural
An important late artwork by the American muralist is in Pisa
The idea of creating a mural in Pisa happened by chance when a young Pisan student met Haring on the street in New York. The theme, peace and harmony in the world, can be read through the links and divisions between the 30 figures which, like a puzzle, occupy 180 square metres of the south wall of the church of St. Anthony in the centre of Pisa.

Each figure represents a different aspect of peace in the world: the "human" scissors are the image of solidarity between Man in defeating the serpent (symbol of evil), which is already eating the head of the figure next to it; the woman with a baby in her arms represents maternity, and the two men supporting the dolphin refer to Man's relationship with nature.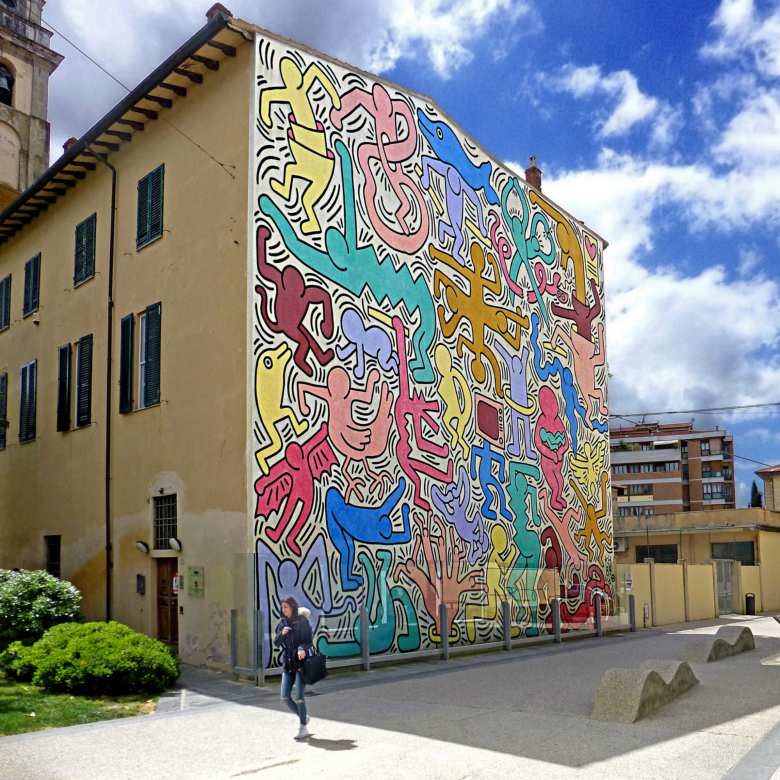 Choosing subtle colours, toning down the violent colours which had always been characteristic of his work, Haring takes his inspiration from the colours of the buildings in Pisa and of the town in general, to create a work which would be in harmony with its social and environmental setting. It is one of the very few outdoor public works created by Haring for permanent display. In fact, he spent more time producing it, a full week, than the one or two days it took him to paint most of his other murals. On the first day, working on his own, and without any preparatory sketches, Haring drew the black outline. For the rest of the week, he filled in the outlines assisted by students and craftsmen from the Caparol Center, the suppliers of the acrylic tempera paint, selected because it keeps its colour for a long time.
The mural's title is 'Tuttomondo" a word which sums up the artist's constant pursuit of interaction with the public, represented in this case by the yellow figure which is walking or running on the same level as a passer-by. The 30 figures in the mural evoke Haring's typical vitality, and his ceaseless creative energy which allowed him to create and leave behind this anthem to life only a few months before his death from AIDS.
Read the story of Alessio, a Pisan student who worked on this mural alongside the artist.
Pisa
Travel to the city of the leaning tower, a UNESCO heritage site
Pisa and its uniquely beautiful Piazza dei Miracoli, a UNESCO World Heritage site since 1987, have always been a fundamental stop on any holiday in Tuscany. Millions of people come here from every corner of the world every year to try, with the help of perspective, to keep the leaning tower standing. ...
Morekeyboard_backspace