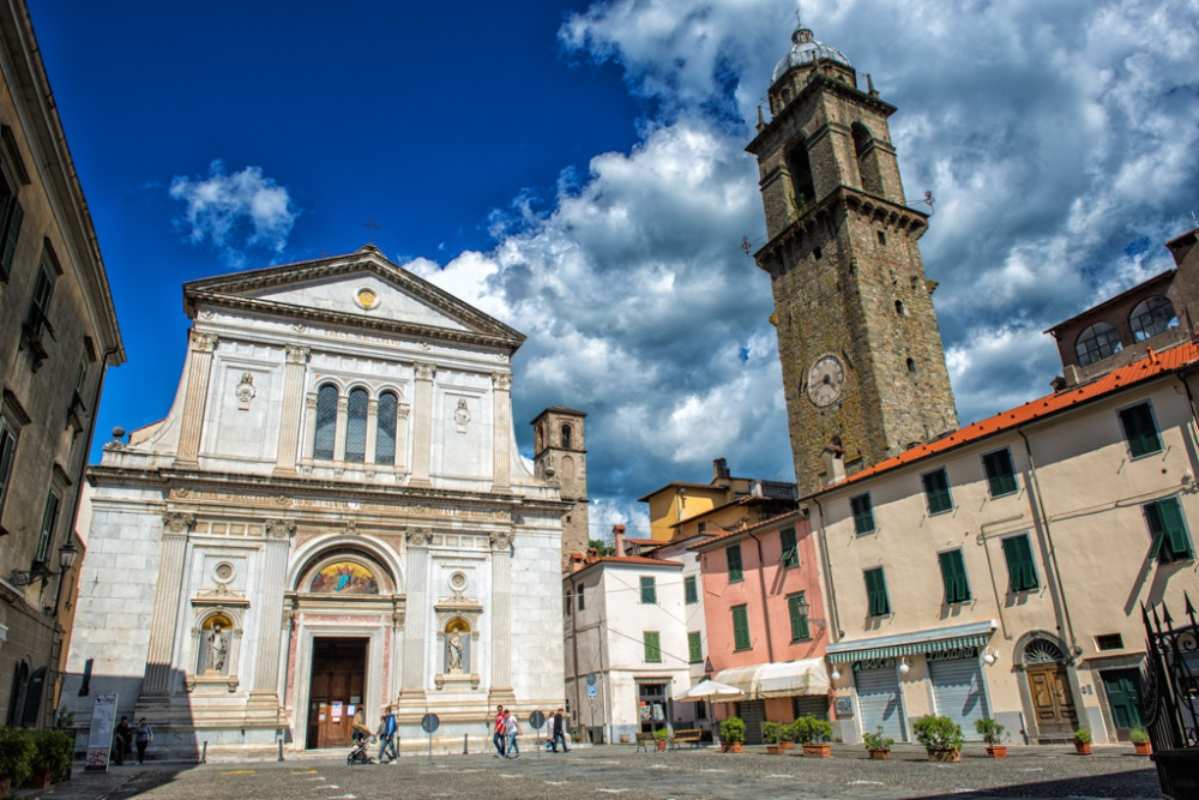 Places of worship
Co-Cathedral of Santa Maria Assunta in Pontremoli
The Duomo was built in a style strictly tied to the decrees of the Council of Trent
The Co-Cathedral of Santa Maria Assunta is the Duomo in Pontremoli. It was approved to be built by the General Council of Pontremoli on July 7, 1630, with a decree that established the construction of "a lavish, noble and spacious temple for the people (…) in the place where the Church of Santa Maria di Piazza is found." Work began in 1636 based on a design by the architect Alessandro Capra in the area created by demolishing the older Oratory of the Madonna del Popolo, and it was finished in 1687. Recognized as a collegiate church in 1721, it was elevated to cathedral on July 4, 1787 by a papal bull issued by Pope Pius VI, coinciding with the foundation of the Pontremoli diocese.
The cathedral is an important example of the style linked to the decrees of the Counter-Revolution – sanctioned by the Council of Trent and used in Jesuit buildings – with its single vast nave, side chapels and short transept, topped by a high dome and a luminous crossing.
The frescoes on the ceiling of the nave and transept painted by Francesco Natali at the end of the 1600s were replaced by stucco works in the mid-19th century, while the stuccos in the presbytery and choir date to the mid-1700s. The Chapel of the Santissimo Sacramento and the façade also date to the 1800s (1828 and 1878-1881 respectively), the latter of which was designed by the Florentine Vincenzo Micheli and built by the architects Giovanni Pacini and Pasquale Poccianti. The rich imagery inside the church can be considered a sort of anthology of 18th-century painting. Amongst the works, there are important paintings depicting the Virgin Mary in the presbytery and the choir, including the Birth of the Virgin by Ferretti, the Visitation by Meucci, The Marriage of the Virgin by Peroni and the Annunciation by Giuseppe Bottani.
Pontremoli
The mythical Apua immersed among art, nature and Lunigiana's traditional cuisine.
Pontremoli is the northernmost town in all of Tuscany and one of the most distinctive Lunigiana centres. Built on a plain surrounded by hills and mountains, the town is a tiny treasure trove of artistic and monumental heritage. Simply by crossing its medieval bridges and walking along its streets, you'll find yourself travelling back in time to a mythical era. ...
Morekeyboard_backspace