location_cityHistorical Buildings
The Romanesque Bridge in Groppodalosio
Also known as Ponte della Valle Oscura, it is one of the most famous attractions between Cisa and Pontremoli
Just outside Groppodalosio, a hamlet of Pontremoli more or less midway along the stretch of the via Francigena leading from Passo della Cisa to the town, is a beautiful Romanesque bridge built in 1574. Nestled amidst a characteristic landscape with chestnut trees and cultivated terracing in the heart of what is called the Valle Oscura (indeed, the bridge is known by locals as Ponte della Valle Oscura, giving it a touch of fantasy), the bridge rises 16 meters above the torrential Magra river with its splendidly pronounced arch. The crossing connects Groppodalosio to Casalina via the only existing road, and is preceded by the aforementioned chestnut trees (centuries-old but by now left to themselves without proper care), with the drying warehouses on the side of Casalina and olive tree and grape vine terracing on the sunnier side of Groppodalosio.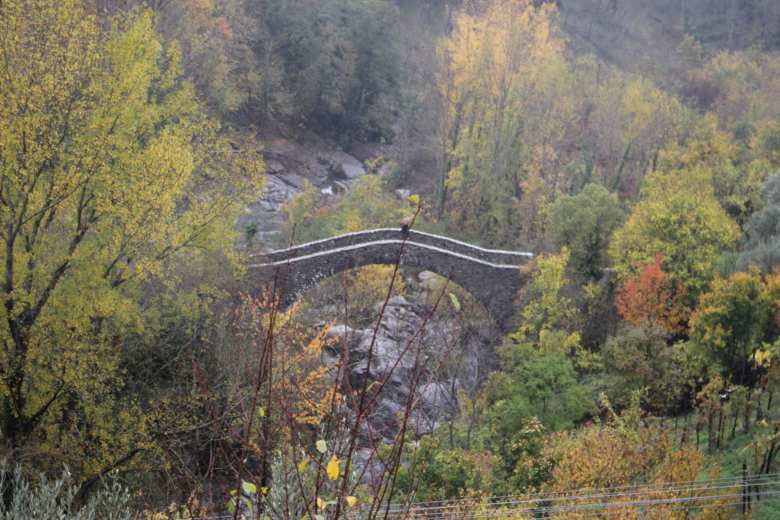 Reaching Ponte della Valle Oscura, certainly one of the most beautiful attractions in this woodland stop along the Francigena, is very simple from the Casalina side, where it can be visited by car following the marked, paved route. It takes about five minutes to reach the bridge on foot from Casalina. To admire the crossing in all its beauty, you can walk along either of the river's bank. Be careful, though, the rocks are slippery. The structure is known for its resistance: the locals in the surrounding valley say that over the years, the "water bombs" have dragged everything away along this stretch of the Magra and yet the Romanesque bridge is still standing.
Pontremoli
The mythical Apua immersed among art, nature and Lunigiana's traditional cuisine.
Pontremoli is the northernmost town in all of Tuscany and one of the most distinctive Lunigiana centres. Built on a plain surrounded by hills and mountains, the town is a tiny treasure trove of artistic and monumental heritage. Simply by crossing its medieval bridges and walking along its streets, you'll find yourself travelling back in time to a mythical era. ...
Morekeyboard_backspace