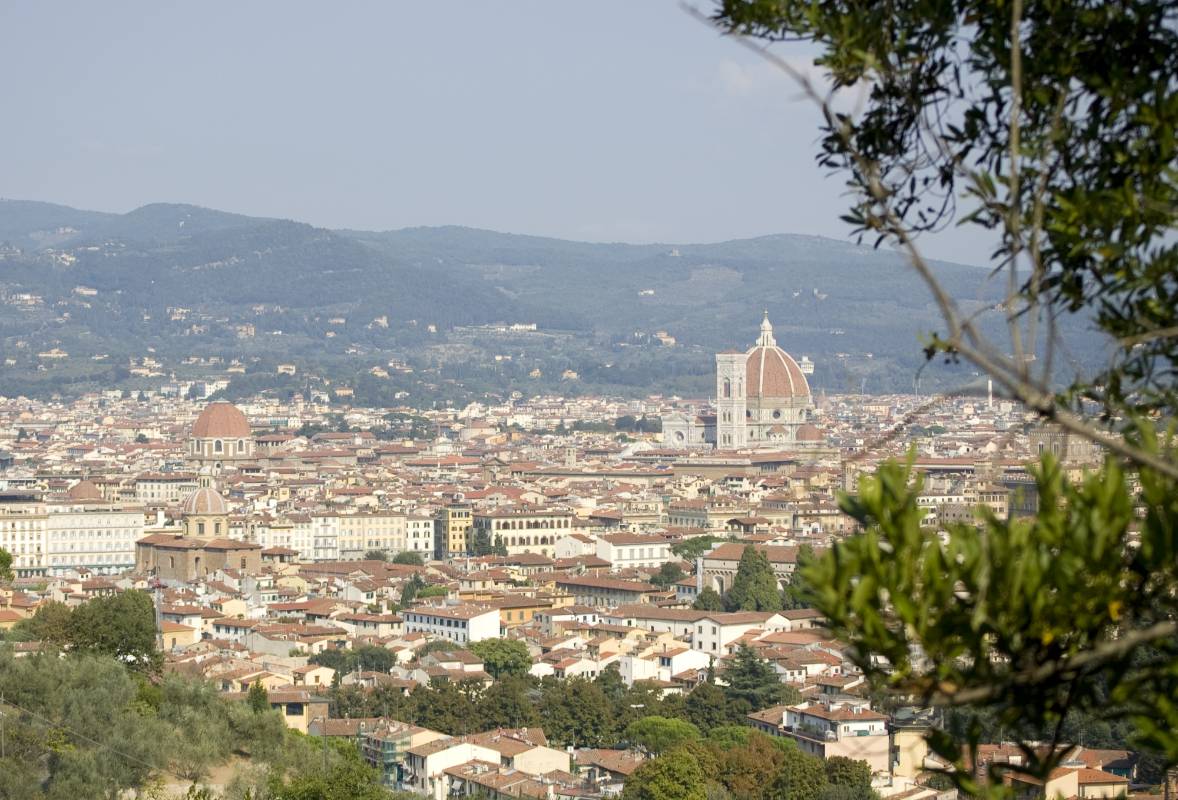 Discover the film locations
Five days in Florence for film lovers
Numerous movies and television shows have been filmed in Florence, but given the beauty and cultural clout of the Tuscan capital, it's almost surprising that there haven't been more. But it makes sense: unlike a generic street corner in, say, Studio City or Vancouver, which could suffice for any given setting, Florence is so distinct that filming anything here means the city itself can't be circumstantial.
The Renaissance city is a crucial "character" in its own right in nearly all of the following stories: follow their stars' steps and you'll develop a deep understanding over a five-day stay.
(Warning: some spoilers ahead!)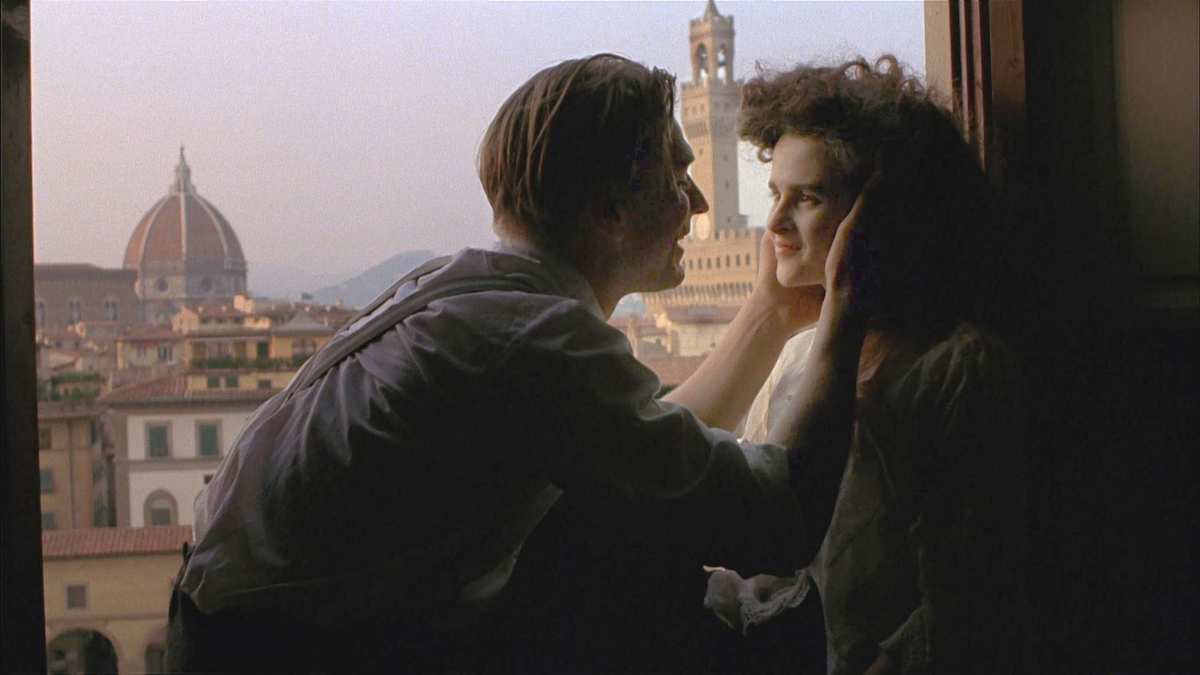 The Lucy Honeychurch shortlist
Free-spirited English tourist Lucy Honeychurch (Helena Bonham Carter) is the heroine of James Ivory's A Room with a View, the 1985 film adaptation of E.M. Forster's novel. Bound by the chains of her Edwardian era upbringing — as represented by her cousin and trip chaperone, Charlotte (Maggie Smith) — Lucy's exploration of Florence launches a love story with fellow tourist George Emerson (Julian Sands) and the city itself.
Start in piazza della Signoria and the Loggia dei Lanzi, a logical first stop for any first-time visitor to Florence, and the setting for the memorable scene where Lucy faints (surprisingly, not from the square's beauty — this wasn't a case of Stendhal Syndrome).
Wind your way toward Santa Croce next, where you can glimpse Giotto's frescoes in the Peruzzi Chapel, backdrop of the memorable scene between the English priest and George Emerson's cheeky father. On your way there, make like Charlotte and the mischief-seeking Eleanor (Judi Dench) and don't be afraid to slip away from the most straightforward path (the Renaissance city is best enjoyed with a spirit of wanderlust and some wiggle room in your schedule).
Around lunchtime or in the afternoon, venture toward piazza Santissima Annunziata. Although none of the characters enter the square's namesake Basilica or its child-centered Innocenti Museum — a spectacular example of Renaissance architecture — there's a sweeping shot of the square in the movie. If you prefer, opt for an elegant Briton-in-Italy-style picnic in the hills of Fiesole. The horse-drawn carriage may not be an option, but you can take the less glamorous (and surely less expensive) ATAF Bus 7 to the end of the line.
For diehard fans: the "room without a view" that provides the film's opening shot no longer exists, as the Hotel-Pensione Quisisana e Pontevecchio, which housed it, closed its doors in the 1990s in the aftermath of the via dei Georgofili bombing perpetrated by the Sicilian mafia. But the building was renovated and reopened as the Hotel degli Orafi on lungarno Archibusieri, and it still stands where this pivotal first shot and other indoor scenes were filmed.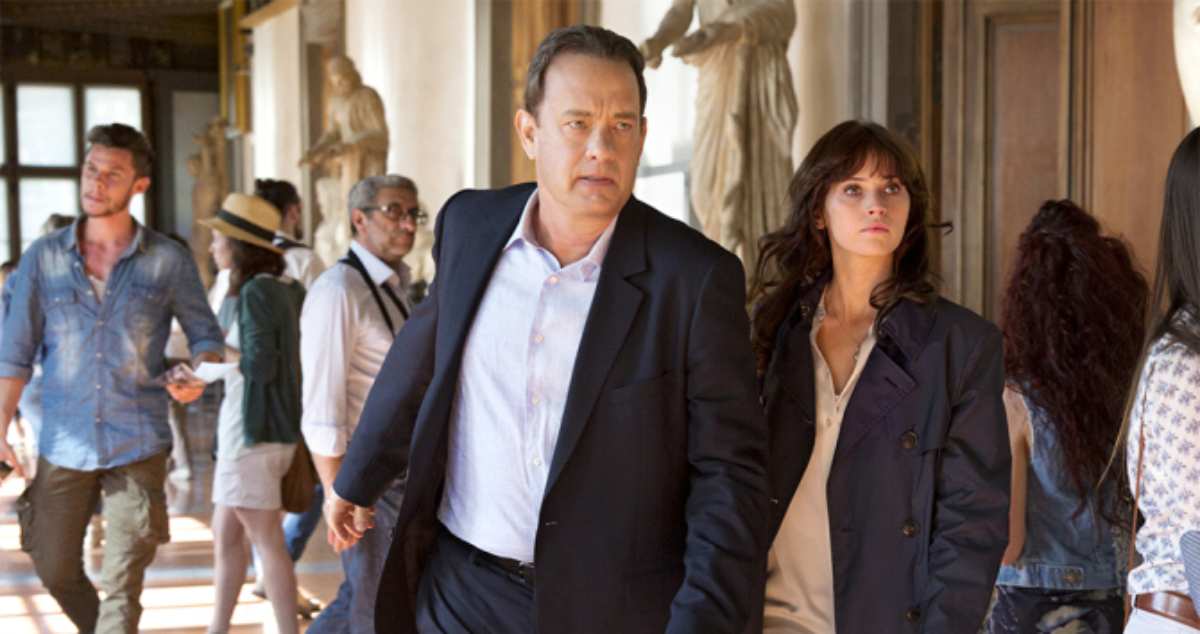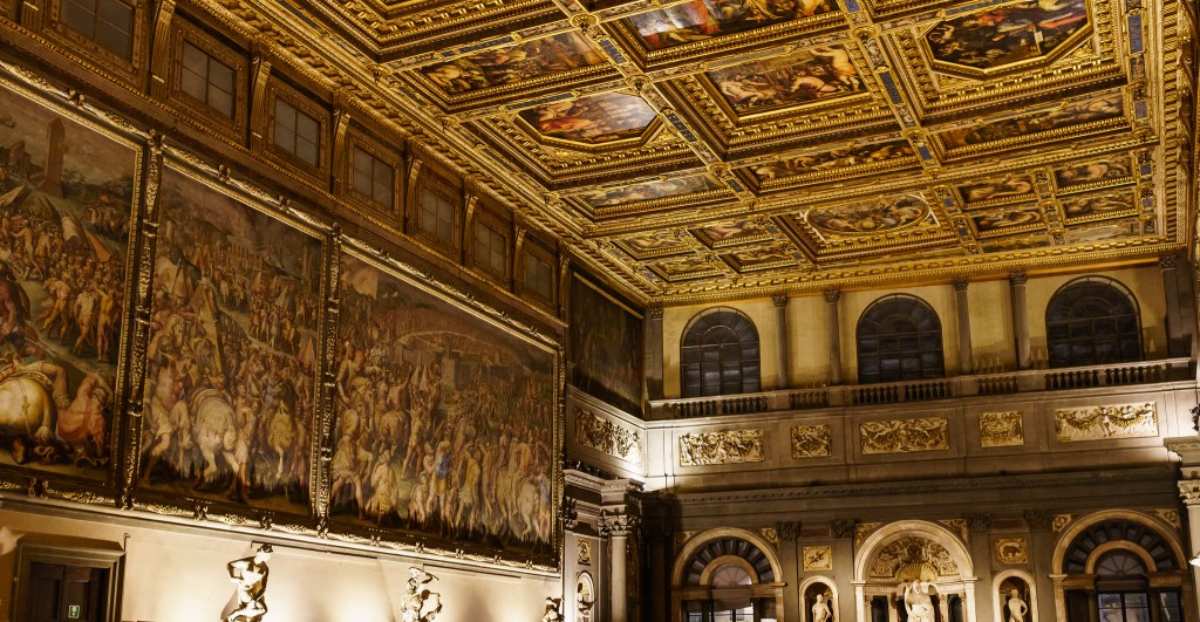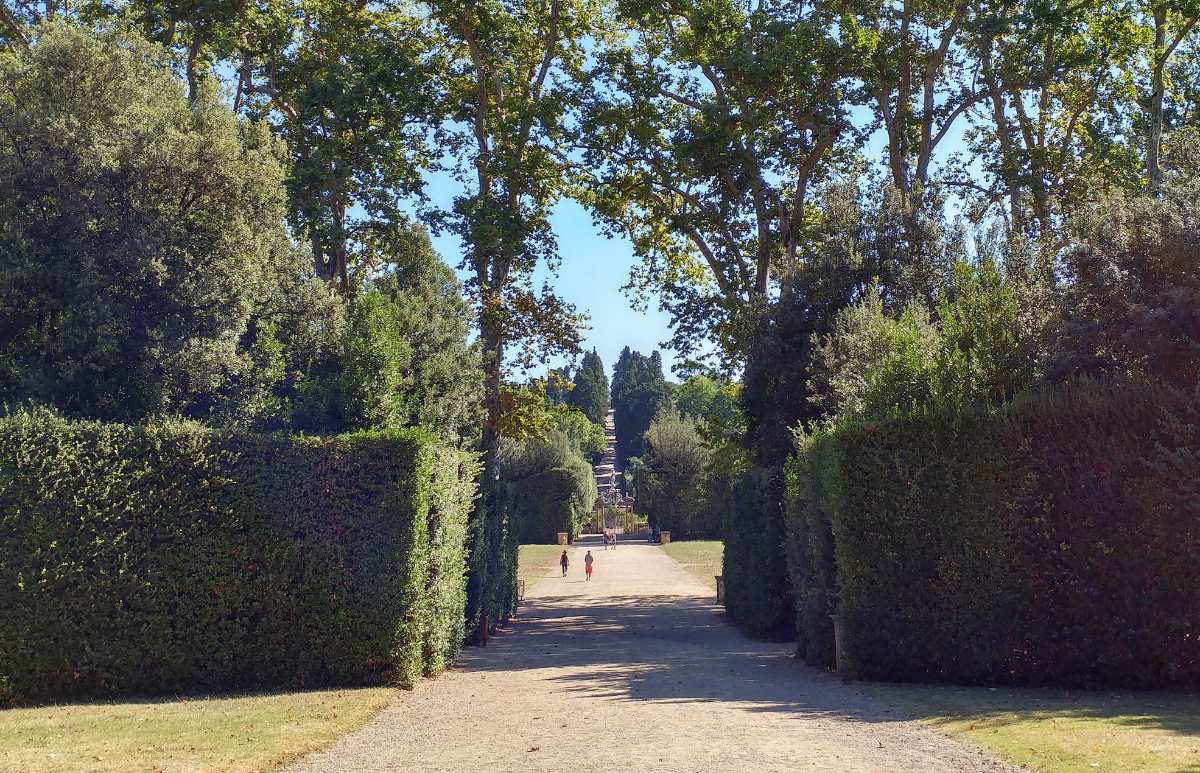 Be an Inferno insider
Dan Brown's bestselling novel incorporates elements of the Divine Comedy, authored by one of Florence's most distinguished native sons: Dante Alighieri. Ron Howard's 2016 big-screen adaptation was mostly panned by critics, but for Italy lovers, the panoramic shots of fictional symbologist Robert Langdon (Tom Hanks) and accomplice-turned-traitor Sienna Brooks (Felicity Jones) dashing through the streets and sights of Florence will get your blood pumping.
Start out by circling back to piazza della Signoria: this time, instead of marveling at the statues, step into Florence's longtime seat of power, Palazzo Vecchio, a key location in Howard's Renaissance city race-against-the-clock. First on your list should be the Salone dei Cinquecento, the site of both some clue-tracking and an exhilarating portion of one of the film's most elaborate chase scenes. Its famous coffered ceiling suffers some serious damage when an agent trailing Langdon and Brooks falls through one of its painted panels, which depict scenes from the life of Cosimo I de' Medici. Also within Palazzo Vecchio is the funerary mask of Dante, which plays a crucial role in the plot: Langdon learns in the movie that he unwittingly stole it at one point, an event that he does not remember. The mask is normally kept in the Quartiere dei Priori, although in the past it has occasionally been loaned out to institutions including the Casa di Dante.
After a jaunt through Palazzo Vecchio, take a quick look at the building's trap door-like entrance on via della Ninna, used stealthily in one scene. Then cross through the bustling piazzale degli Uffizi on your way to the Ponte Vecchio; as you cross this famous bridge, don't forget to look up. That strange passageway above you is the Vasari Corridor, the walkway once used by the Medici Grand Dukes as they moved between Palazzo Vecchio and their residence at Palazzo Pitti.
Once you've arrived in the Oltrarno, head to the sprawling latter palazzo: Langdon and Brooks memorably run through its Boboli Gardens when the police are hot on their trail, also dodging a drone in the gardens' "grand finale", the ornate Grotta del Buontalenti.
Up for a walk? After exploring Boboli, head south from Palazzo Pitti toward piazza San Felice and then via Romana. When you reach the end of this road, you'll spot the spectacular and massive medieval gate, the Porta Romana, one of the early elements in Langdon's and Brooks' journey.
Most of the major monuments and objects are easy to find on your own, but if you're itching to delve into some of the movie's less identifiable scenes, numerous tour companies in the city organize Inferno-themed itineraries for curious groups.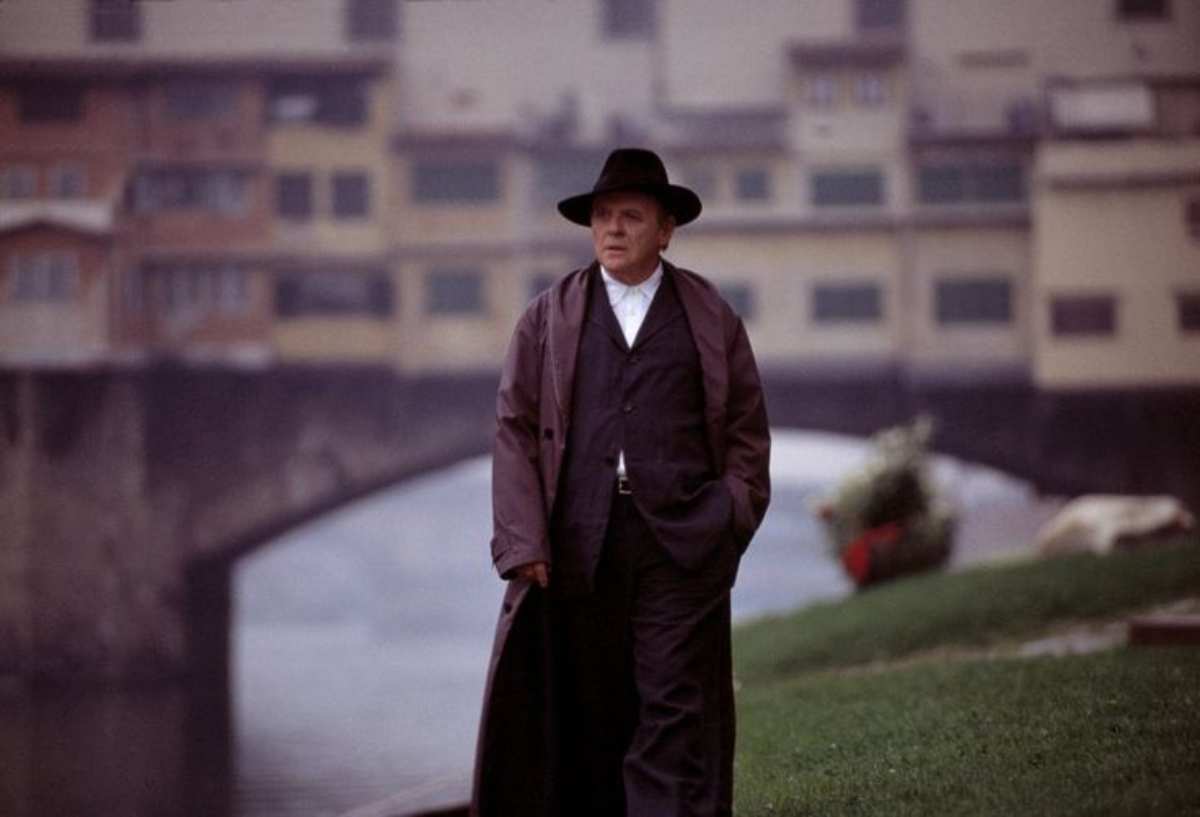 Hannibal: exploring San Niccolò and shopping in centro
Oscar winner Anthony Hopkins lends a chilling air to Florence in his second turn as Doctor Hannibal Lecter in the horror film Hannibal, the 2001 sequel to The Silence of the Lambs. When we return to the story, the cannibalistic serial killer is hiding out in Florence, posing as a scholar named Dr. Fell.
Take this third day not necessarily to follow directly in Dr. Lecter's (frightening!) path, but to explore the dynamic neighborhood where he would have been at large: San Niccolò. The scenes inside Dr. Lecter's apartment were filmed in the late Gothic and early Renaissance Palazzo Capponi alle Rovinate (via de' Bardi 36). On a foggy or dark day, the high-walled road is rather moody: spend some time exploring the artisan botteghe and boutiques that line it and continue as it turns into via San Niccolò.
Although the nearby Museo Bardini is not featured in the film, we're certain Dr. Lecter would have appreciated its splendid collection of antiques, as a connoisseur of the finer things in life (who could forget that creepy line about Chianti?). The museum is also home to the Baroque "Porcellino", a bronze fountain of a boar sculpted by Pietro Tacca after an Italian copy of a Hellenistic original. In the film, the chief inspector Pazzi (likely named for the famous Florentine family) is shown washing his hands of blood in the famous Porcellino copy outside the Mercato Nuovo, a popular tourist market today.
Have a lazy lunch in this same picturesque corner of the city and then take a stroll from Ponte alle Grazie all the way to Ponte alla Carraia. On the way, while walking along the Lungarno Torrigiani, take note of the green patch on the riverbanks just below the Uffizi, facing the Ponte Vecchio: this is the site where Arno rowers of the Canottieri di Firenze dock their boats, and the setting of several moments in the film, including a shot of Pazzi as he prepares to seal Lecter's fate with Verger and his cohorts.
Once at Ponte alla Carraia, cross the bridge back to the main side of town, window-shop your way up via dei Fossi and then veer left on via della Scala: your destination is the gilded and gorgeous Santa Maria Novella pharmacy, Europe's oldest and an unbeatable stop for cosmetics, either for yourself or a loved one—in the movie, Hannibal buys some almond soap for Clarice here (shivers!) The pharmacy also plays a key role in Clarice's tracking down of Lecter in Tuscany, since early on in the film he sends her a letter with a strange scent that a perfume expert determines to belong to a skin cream sold here.
Lecter's escape and a quick stop for Fellini buffs
For your fourth day, indulge in some more Oltrarno meandering, but this time focus on the "other side" around Santo Spirito and San Frediano, the southwestern part of the historic center. These lively streets, dotted densely with shops, artisan studios and bar-cafes, are the setting for Lecter's elaborately plotted disappearance from Florence at the end of the film.
The precise path that he follows begins on the long, straight-shooting via dei Serragli, which leads toward Porta Romana. But leave Lecter aside for just a minute if you're a Federico Fellini fan: about halfway down via dei Serragli, turn left onto via Santa Maria to take in Teatro Goldoni, the site of an all-night party scene in the melancholic and semi-autobiographical comedy I Vitelloni, which follows a group of overgrown mama's boys from Rimini, focusing on one in particular—thought to be a reflection of Fellini himself—who decides to leave behind his provincial life.
Following Dr. Lecter's footsteps once again, you'll backtrack from there into the residential and rustic piazza Tasso, then head up the shaded via Villani for Bellosguardo, which holds one of the semi-secret treasures of Florence: a panoramic view over the city with no crowds in sight. (This area is also home to numerous villas that have hosted such illustrious figures as Henry James and Florence Nightingale).
If thinking about Lecter all day has about done your head in, here's good news: once you climb back down from Bellosguardo, you're in a perfect neighborhood for a nightcap. The down-home Piazza Tasso and its surrounding area vaunt several watering holes, and the square sometimes hosts movie nights and social events, particularly in the warmer months. Or wander through the maze of small streets offshooting from via dei Serragli to piazza Santo Spirito, a social hub and a relaxing way to end the day—provided Dr. Lecter isn't lurking!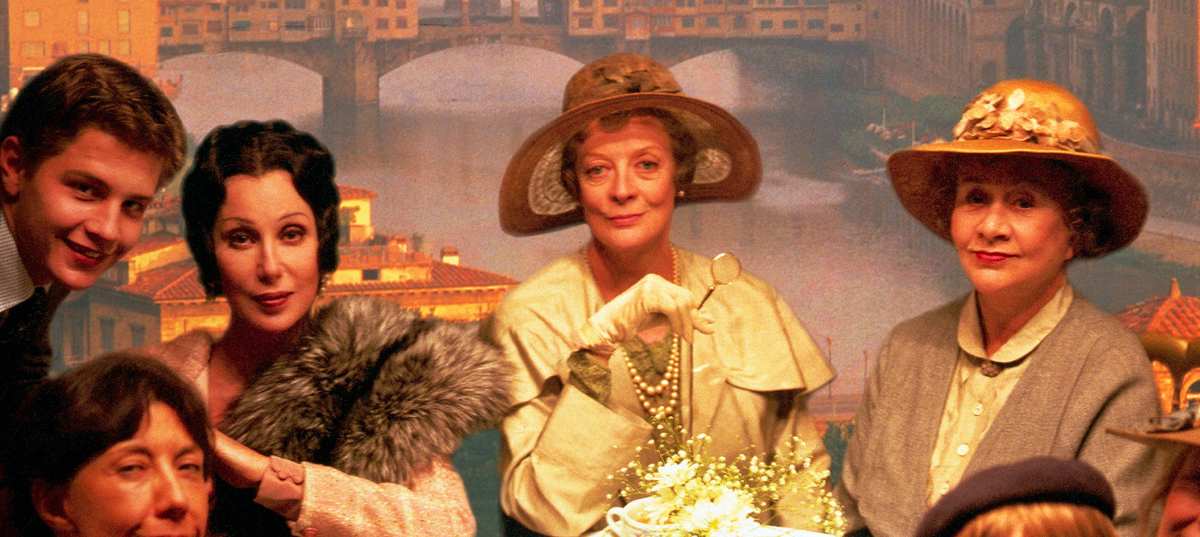 Tea with Mussolini: get inspired by the Scorpioni
This uplifting 1999 film is a semi-autobiographical work from director and Florentine native Franco Zeffirelli, represented in the character of Luca. With the events of World War II as backdrop, it follows an expatriate group of charismatic British and American women, all involved in varying degrees with Luca's upbringing.
Although it's not featured in Tea with Mussolini, the Complex of San Firenze can't be missed if you've seen the movie. In 2017, it was converted into a cultural center celebrating Zeffirelli's achievements on screen. Aiming to promote interest and investment in film arts for future generations, Zeffirelli donated his body of work to his hometown, and the building therefore hosts an astonishing collection of costumes, scripts, set designs, letter exchanges and other memorabilia related to not just Tea With Mussolini, but his entire catalog of films, television shows and theatrical productions.
Spend the morning wandering through the Zeffirelli museum and then follow the path of the Scorpioni (the real-life nickname of the film's feisty expat women) to via Tornabuoni. In the movie, they regularly congregate at the Gran Caffé Doney, once a hub for Brits in Florence. Although the café no longer exists, you can still have a wander down the luxe via Tornabuoni, filled with high fashion stores, to see where they took many of their (parasol-sheltered) strolls.
Once you reach the street's end, if you're fascinated by the history of Brits flocking to Italy, cross the Ponte Santa Trinita and turn right down the river: just before you reach the next bridge over, you'll come upon the British Institute's Harold Acton Library on your left, long a hub for Florence's large Anglo community, and a beautiful refuge for bibliophiles.
Finally, take the long walk back to a spot you may have skipped on Day 1: piazza Santissima Annunziata. A prominent feature of the square is the 15th century Ospedale degli Innocenti, an orphanage where Luca goes temporarily in the film after his mother's death, before the Scorpioni intervene. It is now a world-class, modern museum highlighting the Innocenti institute from all angles—architecturally, historically, socially and artistically.
Now that you've followed your favorite characters' pathways, find your own Florentine story!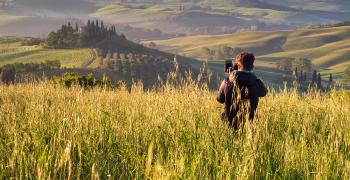 theaters
Learn more
Tuscany as a Movie
Don't be surprised if Tuscany is an ideal movie set: lots of film directors - not only from Italy - keep on choosing this incredible territory as
continue...