account_balanceMuseums
Palazzo Corboli Civic Archaeological and Sacred Art Museum
Explore Etruscan and Sacred Art collections
The Civic Archaeological and Sacred Art Museum of Asciano showcases boards, wooden sculptures, liturgic fittings and paintings from the religious buildings as well as Etruscans artifacts uncovered from excavations in the surrounding areas.
It is housed at Palazzo Corboli, a remarkable medieval building with rooms decorated with 14th-century frescoes, a rare example of a Medieval palatium built by the Sienese Bandinelli family, merchants and mill owners.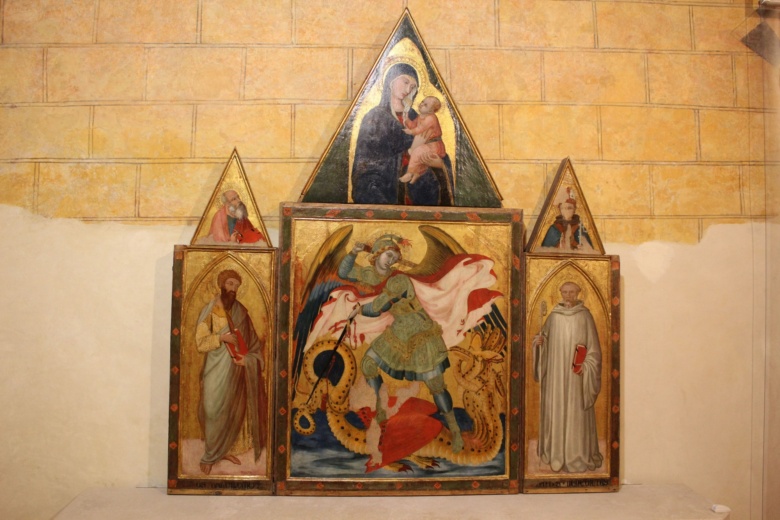 Included by The Telegraph on its list of Italy's best small museums, it offers more than anybody might expect to find in a small Tuscan town. At the sacred art collection you can admire the famous Birth of the Virgin by Maestro dell'Osservanza and St. Michael the Archangel by Ambrogio Lorenzetti. The collection includes also a series of paintings by the most important Sienese artists of the 14th-16th centuries: Duccio di Buoninsegna, Matteo di Giovanni, Rutilio Manetti, Bernardino Mei and Francesco Nasini, not to mention a number of wood sculptures, most notably by Francesco di Valdambrino.
Walking along the Asciano museum you will come across stunning rooms frescoed with allegorical cycles as the Wheel of Barlaaam and the Wheel of Aristotle with the Cardinal Virtues created in the Middle ages to transmit ethical and political messages to the populace that frequented these spaces.
Info: museisenesi.org
Asciano
Asciano rises on a high peak of the Ombrone river valley
The town of Asciano is located in the center of the Crete Senesi, an area that extends south east of Siena. Of medieval origins, Asciano conserves many places of interest, including: the Collegiate Church of Saint Agatha, the Church of Saint Augustine, the Grain Piazza with the Magistrates' Palace, the Civic Archeology Museum and the Corboli Palace Sacred Art Museum and the Cassioli Museum. ...
Morekeyboard_backspace
You might also be interested in