Where to go to admire the Giglio city from a contemporary point of view
Street art in Florence: artists you don't want to miss
Florence is a city in Italy which is famous around the world for being the birthplace of the Renaissance. The beauty that put Italian art on the map was born here. Centuries on people are still talking about the work of Michelangelo, Donatello, Botticelli and Raphael and it attracts so many visitors to the Tuscan city. And even today, Florence is still the Italian city with a unique vocation for art.
Not only in terms of museums and art galleries, with their undeniable importance and historic memories. Florence is a city where you can admire real galleries outdoors, which are seen by the most curious eyes.
It's enough to just walk through the streets and cobbled lanes of the historic centre to be awestruck. Here, artists have covered walls, road signs and street lamps with works of street art.
And if art from the Renaissance glorified the magnitude of magnates and rulers, today the art by street artists makes you think outside the box and sometimes shares a very strong social message.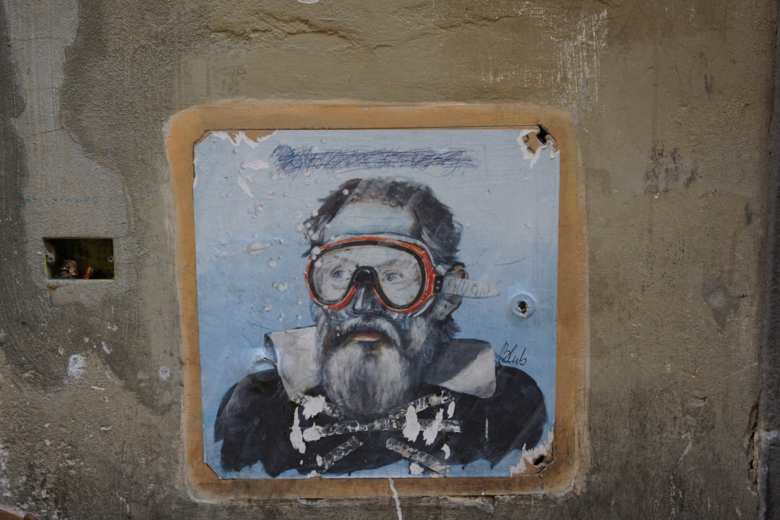 Through stencils and spray paint, the artists communicate their emotions and vision of the world. Florence knows how the be the city that creates a dialogue between art of the past and the future, and on this tour we take you on a journey of discovery through the best pieces of street art that can be admired in Florence.
From the stylised men who are trying to hold onto a heart with a thin piece of string, to the craziest road signs in the world and underwater art. Florence if a city which gives life to street are. Here are the best artists to look at during a walk through the streets of the historic centre of Florence.
Anyone who has seen any of Gec Art's work won't be able to get it out of their head. The modern man of Gec Art is a semi-mythical creature with its head trapped in a screen. The gaze of this trapped man is always deep and piercing and makes us reflecy on the way that we are. The common link between his works are electrical elements which have a dialogue with animal creatures. One of the works in Florence is a bird giving its babies a mouse but it is actually a computer mouse.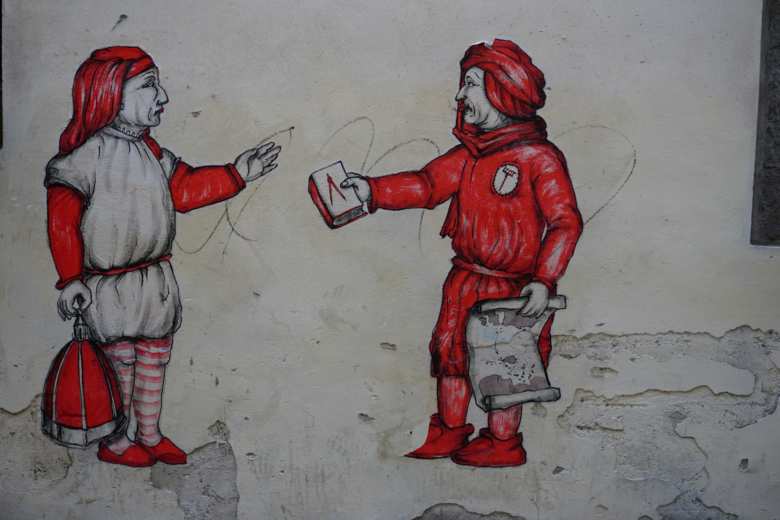 The works of Yuri have the characteristic trait of someone who knows that to impress you have to be immediately recognisable. Therefore, you would be able to spot one of Yuri's works out of thousands of others. White, red and bicycles are elements that feature in all of his works. Sometimes dreamlike, sometimes with a clear story connected to the area where it is painted. In the alleys of the San Niccolò neighbourhood there are long roads towards the historic centre where you can find some of his works dedicated to Florence.
The works by Moradi il Sedicente are carried out on wood and are found in places which are related to nature.
Urban Solid is two artists who work in many cities from Turin to Milan and even in London. Their work is done in chalk, cement and resin and come out of the wall as if they want to talk to people who pass by. Their preferred subjects are ears, human casts and superheroes, skeletons and TV. It's impossible not to notice them.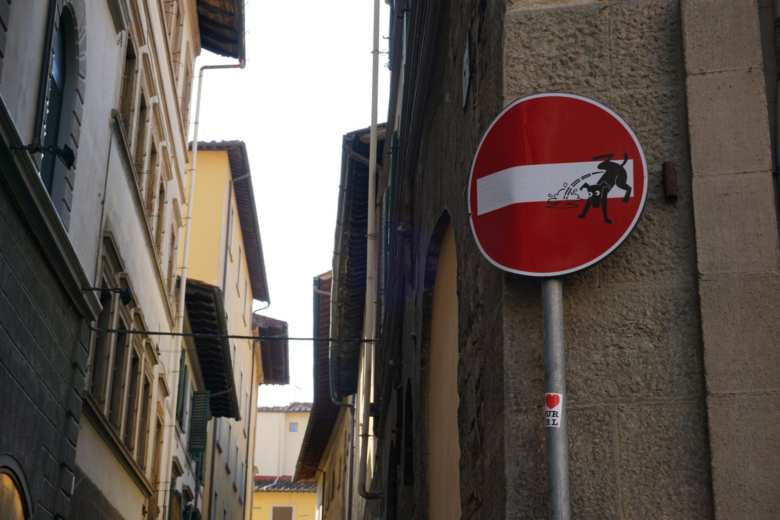 Florence is full of traffic and road signs which have been transformed by the creative spirit of the Breton artist. There are many works by Clet and you can see them by just looking at the street signs in the historic centre. The subjects of his works vary from those of religion to those connected with the ethic of work to themes that are just for fun.
His works are spread around all of Tuscany but most are found here in Florence. The stylised men usually hold a small red heart on a very thin string that connects the man to our most important organ. In his works he only uses two colours – red and black – and he sometimes adds a touch of white. His aim? To get a few smiles and stimulate the imagination with his floating men.
These works are directly linked to the city where they are created which is why you can see depictions of Leonardo, Dante and Botticelli's Venus. The common trait is all of these artworks is that all of the subjects wear a scuba mask. Blub is an artist who mostly works in the streets of the historic centre of Florence. The social message of his works is strong and the artist himself explains it. We're told that we are in a crisis and water is at our throats? Perfect, we'll wear scuba diving masks!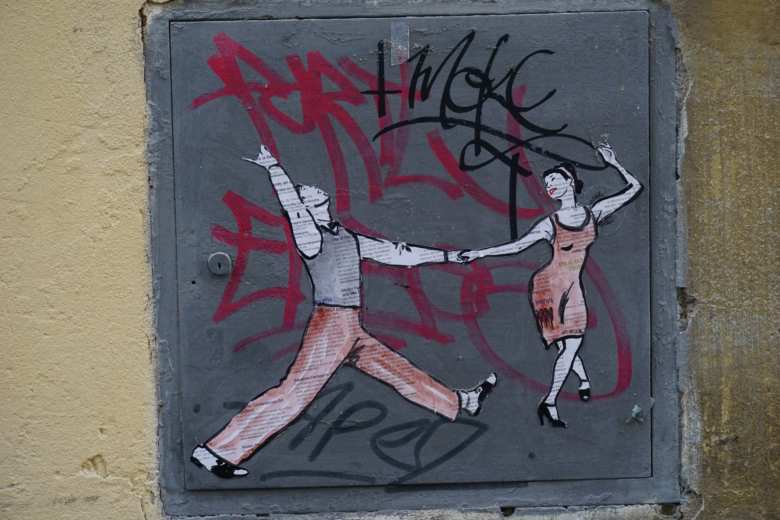 She is one of the few women in the world of Italian street art. Carla Bruttini is a painter and her works are on display in galleries and museums as well as in the streets of Florence. Her preferred subject is a girl with long red hair, the shaman. To see her you only have to walk around the streets of San Niccolò where the painter's studio is found.
You might also be interested in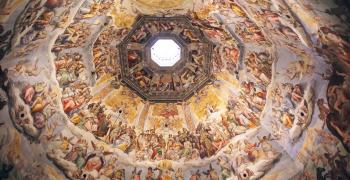 Learn more
Art and Culture
Tuscany is the cradle of the Renaissance and known all over the world for its immense artistic and cultural heritage.
continue...