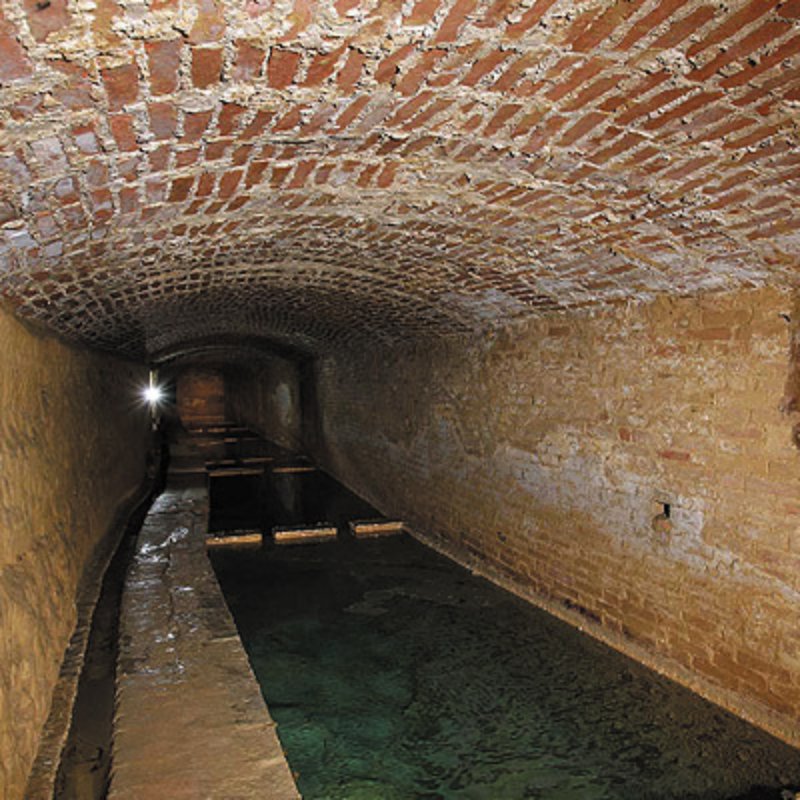 Siena, The "Bottini" Underground Passageways
Siena Urban Underground Waterways
When wandering the medieval streets of Siena, and seeing the water gush up from Fonte Gaia in Piazza del Campo, it is difficult to imagine that underground there is a labyrinth of over 25 kilometres that supplies water to the fountains and wells scattered about the town. This network of underground aqueducts is called the "Bottini", from buctinus, a term used for the first time in 1226 to indicate the barrel vault of these galleries, usually around 1.80m high and 0.90 m wide. The aqueduct was mainly excavated from the 12th to the 15th century, to make up for the lack of water. The work incorporated a stretch of passageways, known as the Fontanella, which probably originated from Etruscan times. Today it is possible to walk along these passageways, with the rain water flowing along a small channel cut into the walkway until it reaches the fountains.

The "Bottini" network consists of two main branches on two different levels: the main Fontebranda branch (7.5 km), which takes water to Fontebranda from Fontebecci and the Chiarenna branch (area north of Siena) at impressive depths; and the main Fonte Gaia branch, which is longer (15.7 km) and runs nearer the surface, feeding the fountain in Piazza del Campo and other places at lower altitudes.

Inside the walls
Fonte delle Monache: charming spring dug under the hill for an enclosed community of nuns. For access contact: +39 338 1100772.

Opening times
Spring and autumn. The passageways can only be visited if the level of the water is not too high. Visits must be booked a long time in advance (minimum 12 months). Requests must be made to the Comune di Siena - Servizi Idrici - Via di Città, 81, 53100 Siena.

Ticket prices
€ 9.30

Guided tours
In Italian. Included in the ticket price

Tour routes
There are two easy trails: 1. The Fonte Gaia main branch (the Fonte Gaia-Fonte Giusta
stretch and back): 1200 m; 2. The Fontenuova main branch:
610 m.

Useful Information
We recommend that you wear suitable clothing (possibly with Wellington boots or waterproof shoes if the water level is high). You will also need a torch to light your way.

How to get there
A1 motorway: from the Firenze Certosa exit take the SS Florence-Siena road; from the Val di Chiana exit of the A1 motorway follow the directions for Siena along the SS 326 road.
SENA bus services. Siena train station.



You might also be interested in