Paul the Octopus Oracle is from Tuscany!
There's a whole lot of talk these days about
Paul the Octopus
who has correctly divined the outcome of the world cup final and other crucial games. Although Paul is a resident of the Oberhausen Sea Life Aquarium in Germany, he was born in Tuscany. More specifically, Paul was taken from his natal home in
Elba
at the age of only four weeks, a fact revealed by his trainer, Verena Bartsch, just today. If Paul were not so good at divining the outcome of football games, (8 out of 8 games) he would taste very good boiled. That is the usual fate of octopi in Elba. I already wrote a
boiled Elba octopus recipe
in which you can read just how to prepare Paul should he stop being so clever.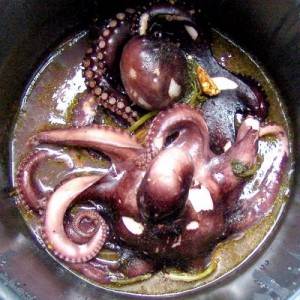 In collaboration with
Tuscanyarts -
who wrote an
Elba Itinerary!
Want to eat Paul? Here's
How to get to Elba?
Thanx to
Cibò
for the picture!
You might also be interested in