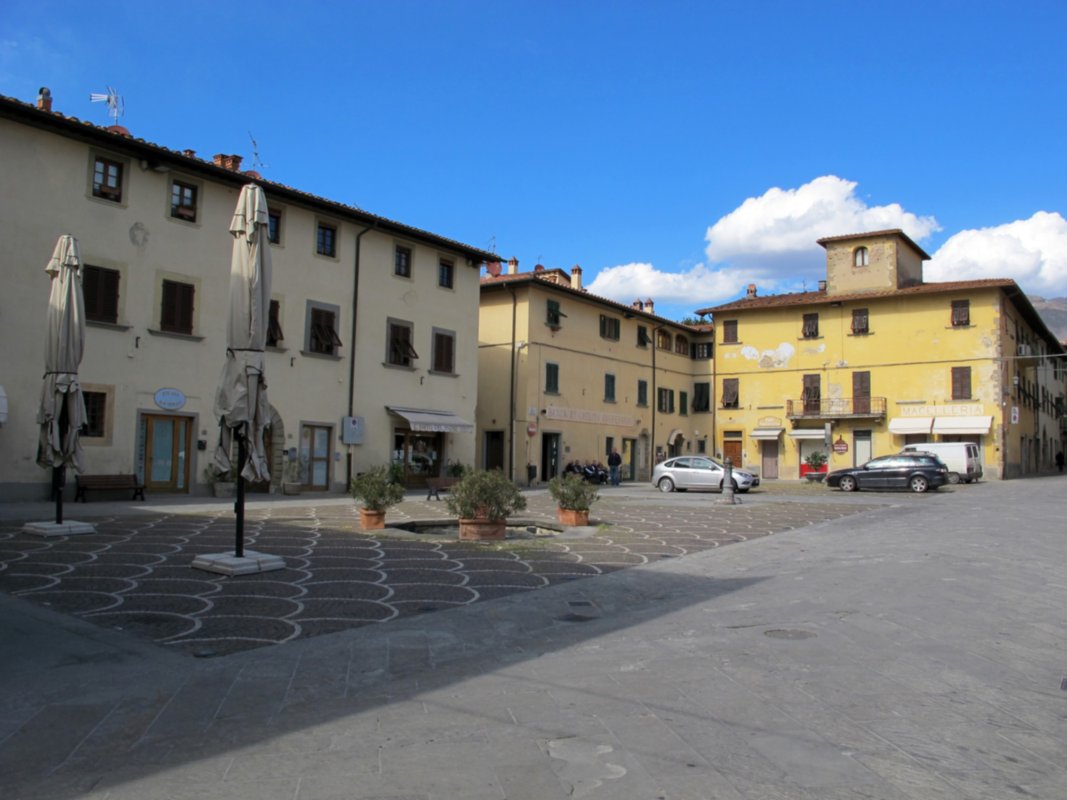 Hamlets, districts and squares
Piazza Vittorio Emanuele in Castelfranco di Sopra
Square designed by Arnolfo di Cambio
In a central position, the original design of Castelfranco and of this piazza, where some of the most important roads merge (via Roma, via Cavour, via Veneto and via Piave), has been attributed to Arnolfo di Cambio. Approaching from via Veneto you have one of the most charming views of the town in front of you: in the centre a perspective of via Cavour with the Torre Campana at the bottom, also known as Torre di Arnolfo. On the left there is the Palazzo Comunale, the construction of which dates back to the first decades of the fourteenth century, enriched with insignia and coats of arms of the most important families in the town.

Particularly worthy of note is the fresco realised in the upper part of the façade representing San Filippo Neri, though the painter is not known. The interior is original on the ground floor and conserves the old town gaol. In the Council room the fresco of the 'Madonna del latte' (late XIV century) can be admired.

On a slab of marble fixed on the wall of the building on the right hand side of the Palazzo Comunale there is an inscription bearing the words: ' In this house belonging first to the Neri and then to the Samuelli, San Filippo passed his childhood and miraculously remained unhurt in a precipitous fall from off the back of a donkey into the cellar below", by way of demonstration of the importance the town attributes to S. Filippo Neri, in reference probably to one of the favourite anecdotes of the biographers of the saint. In fact, the Neri family came originally from Castelfranco and it is quite likely that the episode cited on the marble slab really did happen within the walls of this palazzo.

Unfortunately the great 'Logge del Mercato' have been lost in the course of time, together with the church of San Piero and the reservoir of water with a well that once had rendered this piazza the hub of social life in the town. The ancient well, probably dating back to the XIIth century, came to light in 2002 during some excavation and has been rebuilt using ashlar mixed with lime mortar.
Castelfranco Piandiscò
A small village with a rich history in a breath-taking countryside
Along the ancient Strada dei Sette Ponti, between the Arno and the slopes of the Pratomagno, more or less halfway between Arezzo and Florence, there is the beautiful village of Castelfranco di Sopra. Even the road leading to the ruins is noteworthy: along the way you can admire one of the most striking Tuscan countrysides. ...
Morekeyboard_backspace
You might also be interested in