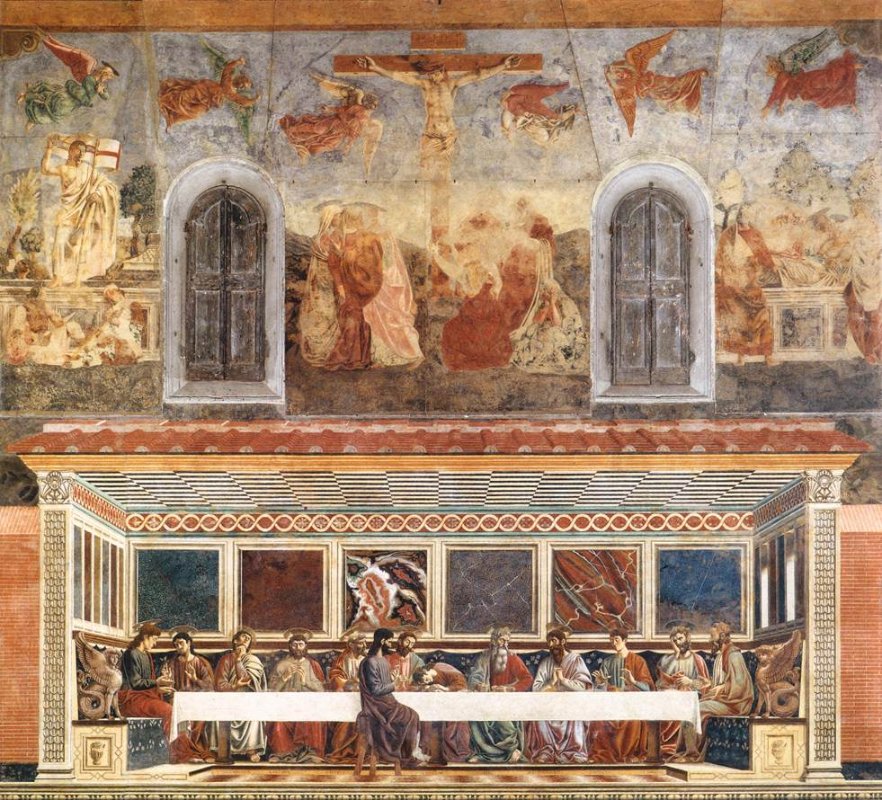 account_balanceMuseums
Cenacolo di Sant'Apollonia by Andrea del Castagno
Benedictine refectory hosts noteworthy treasure
The 'Cenacolo' (Last Supper) of Sant'Apollonia is in the Benedictine monastery of St. Apollonia, in the center of Florence, not far from Piazza San Marco.
In 1447 Andrea del Castagno frescoed the back wall of the refectory with the Last Supper, the Crucifixion, the Deposition and the Resurrection. The fresco was unknown to the outside world until the suppression of the monasteries in the 19th century. This is the first Florentine Renaissance cenacle: the Last Supper is painted in a perspective illusion, as if the scene was happening in a small room and the viewer was observing the scene from the outside. The fresco is full of details, from roof-to-ceiling tiles in black and white squares to the faces and clothes of the apostles, gathered around a long white table.
The museum also displays other frescoes by Andrea del Castagno with the related sinopias and paintings by Paolo Schiavo and Neri di Bicci, coming from the monastery.
Florence
A stunning city where you will lose yourself in the art, history, fashion and traditions of Tuscany
No one plans a visit to Tuscany without planning a visit to Florence: the city of the lily is a treasure trove of artistic treasures and the centre of a fervent vitality. Aside from its exceptional heritage of art, bearing witness to its centuries of civilisation, Florence can be enjoyed in so many ways: promenading along the enchanting riverbanks at sunset, entering the bohemian alleys of ...
Morekeyboard_backspace
You might also be interested in