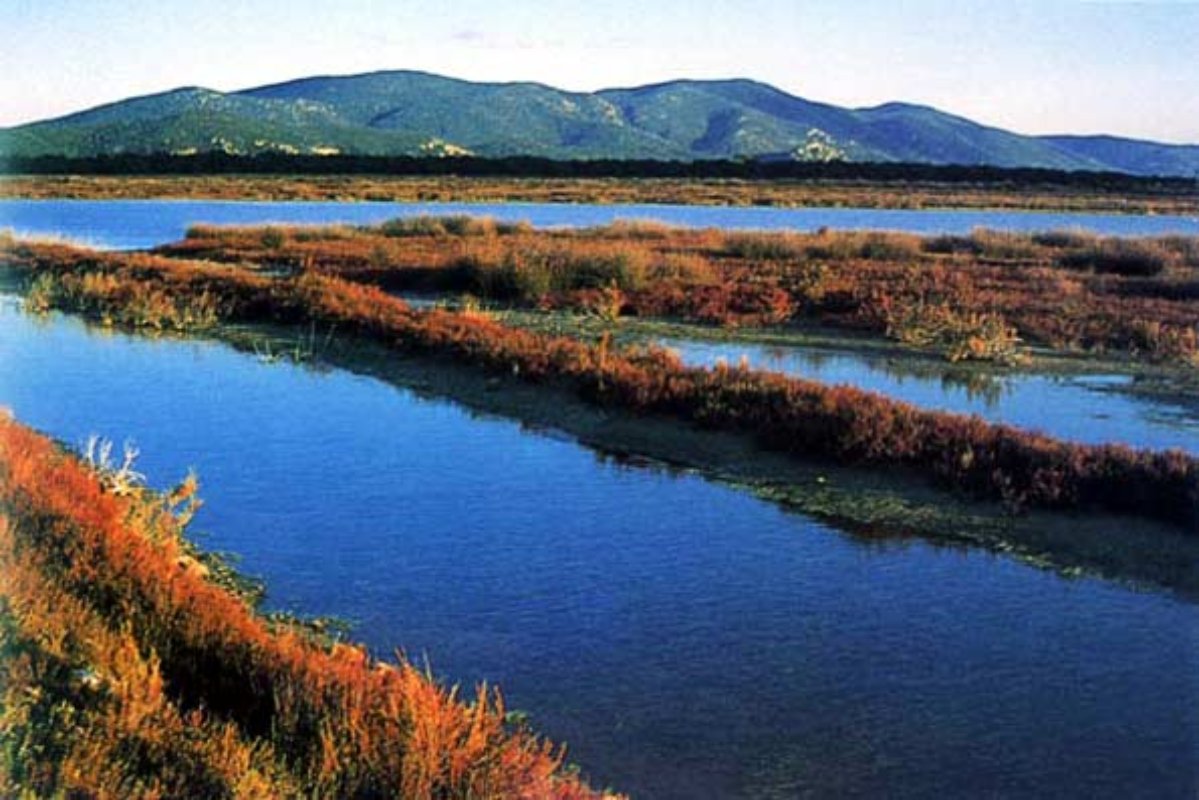 ???.icon?????????
Diaccia Botrona Nature Reserve
The marshland under the lee of the pinewood of Castiglione della Pescaia extends as far as Grosseto
The Nature Reserve of Diaccia Botrona extends for more than 1000 hectares of territory and is considered the most important wetland of Italy (since 1991 recognised also at an international level). It was set up in 1996 in the area that once was home to the old Lake Prile of up to 50 km squared, reclaimed in the nineteenth century. Currently the marshland takes up about 700 hectares at the back of the pinewood in Castiglione della Pescaia, extending along the plain that connects the seaside resort with Grosseto.

The Reserve of Diaccio Botrona houses a rare and important ecosystem that contains an incredible variety of micro-organisms, both vegetable and animal, offering a real "genetic bank" that contributes enormously to the upkeep of the biodiversity of the area. The vegetation is characterised by the crops of glasswort on the west side of the Diaccia and the lemon-orchard, and more typically of the marshy areas, the reed thickets, bulrushes and sedge. Here there are also fifteen or so species of wild orchids, some of which are of particular interest for their beauty and rarity. Of the vast forest that once covered a large part of the Maremman plain, there now remain just a few small areas consisting of ash, elm and tamerisk.

The avifauna represents the most interesting and most spectacular feature of the Reserve. In fact about 200 species have been counted and registered that come and go in the course of a year, of which about 80 nesting. Among the most important are the marsh harrier, hen harrier, white heron, osprey, kite, honey buzzard, curlew, little egret, crested heron, godwit, red heron, bittern, European roller, and Great spotted c cuckoo. Mammals inhabiting the Diaccia reserve include fox, hedgehog, porcupine, badger, hare and coypu or nutria. There are also numerous reptiles such as the sea turtle, collared snake, coluber (elaphe quatorlineata), Aesculapian snake, common lizard, slow-worm, green lizard, seps, Hermann tortoise and the gecko. The waters are inhabited by crustaceans, annelids, arachnids and insects.

Castiglione della Pescaia
Beach life and a character-rich town surrounded by unique attractions
Between the blue of the sea and the green of the hills lies Castiglione della Pescaia. The town, a renowned seaside resort, is known for its beautiful beaches and extensive pine groves that stretch as far as Marina di Grosseto, ending in the charming Pineta del Tombolo. ...
Morekeyboard_backspace
You might also be interested in