Desserts
Zuppa inglese recipe
Is zuppa inglese from England? One of the possible legends suggests that zuppa inglese was created in the mid-19th century in the hills of Fiesole over Florence, where the Tuscan maid of a wealthy English family put together a hearty dessert using biscuits, chocolate pudding, and custard leftover from their afternoon tea. It reveals a lot about the ability of Tuscan people to use leftovers creatively, turning them into another delicious treat.
The key ingredient of a traditional zuppa inglese is alchermes: a Renaissance spirit that was a favorite liqueur of the Medici family, the Tuscan elixir for long life and known as a pick-me-up for delicate women. The bright crimson liqueur is still made today by the Santa Maria Novella Pharmacy in Florence using the same recipe that was created in 1743, along with many other artisanal and refined liqueurs.
500 ml whole milk
120 g sugar
40 g cornstarch
4 egg yolks
Peel of 1 lemon
70 g dark chocolate
120 g savoiardi (sponge finger biscuits)
200 ml alchermes
Cocoa powder
In a small saucepan over medium heat, bring the milk and lemon peel to a simmer. Once it starts to simmer, remove from the heat.
In another saucepan, whisk together the sugar, egg yolks, and cornstarch until light and creamy. Gradually pour the hot milk into the egg mixture, stirring constantly.
Cook over low heat, whisking continuously, until the custard bubbles and thickens.
Divide the custard into two bowls. Add the chopped dark chocolate into one bowl and whisk to melt until perfectly combined.
Pour the alchermes into a bowl. Briefly dip the savoiardi into the alchermes for just a few seconds per side.
Now, make the zuppa inglese. In a medium-sized bowl, make a layer with half of the chocolate custard, gently spreading it with a spatula. Top it with one third of the savoiardi soaked in alchermes, then spread half of the custard on top of them. Add another layer of savoiardi soaked in alchermes, then spread the rest of the chocolate and top with the remaining savoiardi soaked in alchermes. Finish with a layer of custard.
Dust the surface with cocoa powder and let the zuppa inglese sit in the fridge for a few hours before serving.
You might also be interested in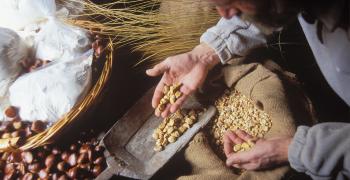 Learn more
Food and Wine
Olive oil, wine, truffle and other culinary delights make up the excellence of Tuscan gastronomy.
continue...