You can take a relaxing bath in a tub of wine!
Spas and wine: relax in Tuscany with Vinotherapy
Tuscany is the land of excellent wine, but maybe you don't know that Chianti and Brunello are not just a treasure trove of flavour but also an elixir of beauty. You could take a bath in a tub filled with the "nectar of the gods" or have a massage with grapes: this is known as 'Vinoterapia' (winetherapy), it has been practiced for hundreds of years and it works to reduce stress and reinvigorate the skin, thanks to the polyphenols contained in wine, which fight aging of the skin. For those interested, here are the places in Tuscany where you can try this truly special treatment.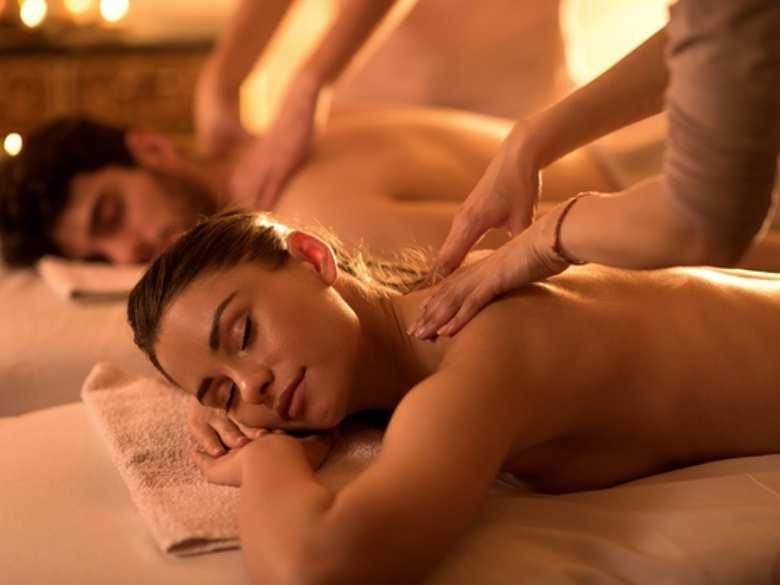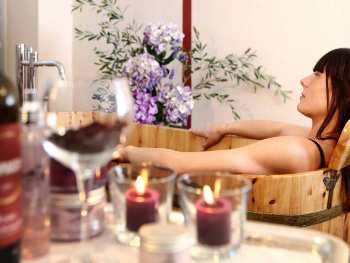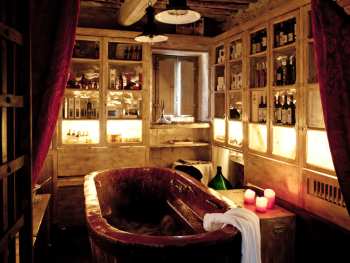 Starting with Borgo Scopeto Relais, sitting on the hills of the Siena territory in Castelnuovo Berardenga, where they propose treatments with sweet scrubs, masks and massages using wine, the grapes of which have been picked from vines that grow in the land around the business. Also in Castelnuovo Berardenga, you will find the Relais Borgo San Felice where you can try the fizzing must bath, followed by a reenergising massage with olive oil.
Go to Castellare de' Noveschi, in Gaiole in Chianti, to try the Bacchus bath for two: an appealing tub where you submerge yourself in a romantic hydromassage in the finest wines, which eliminates toxins and improves circulation.
Wine is the key to beauty at the Falconiere Wine Resort in the countryside of Cortona, which has a spa that offers couple's baths with red wine extracts in copper tubs, packed with marc and honey, an exfoliating massage using grape seed oil. You can submerge yourself in the Bacchus Bath in a chestnut wooden bath at the Hotel di Sor Paolo in San Casciano in Val di Pesa, while at the Fattoria del Colle in Trequanda (Siena), you can enjoy a bath with red wine from Montalcino and an extra virgin olive oil bath.
Finally, at the Adler Thermae in Bagni Vignono, a luxury resort and spa in the historic spa town at the food of Mount Amiata, you can pick between massages, bathing in wine and special treatments with Brunello.
You might also be interested in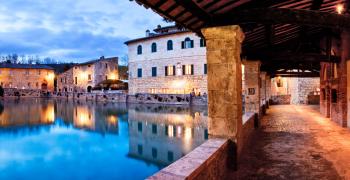 spa
Learn more
Spa and Wellness
If you could close your eyes and push away the overwork, the traffic, the pollution, the stress… it would be a desire for many, especially now that
continue...