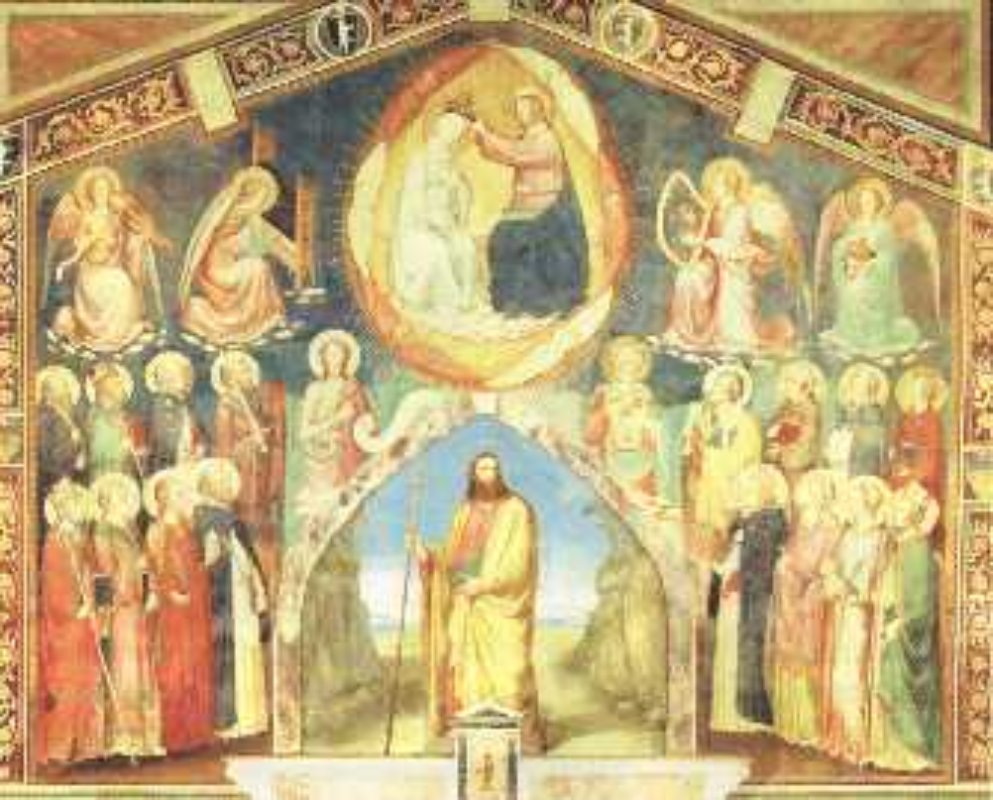 Places of worship
The Chapel of Sant'Jacopo in Fiesole
A collection of paintings, crucifixes and liturgical artworks in gold
The collection is on display in the ancient chapel of
San Jacopo
, which is the former oratory of the Palazzo Vescovile. The chapel was first built in by the episcopate of Jacopo il Bavaro (1027-1039), however it was enlarged to its current size in the 14th century. In approximately 1440, it was frescoed by
Bicci di Lorenzo
with a scene from the "Coronation of the Virgin Mary". The chapel was renovated in following years to host the collection.
What is today a small museum, centuries ago was a chapel built in the early 11th century. Frequently restructured over the centuries, it is now open to the public. In addition to the large fresco by Bicci di Lorenzo (dated approx. 1440) depicting the
"Coronation of the Virgin Mary among angels and saints"
, the museum also showcases a rich collection of liturgical gold objects that belonged to the Fiesole Diocese, one of the largest and oldest dioceses in Italy.
The over 50 artworks showcased document the period that extends from the Middle Ages to the early 1990s. It also documents the most important phases of goldsmith's art and sacred art in the Fiesole area, from the late-Gothic period to the
Renaissance
, and from the Baroque to the Neoclassical.
Among these artworks are a handful of undeniable jewels, like the "Mitria del Vescovo Salutati" (dated approx. 1460), also referred to as the "Mitra di San Romolo", the bishop-martyr of Fiesole who is now the town's patron saint; the elegant "Chalice in gold-plated copper with enamel" (dated in the 15th century) and the "astile" crucifix by
Girolamo di Martino Spigliati
(dated in 1568-69). Every year Fiesole holds an annual feast in honor of its patron saint, San Romolo. The latter has an enamel background with Moresque motifs that make it a unique piece in Tuscan goldsmith's art.
Among the liturgical goldsmith pieces are the crucifixes, which date back to the
12th to the 13th centuries
, the mitre with enamel in a Ghibertine style (a mid-1400s piece that belonged to the Bishop Leonardo Salutati); a 15th century chalice with the Medicean coat of arms engraved on it; the "astile" crucifix by Girolamo Martino Spigliati (dated 1568-9); the silver Bishop's ring of San Romolo (dated circa 1570).
Opening Hours:
Saturdays, Sundays and holidays by appointment only.
Ticket Price:
10€ (cumulative ticket price with the Bandini Museum); groups of 10 or more: €6; schools: €3; families: €20.
Reduced price for people aged 7 to 25 years and over 65, children under 6 years, residents, schools from Fiesole, disabled persons and their companions: €6.
Disabled access:
Not accessible to the disabled.
Contacts:
via San Francesco
FIESOLE (FLORENCE)
Tel.: 055591118; 05559477
E-mail:
infom
usei@comune.fiesole.fi.it
http://www.fiesolemusei.it/italiano/areamuseale/c
appella.asp
Fiesole
An ancient Etruscan city, a honeypot for art and literature lovers
Fiesole has always been a favorite destination for people seeking the classic Tuscany. While wild and neighboring the city, it also boasts an unforgettable hilltop view of Florence. Aristocratic and secluded, Fiesole is a well-kept secret. ...
Morekeyboard_backspace
You might also be interested in