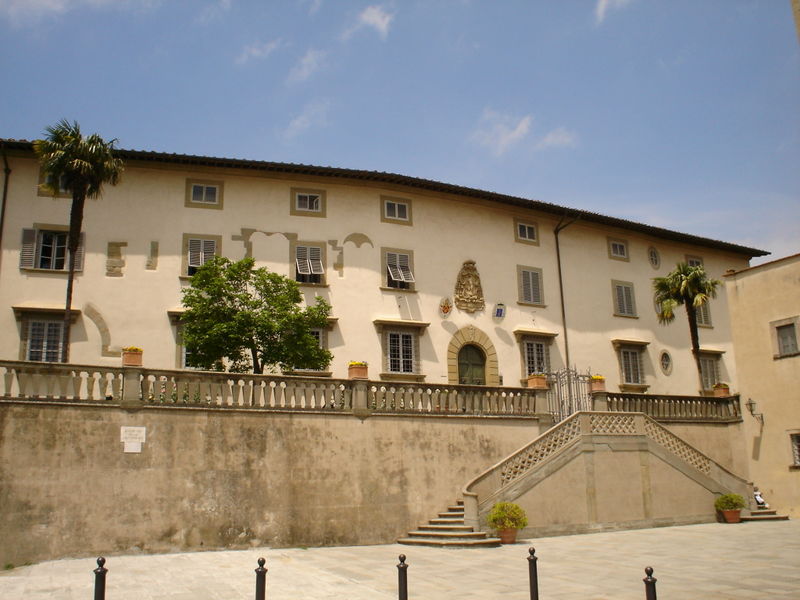 location_cityHistorical Buildings
Palazzo Vescovile, Fiesole
Built at the time of Jacopo il Bavaro, it houses the San Jacopo Chapel
Built at the time of Jacopo il Bavaro, during the same period as the Cathedral, Fiesole's Palazzo Vescovile (Bishop's Palace) owes its current appearance, which contains traces of older elements, to the seventeenth century. The staircase with balustrade was removed from the Cathedral's pulpit during restoration work conducted in the nineteenth century.

The palace's old oratory, the San Jacopo Chapel, is located here and incorporates an entrance from via San Francesco through a doorway topped with the sixteenth-century coat of arms of Bishop Folchi (1500), leading directly from the bishop's rooms.


Believed to have been commissioned by Jacopo il Bavaro (1027-39) as part of a building that underwent several extensions and changes over time, the oratory more or less existed in this form in the 1300s.

The chapel now houses a large collection of liturgical goldsmithery that bears witness to the riches as well as the artistic and historic vitality of the vast Diocese of Fiesole. These priceless holy gold artefacts have been scattered throughout the diocese for years, beyond the municipality's borders into the Val di Sieve and Chianti. Distanced from their places of origin, they became insecure, isolated and left undefended if not totally forsaken, and gathered at a church depository for safe preservation.
The choice of pieces and the exhibition layout is in chronological order and by type. From the Middle Ages to the present day, visitors can observe the liturgical goldsmithery while following the historical and stylistic evolution in line with changing tastes. From the sobriety of Late-Gothic objects to Renaissance monumentality and Counter-Reformist linearity and Baroque and Rococo exuberance, to nineteenth-century Neoclassicism and twentieth-century eclecticism. The most emblematic stages of holy religious goldsmithery in Florence and its environs are documented in a small space.
Fiesole
An ancient Etruscan city, the gateway to Florence and a haven for the literati and art lovers
Fiesole has always been a favourite destination for anyone who wants to discover a classic yet authentic corner of Tuscany. The view over Florence from this hilltown is truly unforgettable. Aristocratic, set apart, Fiesole is a rather secretive city. ...
Morekeyboard_backspace