location_cityHistorical Buildings
Poppi Castle
The Palazzo della Signoria del Casentino
Poppi Castle, with its well-preserved imposing structure is the historic symbol of Casentino. It stands majestically in one of the most beautiful villages in Italy. The Guidi Counts were behind its construction in the thirteenth century and it is assumed that the oldest part of the medieval manor was the work of Lapo di Cambio while the most recent, built around the end of the thirteenth century, is attributed to the well-known Arnolfo. Arnolfo di Cambio designed the Palazzo della Signoria in Florence and, as can be seen from the architecture of the Casentino castle, the two works are very close in architectural terms.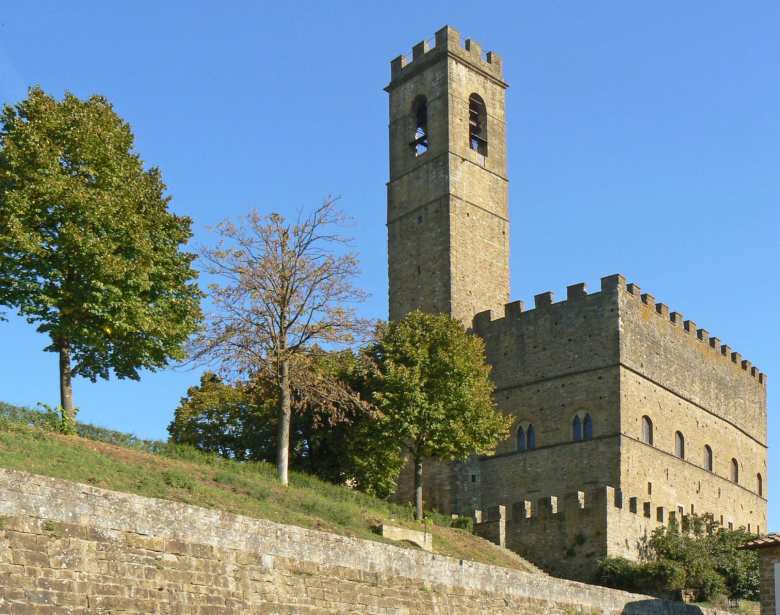 Poppi Castle overlooks the Piana di Campaldino, the site of the historic battle of Campaldino between the factions of Arezzo and Florence, between the Guelphs and Ghibellines, which took place on 11 June, 1289. The Castle has undergone numerous changes over time but has reached the present day perfectly whole.
Visiting the beautiful village of Poppi, we continue up until we start to see the majestic castle emerging from the town's paved paths. Welcoming us there is Dante, the great poet, who was housed in this building in 1310 during his exile from Florence; here he is said to have composed the 33rd song of the infirm in his greatest work, the "Divine Comedy".
The Castle, open all year round, houses the Rilliana Library within its walls. Founded by Count Rilli Orsini in 1828, it has over 25 thousand volumes and 800 manuscripts. Inside the castle you can also visit the centuries-old prisons and the bell tower from the top of which you can admire the entire Casentino valley. Another attraction not to be missed is the chapel where there is a splendid cycle of frescoes by Taddeo Gaddi, a pupil of the great Giotto, dating back to the fourteenth century in which it depicts the stories of the Virgin and Saint John.
The decorations inside the castle represent the history of the valley and region. Noble coats of arms are carved on stone or made using the glazed terracotta of the Della Robbia, the well-known family of ceramists who spread their works throughout the Casentino area. Only a visit to the Salone delle Feste is missing to imagine what the sumptuous banquet occasions of the Guidi Counts would have been like.
For information: Poppi Castle
Poppi
FROM COUNT GUIDI CASTLE TO CAMALDOLI SANCTUARY
The history behind the town of Poppi belongs to the noble Guidi family and their magnificent Castle: to discover its secrets, you'll have to dive into the medieval history that gave life to this fortress. The castle, built in the 13th century, is attributed to artists from Vasari to Arnolfo di Cambio. ...
Morekeyboard_backspace