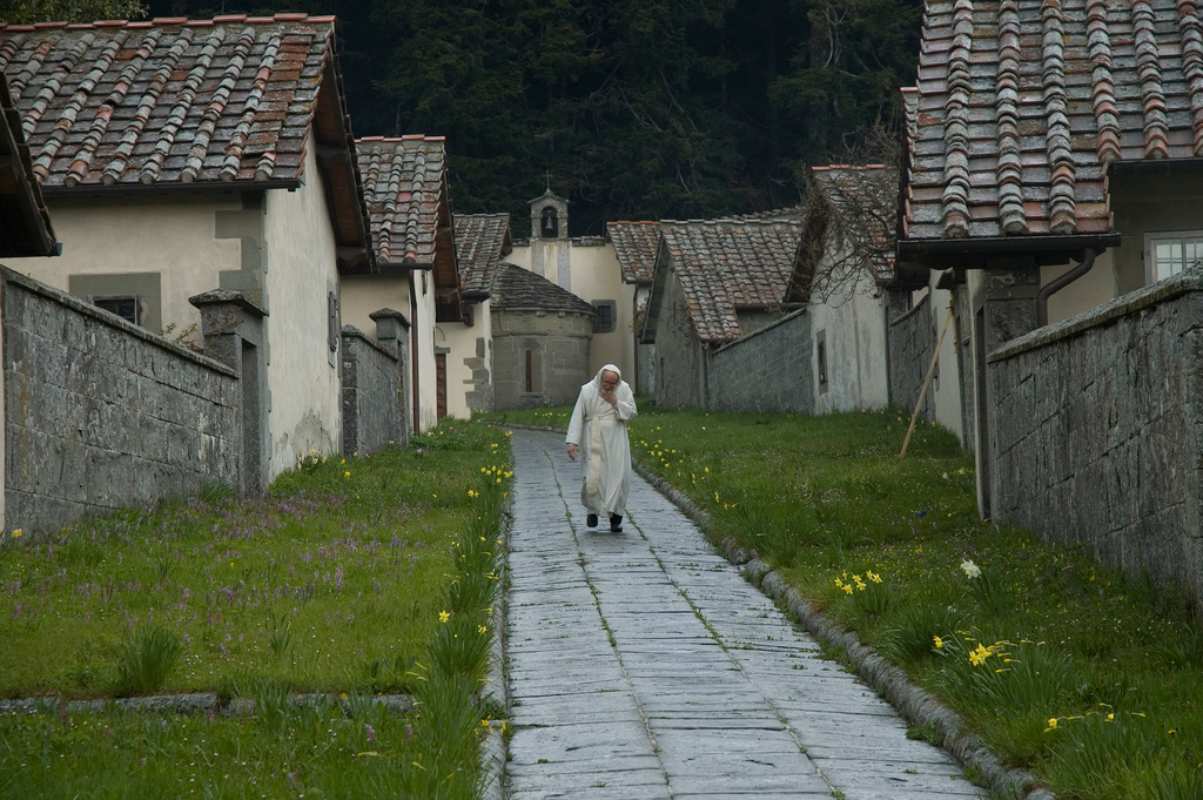 Places of worship
Monastery and Hermitage in Camaldoli
Immersed in the peaceful Casentino forest, with masterpieces by Giorgio Vasari
The Monastery in Camaldoli is a monastic complex located within the municipality of Poppi, in the heart of the Park of the Foreste Casentinesi. The place was also known by the name Fontebuona because of the high quality of its waters, immortalized by the fountain that Ambrogio Traversari had built in front of the structure's entrance. The building complex includes the medieval Hospice, or Foresteria, the church, and the monastery, built beginning in 1046, when monks founded a small hospital near the temple. Work on the sombre monastery building that we see today instead began in the 16th century and was finished in 1611.
Among the artworks housed in the monastery, seven panel paintings made by Giorgio Vasari for the previous 15th-century building stand out. The altarpiece depicts the Deposition from the Cross and is situated on the altar. Under the grating in front of the monastic choir, there are two other small panel paintings depicting Saints Donatus and Ilariano. Two more altarpieces by Vasari are located in the chapels near the presbytery. One shows the birth of Christ and the other, the Virgin Enthroned with Saints John the Baptist and Jerome. In the background of this latter work, the landscape includes the Camaldoli monastery and hermitage as they would have appeared in the 1500s.
The hermitage is located three kilometres from the Monastery, isolated in the middle of the forest, 1,100 meters in altitude: it was founded by Saint Romuald in the 11th century and is the home of the Benedictine Camaldolese.
The public can visit the hospice, which still welcomes guests and pilgrims today, the church, the medieval refectory and Saint Romuald's cell, with the typical "spiral" shape of hermitage cells and which includes the bedroom, study and chapel.
Info: camaldoli.it
Poppi
FROM COUNT GUIDI CASTLE TO CAMALDOLI SANCTUARY
The history behind the town of Poppi belongs to the noble Guidi family and their magnificent Castle: to discover its secrets, you'll have to dive into the medieval history that gave life to this fortress. The castle, built in the 13th century, is attributed to artists from Vasari to Arnolfo di Cambio. ...
Morekeyboard_backspace