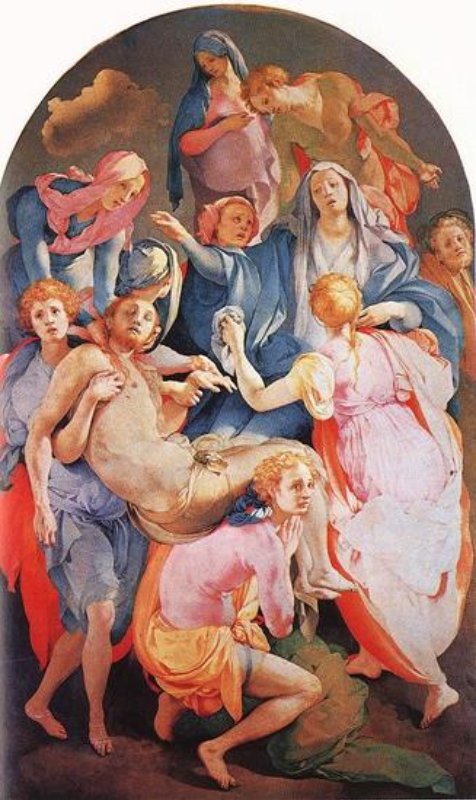 crop_originalArtworks
Pontormo life and art
Jacopo Carducci, also known as Pontormo, most famous work 'Deposition from the Cross'
Pontormo is a Mannerist painter who grew up in the age of Lutheran Reformation and the Copernican Revolution, which both shifted away from previous cultural, religious and scientific paradigms.
In this socio-political context, characterized by wars, uncertainties and profound change, Pontormo was born in Empoli in 1494. The son of painter Bartolommeo Carrucci, Pontormo was exalted by Raphael, Michelangelo and Vasari.
TRAINING
At 14, he began his apprenticeship a the Florentine workshop owned by Mariotto Albertinelli. He then moved on to Piero di Cosimo's workshop, and the workshop of Andrea del Sarto, also known as Rosso Fiorentino. From his most important early works to his final version of the Visitation, painted in 1516 in the cloister of SS. Annunziata,
STYLE
Pontormo exasperates the Renaissance rules and perfection of his maestro, Rosso Fiorentino, introducing his own nervous and vibrant style. He begins a process of 'classical corrosion': he finally overcomes the classical style when he created the Pala Pucci in 1518 in Saint Micheal Visdomini. From this moment, his style is exemplary of the inherent anguish of Florentine Mannerists. Mannerism was the artistic movement that developed from 1520 to 1620 that profoundly revisited classical motifs. It broke away from Renaissance constructions and favored varied artistic 'mannerisms' or styles, like the cleanliness of lines, the use of geometric shapes, an expressive deformation of objects, the crude use of colour, the use of gesture, the bizarre and the ambiguous.

PONTORMO & THE MEDICIS
Under the protection of the Medici family, Pontormo continued to experiment with his refined figures, which over the years, became more and more disquieting. This is evidenced by some of his writings in his "Diary", written from 1554 to 1556. In his writings, Pontormo describes his psychological sufferance and his changing artistic style. The art and his artistic vision became more and more disquieting. It also contains several designs and sketches from that period. Pontormo speaks of himself as a phobic, neurotic man that lives in solitude, a victim of his own physical sufferings, and describes himself as an eccentric, extravagant and suspicious man. His routine was simple: he often worked in his bedroom so as not to leave his own personal space. In his more mature works, his figures are elongated and seem puffed up as if meant to invade the surrounding space.
MOST FAMOUS WORKS
The Deposition from the Cross, painted in 1526-1528, and located in the Santa Felicita church in Florence, or in the Visitation, located in the Pieve di Carmigliano church, where his abstract use of color seems to take a break from any form of realism. His last work was a series of frescos in San Lorenzo, Florence, commissioned by the Grand Duke, Cosimo I dei Medici in the 1530s. His friend and pupil, Bronzino, completed the frescos. The last Medici family member destroyed them in 1738. All that remains of the frescos are some of Pontormo's sketches.
Pontormo died on January 1, 1557 in Florence.
Florence
An astonishing city of art, fashion and tradition
If you are visiting Tuscany you cannot miss Florence. The Renaissance city is a treasure trove of art with an astonishing contemporary vibe. Beyond the extraordinary artistic heritage, a testimony to its centuries of civilization, the best way to enjoy Florence is to stroll along the riverside avenues at sunset, or to get lost among the city's myriad alleyways of the bohemian Oltrarno or the ...
Morekeyboard_backspace
You might also be interested in