Hamlets, districts and squares
Piazza della Cisterna, San Gimignano
Between towers and legends, in the heart of the UNESCO World Heritage Site
Piazza della Cisterna, easily identified by its triangular shape, is located near Piazza Duomo in the heart of San Gimignano. It was built in the thirteenth century along a gentle, natural incline in the terrain. It was originally a crossroads where the Via Francigena met the route connecting Pisa with Siena, and it served as a market square as well as a venue for public festivals and tournaments. It owes its name to a cistern built in 1287 for public use, crowned by a monumental octagonal well, made of travertine. Even today we can see the grooves left by the ropes which were used to haul up buckets of water. On the south-west side of the piazza the Becci Arch stands as a remnant of the original tenth-century circuit of walls, while in front of the cistern we find Casa Silvestrini, once used as the Spedale, which functioned as a guest house for pilgrims walking the Francigena. Palazzo Razzi, now a branch of a bank, also looks onto the piazza, as does the elegant Palazzo Tortoli-Treccani, next to a typically squat tower from the 1200s.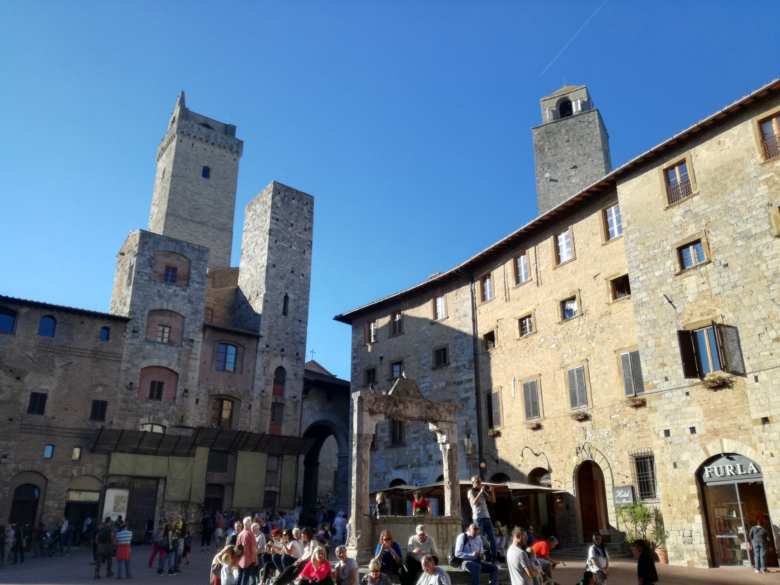 The towers of the Ardinghelli family, the most powerful Ghibelline house of San Gimignano, rise over the piazza, and so does the Torre del Diavolo, according to legend built by Satan himself. The former date back to the end of the thirteenth century, when they greatly exceeded the limits laid down by a 1255 edict which prohibited the construction of buildings taller than the municipal tower: as a result, they were reduced to half their original height. The piazza is often animated by musical events or fairs, like the one that takes place on 12 March in the name of Santa Fina.
San Gimignano
THE MANHATTAN OF THE MIDDLE AGES, FROM ART TO GOOD WINES
With its forest of towers spiking the horizon, San Gimignano is one of the most recognisable and iconic destinations in all of Tuscany. In every part of the world there is someone dreaming about this ancient hilltown in the Val d'Elsa, for to be there is to dive into an image of medieval times. ...
Morekeyboard_backspace