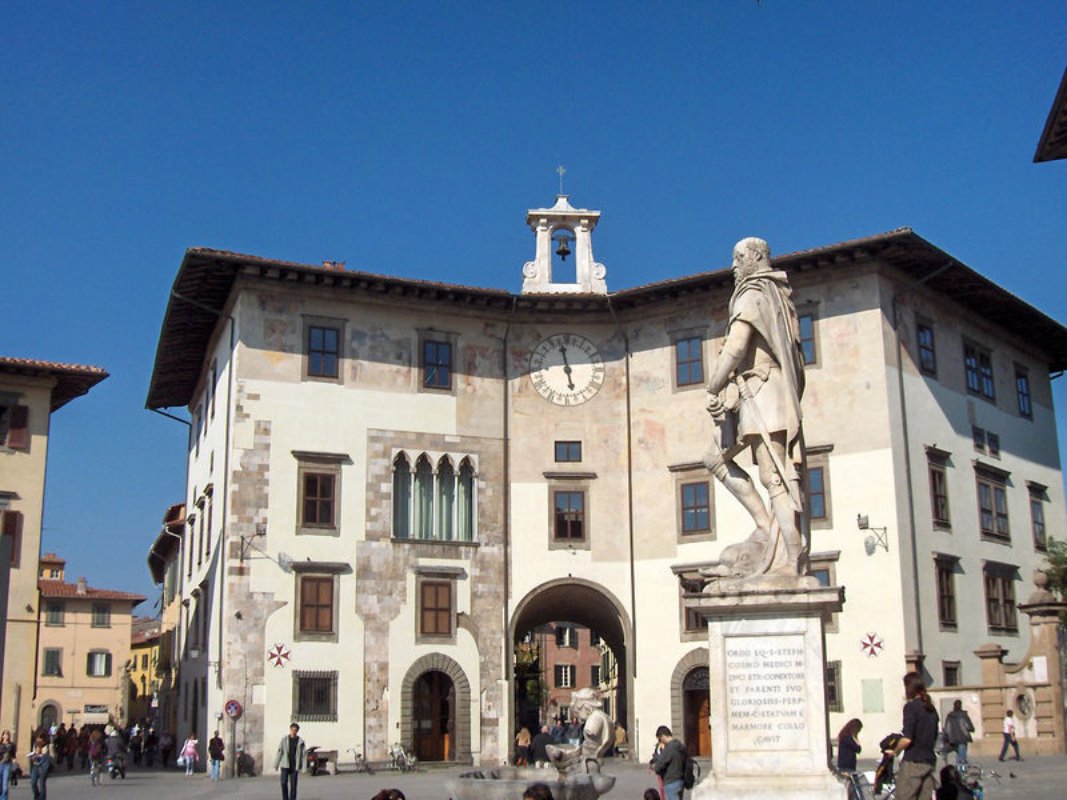 Hamlets, districts and squares
Piazza dei Cavalieri
From the Knights of Saint Stephen to the Medici, from Napoleon to Enrico Fermi
The ancient Piazza delle Sette Vie (or Piazza of the Seven Ways), the poltical center of Pisa and probably the site of the Roman Forum, was transformed by Cosimo I de' Medici into the center of the Order of the Knights of Saint Stephen - created to defend the Tuscan coasts and the Mediterranean from the Turkish fleets and pirates. At the center of the piazza stands a statue of Cosimo I, Granduke of Tuscany by the artist Francavilla (1596). At the statue's back are the Palazzo della Carovana and the Palazzo degli Anziani del Popolo which was designed by Giorgio Vasari and is completely covered with writings, designs, and busts of the Medici of Tuscany. The building is now the seat of the local high school which was created at the request of Napoleon Bonaparte on the model of the Parisian Ecole. Some of the most important Italian professors have studied and taught here, including Antonio Pacinotti, Carducci, Pascoli, Fermi and Rubbia.

To the left is the Palazzo dell' Orologio, or "of the Clock," which was built on the foundations of two ancient towers of the Della Gherardesca family and served as the hospital and jail of the Order. It is best known as the prison where the entire Pisana family was starved to death in captivity, an episode which is recorded in Dante's Inferno. Further to the left, next to the Oratory of Saint Rocco, is the Puteano College, founded in 1605 by Bishop Dal Pozzo to house students from Biella who were studying in Pisa. On the western side of the piazza is the Palazzo del Consiglio dei Dodici, or "of the Council of Twelve," which was once the seat of the Republican Magistrate and which was restructured according to a design by Francavilla during the first years of the 17th century. Inside are praiseworthy paintings from the 18th century Pisan school. Nextdoor is the Presbytery, designed by Vasari to house the chaplains of the Order.
Source: Pisa APT
Pisa
Experience the city of miracles, packed with maritime history and traditions
Pisa and its Piazza dei Miracoli have always been a fundamental stop on any trip to Tuscany. Despite the overwhelming presence of tourists from all over the world, who sometimes seem to have arrived here for the sole purpose of pretending to hold up the Leaning Tower – this sacred place still emits a timeless, evocative and powerful beauty. ...
Morekeyboard_backspace
You might also be interested in